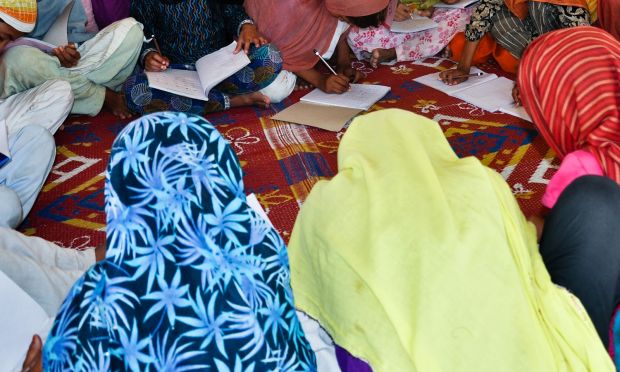 "Every morning when my brother used to get ready for school and walk out of [our] home with books, I used to cry over my fate," remembers Sabra, now 14. "[I asked myself], Why am I a girl? I used to think that if I had been a boy then I would have been blessed with the most precious gift in the world –education."
"...the most precious gift in the world - education"
Sabra's story echoes that of so many girls and women from rural Pakistan, those who are still bound by traditional conventions which limit their ability access universally-recognised rights, such as the right to an education, due to their gender.
Sabra lives in a village, in the Sindh province, in southern Pakistan. The village is not deprived of school facilities. It has a primary school. And, it is located less than 10 kilometres from one of the largest universities of the province. But, for a long time, societal barriers prevented girls, including Sabra, from accessing an education.
In Sabra's society, women have traditionally had little to do with matters of the outside world. They are expected to look after the family home. It is assumed that every girl will be a housewife, and therefore girls are not typically enrolled in school. Sabra's village is just one example of a very widespread problem in Pakistan. Across the country, girls' enrolments in both primary and secondary school still lag behind those of boys. Nationally, only 46 per cent of girls are enrolled in school, as compared to 69 per cent of boys. In rural areas, the impact is magnified, with only about 35 per cent of girls going to school.
Problems, a blessing in disguise
Although no one would wish for problems, sometimes problems can create opportunities. When Sabra's village was badly affected by last year's heavy monsoon, World Vision established a 'tented classroom' there, in one of the organisation's Child Friendly Spaces (CFS). These spaces aim to help children gain a sense of normality and stability after losing their homes and routines during emergencies. They also focus on formal and informal learning, including life skills and child rights as well as health and hygiene. In Pakistan, they are part of World Vision's broader efforts to ensure all children in Pakistan enjoy good health, are cared for and protected and are educated for life.
Tidal wave of change
When destiny brought havoc to Sabra's village in the form of heavy rains and devastating floods, it also helped open doors for girls like Sabra. Community members saw World Vision's female social mobilisers visiting their villages regularly. The staff began to teach women and girls in the community about health and hygiene: for example, how to keep utensils clean in order to avoid diseases; why drinking water should be boiled, and the washing hands practiced before and after meals, among other things. For many girls and women this was their first contact with formal education and it marked the beginning of many changes in the community's thinking, including addressing some of the barriers faced by women to gain access to basic rights.
Soon the conversation expanded to include the topic of the universal right to education. Many community members began to understand that education for girls is as important as it is for boys. They realized that women are not born to remain in their homes and that, in fact, many women work outside their homes. But, perhaps even more importantly, they learned that even if they stay home, they still need education in order to have awareness of various things which could help in daily matters of life, such as self-protection and health.
"I was burning from the inside every day. I wanted to gain an education but my age was passing and it was creating more barriers for me to convince my parents,"
"I used to force my mother to talk to my father about my education, but she couldn't manage to talk to him on this," says Sabra. "I was burning from the inside every day. I wanted to gain an education but my age was passing and it was creating more barriers for me to convince my parents," she remembers.
Bakhtawar, Sabra's mother, says: "I knew my Sabra's passion for education. But, as she was getting elder day by day, it become hard for me to ask for her to be enrolled in school. It was next to impossible when you [face] thinking like: 'if girls and women go into school then who will take care of the house and the cattle?'"
Starting down a new path
"But thanks to God and thanks to you, [World Vision]. You arrived in our village and talked about the gender equality which gave us confidence to talk to our men and they also realized that there is no difference between men and women. All these things lead us towards the new beginning and took us on the path of enlightenment," shares Bakhtawar.
World Vision hired one male and one female facilitator from Sabra's village, who helped motivate the people of the village to send their children to the CFS. When they saw that their children were happy in the centre and they witnessed some dramatic changes in their behaviours—such as improved personal hygiene—it created a positive impact on the parents.
World Vision's child protection officer, social mobilisers and psychologist conducted information sessions with children, mothers, fathers and caregivers, highlighting the importance of gender equality and the significance of girls' education. From all reports, it brought a dramatic change to the thinking of the community.
"We wanted to educate our children, even our girls," says Mr. Jinsaar, an elderly man in the village. "But tell me, how would you manage to meet the expenses of education when you're finding it hard to manage to provide two meals a day?" he continued.
"In our society, girls have to get married and take care of houses, they don't opt for work."
"In our society, girls have to get married and take care of houses, they don't opt for work," Jinsaar continued. "A boy can work and can support his family, and that is why we preferred boys to get [an] education. But, when [the World Vision] team visited us regularly and told us the benefits and impact of education on a girl's life, and that education was being provided for free in the CFS, we sent our girls," he explained further.
Taking control of education for girls
The village has witnessed such a remarkable change that almost every girl is going to school now. The success of this transformation became clearer when the community came to know that World Vision's project would soon be coming to an end. Instead of reverting back to how things were before the flood, they decided to run their own child protection centre.
"We have handed over the materials and resources which include: recreational kits, floor sheets, white board, water cooler, toys… and after seeing the positive response and demand from the community, we know that this will benefit the children, even after the end of our project," says Jamal Shah, of World Vision's child protection team.
To date, some 300 children, including 134 girls, have been registered in the child friendly space and most all girls, including Sabra, who are of school age have now been enrolled in local government schools as well.
"I want to become a doctor and it's my dream to serve my community," says Sabra." Her mother, Bakhtawar, couldn't be prouder. "I don't know how far Sabra will go to pursue her dream, but I am happy that a ray of brightness has been lit, which has put an end to a darkness we've been facing for centuries."
Stats:
As per Pakistan Government the literacy rate in Pakistan is 57% (69% for males and 46% for females) and in Rural areas it is "63% and 35% for males and females respectively".
(Reference: http://www.pbs.gov.pk/sites/default/files/pslm/publications/pslm_prov2010-11/tables/2.14a.pdf)
The enrolment rate in primary schools ( age 5-9) is 63% ( 69% boys and 56% girls are enrolled in primary schools) whereas it stands 76% and 59% for boys and girls respectively in rural areas of Pakistan
(Reference: http://www.pbs.gov.pk/sites/default/files/pslm/publications/pslm_prov201...)
Talking about Sindh province the school enrollment for girls is 40% as compared to boys
(Reference: http://www.sindh.gov.pk/dpt/EducationFinal/PrimaryEducation/PrimaryEducation-Enrollement.htm)
And according to a volunteer survey Pakistan stands second in global ranking of out-of-school children with 57.3 per cent children in the 3-5 age group not enrolled in any school in the rural areas and 65.5 per cent mothers being in the illiterate category.
Gender disparity is clearly reflected in the survey. School enrolment for children aged 6-16 years stood at 79.9pc, comprising 36pc girls and 64pc boys.
(Reference: http://aserpakistan.safedafed.org/admin/fckfiles/Press%20Release-Draft.pdf)