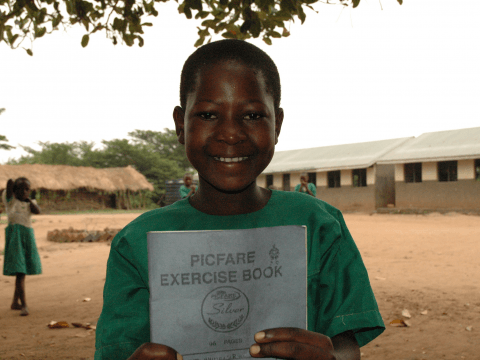 A family that values education
Monday, November 19, 2012
At the age of nine, Gloria Ahimbisibwe is talkative, intelligent and speaks passionately about school and family.
At her school, St. John Kyabasiita Church of Uganda Primary School, Gloria's teachers dotingly talk about her as "friendly and one interested in education". Her best friend is Aisha Nabulya.
Gloria is the daughter of Joseph Alitunga, 40 and Federesi, 31. She has two siblings – 11-year-old Julius Nasasira and Grace Olishaba, nine months old.
Just in the second class of her primary school, Gloria is proud to be a girl and loves singing, skipping and playing dodge ball. She loves mathematics and boasts of always being among the best performing pupils in her class.
Gloria dreams of growing up, completing school and buying a car.
"I go to school every day to get knowledge. When I complete school, I will buy a big car and drive like the World Vision people," Gloria says.
Supported by World Vision
In 2010, Gloria's family was identified as one of the most-in-need families to be supported by World Vision Uganda through the Ntwetwe Area Development Programme (ADP).
The family had just migrated from southern Uganda to Ntwetwe. They owned a small piece of land for farming but lacked enough food.
It was difficult for Gloria's parents to get good employment. They survived by small scale farming and by taking on odd jobs such as digging other people's gardens for a meagre wage.
Just one year later, Gloria's mother Federesi is overwhelmed by World Vision's contribution to her family and community.
Federesi narrates that ever since Gloria joined World Vision's sponsorship programme as a beneficiary, she and her brother Julius have not lacked school necessities or missed a class.
"My husband and I have been trained on the need for education and good health for children. World Vision also supported our children with scholastic materials like books and pencils when we could not afford to get them."
Joseph helps the children with their homework in the evenings which has boosted Gloria and Julius' school performance.
As a beneficiary from various trainings offered by World Vision in farming, Joseph was able to have a good harvest of millet and maize in July. He sold off the surplus harvest for money to treat the children when they sick or buy other home necessities.
No more hunger in school
Gloria's family is one example of the families in Ntwetwe ADP where children are attaining basic education through World Vision's support.
The community too has indirectly benefited from World Vision's initiatives.
Rhoda Nyakato, World Vision's Programme Manager in Kiboga cluster, says that through community education, "Gloria's school started providing pupils with porridge at break and lunch time.
Gloria is content that her school is able to provide them with porridge at break time. "I do not feel hungry when in playing with my friends or while in class," she says.