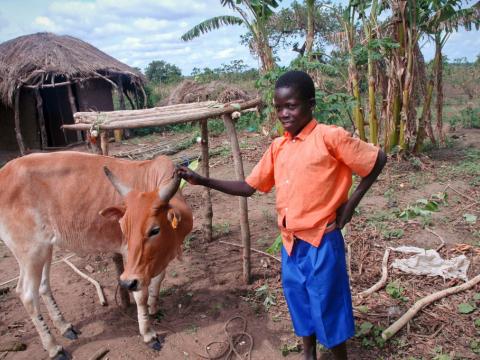 Determination is the key to success
Monday, November 19, 2012
Kokas lost both his parents when he was less than a year old, but the 10-year-old, who is in Primary Four at Omadira Primary School in Soroti District, is optimistic about the future. This optimism mainly stems from the fact that he can go to school and has a cow to support his well-being, thanks to World Vision. 
Kokas lives in Soroti district with his grandparents, uncle and older brother. His dream is to become a doctor when he finishes school, and so takes his studies very seriously. His favourite subjects are Mathematics and English. 
Kokas' school was built by World Vision. His grandmother, Mary Agu, vividly recalls how children in the area had nowhere to study before World Vision intervened and built Omadira Primary School. Since then, life has never been the same because the girls who used to be married off at a young age or even get pregnant early can avoid this because they are able to stay in school longer.
As an orphan, World Vision also gave Kokas a heifer, which is a source of hope for his family. Kokas looks after it every day, and knows it will generate income for his family when it starts producing milk, some of which they will sell off and use the money to meet basic needs like food and clothes. The heifer will also produce calves that the family will rear and enlarge their stock.
Currently, the family uses the heifer's dung as manure in their garden and also for smearing the floor and walls of the hut they live in. This helps to keep it neat and to kill germs and insects which would otherwise infest the home and cause sickness. 
A hardworking boy
Kokas' grandmother is proud of him and praises him as a hardworking boy who helps out with the chores at home, such as taking the heifer to graze and fetching water. She prays that World Vision continues to sponsor him so that he can achieve his dream of becoming a doctor. 
Kokas says now that he is sponsored, he knows that there are people out there who care about him. "Before World Vision took me on, no one ever came to visit me or even cared about my well-being," he explains. "Now I feel loved." 
Kokas reminds me of the fact that no greater height can block one from being what they want to be if they get a breakthrough in their lives. In this case, World Vision is Kokas' breakthrough and to him, the sky is the limit.