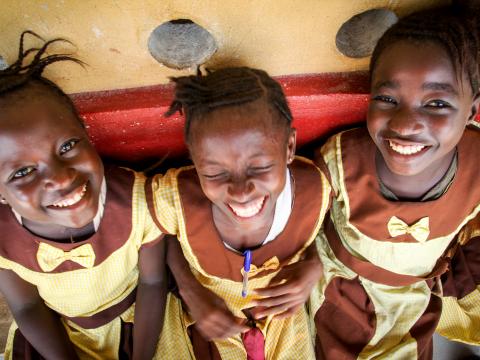 A heart for children
Wednesday, December 9, 2015
When children were asked what they wanted World Vision to do for them to improve their well-being, one of them said: '"Can you please tell our parents to put us back in their hearts?"
I don't think that normal parents would willingly neglect their children. But how easy it is for families and communities to have children feel being left out, estranged or excluded.
In our communities, the stresses of poverty can easily overpower the daily routine to a level, where quality engagement between parents and children simply gets lost. Also often parents are at loss as to how to relate to children immersed in a rapidly changing subculture.  Parents see the many risks that surround their children and resort to constrictions that rather cause isolation or rebellion.
Can you teach us how to raise and properly care for our children?
But the suffering is not only on the side of children - parents also feel that void. Asked of how World Vision can support them in creating a conducive environment for their children, they said: '"Can you teach us how to raise and properly care for our children?"
In West Africa, we only recently started to use a tool known as 'Celebrating Families Curriculum'. But already as a pilot, this tool had effects similar to that of an earthquake: after the workshop, nothing seemed to be the same for any of the participants anymore! There is a clear 'before' and 'after' the training in the life of participants and how they relate to children!
Important information about children and their needs is shared and also applied during that workshop. Here are a few examples: Parents reflect on their own experiences as children, both good and bad ones, and how that is shaping their own way of parenting. Many shed tears as the workshop develops the question of punishment and discipline, as they recall painful experiences of their own childhood and understand the pain they inflict on their children. Some learn to discover the positive sides of a 'troublesome' family members who strains the family harmony enabling them to more fully enjoy their family. Husband and wife speak about their dreams for the family and how together they can build that future – often for the first time. Pastors and Imams get released from feelings of guilt as they come to embrace God's grace for both their rebellious children and for themselves.
I am much less impatient with my children now because this training helped me to better understand their needs!
When we tested the 'Celebrating Families Curriculum' with our own staff, reactions were enthusiastic: 'This is the best training we have ever received in World Vision! I wish we had done this earlier. I am much less impatient with my children now because this training helped me to better understand their needs! I am now regularly spending time with my children on something they enjoy.' As in West Africa we work in countries with a significant part of the population being Muslim, we have adapted this tool so it can accommodate in an interfaith setting. Recently an Imam concluded the training saying: 'I am so sorry that I am already old now. My children are grown up now and I can't correct the many mistakes I made. But I'll make sure to use these lessons to look well after my grandchildren and to teach others!'
The recently revised strategy of World Vision West Africa Region (WV WAR) includes the ambitious goal of 'All children live free from violence, exploitation and abuse'. WV WAR aims to see community structures - including churches and Faith-Based Organizations – as engaged actors to improve the protection of children. A number of National Offices have decided to scale up the use of the 'Celebrating Families Curriculum' across their programs to achieve this goal.
I am confident that this tool will enable World Vision to significantly contribute to improved protection of vulnerable children in West Africa by putting children back in the hearts or their parents, and by equipping parents to raise and properly care for their children.
About the author
Esther Lehmann-Sow is the Regional Leader of the World Vision West Africa Region. Her role includes overseeing the programs in Mauritania, Senegal, Mali, Niger, Chad, Sierra Leone, Chad and Central African Republic. Have a look at https://www.facebook.com/WorldVisionWestAfircaRegionalOffice/