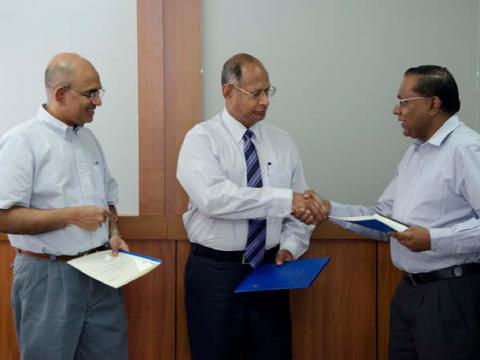 Watawala Plantations, World Vision and Vision Fund sign partnership agreement
Monday, December 12, 2011
Watawala Plantations PLC, World Vision Lanka (WVL), and Vision Fund Lanka (VFL) recently concluded a historic tri-partite agreement to improve the living standards of communities belonging to estates under the purview of Watawala Plantations PLC.
This agreement follows on from a Memorandum of Understanding (MOU) signed between Watawala Plantation PLC and WVL earlier this year. The first such project under this tri partite agreement is the construction of 25 houses for families residing in Ouvahkelle Estate in Nuwara Eliya District.
Mr Dan Seevaratnam - CEO of Watawala Plantations PLC, Mr Suresh Bartlett - National Director of World Vision Lanka, and Mr Prince Nayagam – Executive Director of Vision Fund Lanka were the principal signatories to this agreement. Two sub agreements between Watawala Plantations PLC and World Vision Lanka were also signed on this occasion to provide Water Supply Systems for needy communities living in Ouvahkelle and Lippekelle Estates.
Recent surveys have indicated that the district of Nuwara Eliya, is among the most disadvantaged districts in Sri Lanka with significant levels of poverty and poor health and nutrition statistics. Although home to abundant water sources, its water and sanitation access is the lowest in the country.
World Vision Lanka has a long history of working in the Plantation Sector. Its Ambagamuwa Area Development Programme (ADP) commenced nearly 15 years ago in 1997. The organisation has expanded its programmes to Nuwara Eliya, Bogawantalawa , Pathana and Walapane in recent years.