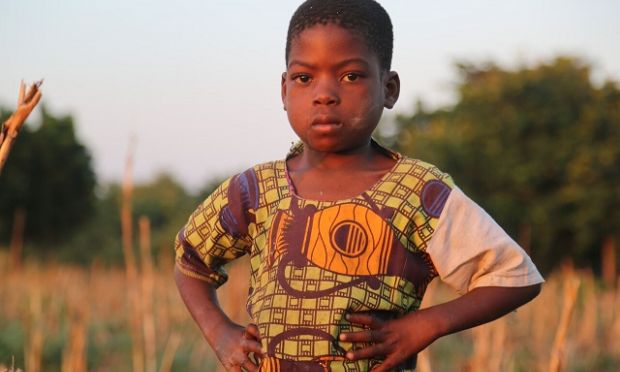 Amos has turned three this April. But instead of celebrating, his family struggles where the next meal will come from. Hunger has struck his family this year like a deadly cancer. His mother Agness, a mother of three, shared the family's woes as she sat peeling the watermelons for the day's lunch. Her face sad and drawn.
During the past year, Agness said they lost their maize and millet planted in a two acre garden to drought, then it was followed by a ravaging flood. She was able to harvest 50kg, not even half from what she was supposed to get from her efforts, never recovering the cost of seeds. World Vision came to register for food distribution but she decided to give the priority to the elderly and orphans. There were 2,000 people in Chikwawa District who turned up for the activity desperate for assistance.
She said she is relieved nobody died of hunger. However, this year, the rains did not come brought about by El Nino. The village's planting season came to a standstill one more time. Once optimistic that this year will be better, Agness realized it is even a more challenging one. El Nino has dried up her farm. She managed to harvest few withering watermelons. "Life in our village is getting tougher," she said. She now lost two harvests in a row.
"I planted twice but it was a failure," she said. Her son Amos, whose name ironically means strong, is unfortunately among the millions of children in Malawi who is suffering as his community struggles from one disaster to another. Agness said the El Nino has dashed her hopes far beyond the horizon.
As she prepared the watermelon lunch with her sister Maness, she shared that apart from the hunger, temperature was unusually high, sometimes reaching 40-45 degrees. If they are able to buy maize flour, she boils it with peeled watermelons turning it into a porridge. According to Samson Semu, World Vision's Health and Nutrition Coordinator in southern Malawi, this does not meet the proper nutrition needed by the body.
This year, Malawi's maize production has dropped by 12 percent, leaving it in deficit of about one million tonnes to feed the population which prompted Malawi President Peter Mutharika to declare a State of Disaster appealing for humanitarian assistance. This year's El Nino brought what is being considered as the worst food crisis in decades. The last drought the country had endured was last 2002.
The declaration stated that, "With the increased maize deficit, it is expected that an increased number of people will be food-insecure and will require humanitarian relief assistance for the whole 2016-17 consumption year".An estimated 2.8 million people are faced with food and water insecurity as concerns rise on increased malnutrition among children based from Malawi Demographic Health Survey Report.
Elisha Kapalamula, World Vision's relief manager said the future will be difficult for Malawi's affected communities. "The economy is hugely dependent on agriculture. This year will be bleak just like the past two years," he added. World Vision is providing food assistance to an estimated 700,000 people in five districts of Chikwawa, Neno, Mwanza, Mangochi and Chitipa in partnership with the World Food Programme and the Malawi Vulnerability Assessment Committee (MVAC).

Photo below: Amos waits as Patricia, her mother's youngest sister helps prepare the watermelons.