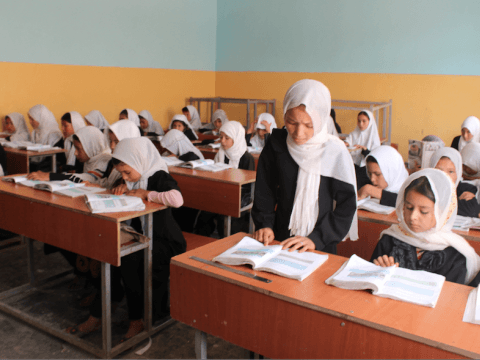 Hope for Afghanistan's Girls
Tuesday, October 10, 2017
Rahila, 11, lives in a traditional Afghan community where education for girls is often discouraged. Tremendous determination is needed to convince male family members to allow girls to attend school.
Of her five sisters, Rahila is the first girl in her family to have a chance at an education like their brother. Two of her sisters were married off when they were 14 and 16 years old. Based on a report by the Ministry of Education, an estimated 3.5 million school-aged children in Afghanistan don't attend school, and the majority (75 per cent) are girls.
'I [always wanted] to go to school,' says Rahila, 'I went to Masjid (mosque) to learn Islamic scriptures, but I was not allowed to go to regular school. My father had told me that learning Islamic texts is enough for girls.'
But traditions are starting to change thanks to World Vision, who has worked to establish Community Change (CC) groups to voice the burning, unspoken issues and identify the harmful misconceptions and beliefs often held in villages.
In CC sessions, people from different groups in the community come together twice a week to discuss, debate and decide on issues affecting their well-being. The aim of these discussions is to use community resources to take action based on common solutions.
As a result of CC sessions, members found out that school enrollment was very low in the village and despite girls expressing interest most of them aren't allowed to attend.
The CC members met with the Head of Shura, religious leaders, and school principals to share their concerns and find a solution. According to Zahara, 23, a member in the CC group, 'It was decided to form a school shura (both men and women) and conduct awareness raising sessions to increase villagers' understanding of the importance of education.' Community Change and shura members went home to home to talk to families and offer them information.
Zahara says that religious leaders also agreed to talk about education for girls from an Islamic perspective in Friday prayer as well as in community gatherings.
When CC members met with Rahila's family, they learned that none of the girls in her family had participated in school, so it was a priority for them to change her father's mind.
On one front, male CC members talked to Rahila's father, and on another front the religious leader in the village mosque emphasised to him the importance of education. 'It was good pressure and had a good result,' Says Abdul Khaleq, a CC member. 'He at least allowed Rahila to go to school.'
'I felt shy. I was much older than all of them, but I was used to it after two weeks.'
The first day of school wasn't easy; at 11 years old, Rahila felt ashamed to attend classes with girls of 7. 'I felt shy. I was much older than all of them, but I was used to it after two weeks.'
Because Rahila had studied in a mosque she quickly learned the basic alphabet and numeracy and was allowed to participate in grade two. She likes her classmates and teacher. 'I am happy that I'm going to school. I don't want to be married off like my sisters. I want to be a teacher.'
The CC groups were brought to life through a program funded by the Australian Government, DFAT and has engaged specifically with woman-headed households (i.e. widows; families where the male provider migrates for work; women with husbands who are disabled, sick or addicted to drugs, etc.) to build opportunities for developing sustainable incomes.
To ensure that targeted communities are aware of the benefits of inclusiveness, the project formed 11 CC groups in 105 targeted villages of Badghis province to increase women's participation in social activities.
Khairunisa, the head of Rahila's school, reports that 'The number of girls' enrolment has increased to 30. These girls had not been allowed to come to school [before] due to cultural barriers. I am happy that our efforts had this result.'
According to the United Nation's Educational, Scientific and Cultural Organisation (UNESCO), Afghanistan needs to allocate more funds for education because the current literacy rate is at 34 per cent (49 per cent for men and 19 per cent for women), one of the lowest in the world. 
Today, Rahila can dream because she knows that getting an education will brighten her future and help her to achieve her goals. One day, she says, 'I want to teach the children in my village.'
It Takes A World
World Vision Afghanistan has launched World Vision's global campaign 'It takes a world to end violence against children' here in this country. Through this important campaign we aim to address forced and child marriage in order to allow these girls to enjoy their childhood, but also to have the opportunity to go to school to help prepare them for a better future.