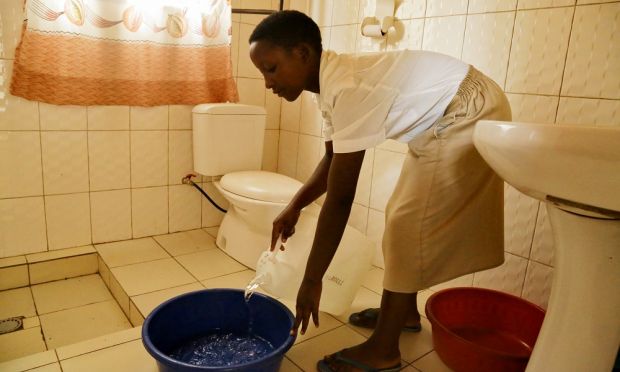 For many female students in rural Rwanda, menstrual periods means a difficult time that causes many of them to miss classes.  In fact, a UNESCO report estimates that one in ten girls in Sub-Saharan Africa misses school during her menstrual cycle. Through the construction of menstrual hygiene rooms in schools across Rwanda, World Vision is supporting girls' education by keeping them in school even during their periods.
Marie-Emelyne, 15, and Sandrine, 16, are both Senior Three students at Groupe Scolaire Nganzo, a primary and secondary school located in Gakenke District, Northern Rwanda. According to the two adolescent girls, the new menstrual hygiene room constructed by World Vision has brought significant change at their school.
Opened in January 2017, Nganzo School's menstrual hygiene room, is equipped with a modern bathroom and a sleeping room with two beds.  In addition, hygienic pads, medicine and clean towels are always available in the room.
 "The menstrual hygiene room is a safe place for us during our periods. We use it to clean ourselves up in-between classes, or even for rest when we don't feel alright," says Sandrine.
Marie-Emelyne says that there are times when she could not stay in class during her periods.
"I was afraid to stain my uniform in class in front of all my classmates so I would run at home and only come back few days after," she recalls.
It is a situation that all of Sandrine and Marie-Emelyne's female classmates also faced. Absences were regular; some longer than others. Marie-Emelyne recalls that one of her friends had to miss two exams simply because she was on her period.
These absences had a negative impact on the education of female students, as noticed by Alexandre Nsekanabo, Head Teacher at Nganzo School:
"At secondary school level, male students performed better in all disciplines as compared to female students and school dropouts were observed mostly with girls between 13 and 16 years old," he explains.
Since the opening of the menstrual hygiene room, the situation has reversed.  The usual absences of female students have considerably reduced. This, in return, has improved the general performance of female students at secondary school level and decreased their school dropout rate.
For Tuyizere Philomene, teacher and supervisor of the menstrual hygiene room, the reason behind this positive change is the new menstrual hygiene room, as more female students prefer to use it instead of missing classes and staying at home during their periods.
"For example, last semester, 25 students used the room. For me this means 25 students did not miss their classes," says Philomene.
In addition to helping female students during their periods, the menstrual hygiene room serves as a meeting place for both female students and teachers to discuss and learn about reproductive health.