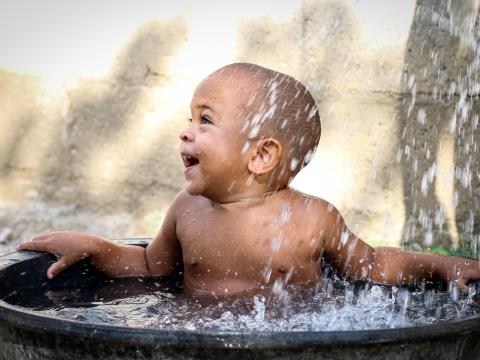 BabyWASH Webinar
About:
BabyWASH integrates water, sanitation and hygiene (WASH) interventions into maternal, newborn and child health (MNCH), early childhood development (ECD) and Nutrition, to have a more profound impact on child health outcomes in the first 1,000 days of life. Key interventions focus on hotspots in the first 1,000 days, including delivery and the first week of life, the onset of complementary feeding, and throughout a child's mobility.
The BabyWASH coalition is a group of organisations focused on increasing the integration between the above four sectors to improve child well-being in the first 1,000 days. We recognise that there are many policy, attitudinal and funding barriers to integration. Therefore, our aim is to leverage our collective strengths to decrease these barriers through the Coalition's workstreams. 
During this webinar, World Vision and other BabyWASH Coalition members will give an update on the status of BabyWASH, spending particular time on the importance of the work being undertaken by the Coalition's three workstreams: Advocacy, Programme Implementation and Integration Metrics. 
This webinar is for anyone who is interested in learning more about BabyWASH and who is considering either implementing the approach or getting involved in the Coalition. Find out more at www.babywashcoalition.org. 
Webinar presentations: 
Introduction to BabyWASH and next steps: Peter Hynes, WVI
BabyWASH evidence summary: Julia Rosenbaum, FHI 360/WASHPlus
Integration metrics: Libbet Loughnan, World Bank
BabyWASH programme guidance: Kristie Urich, WVI
Integration case study: Hana Rabadi, WV JWBG
Advocacy and Policy: Dan Jones, WaterAid (links to Healthy Start Initiative) 
PARTICIPATE IN THE ONLINE DISCUSSION: Visit the BabyWASH discussion board hosted by the Sustainable Sanitation Alliance (SuSanA).
GET INVOLVED FURTHER: Take the BabyWASH coalition survey to indicate where you would like to get involved.
MEETING NOTES SUMMARY(Link to more detailed summary): 
Summary notes based on chat box discussion
Evidence – while there is enough suggestive evidence for the linkages between the 4 sectors, we must be clear that more research is needed. This research is often not undertaken because it is more expensive than siloed research, so we need to advocate for this research to be done.
Metrics – We must pull together all the metrics currently out there that measure integration and define the gaps that still need to be filled. When creating metrics, it is important to define what we mean by 'integration' and create metrics based off of this definition.
Programme Guidance – There are some key tools that already exist, such as the WASHFit tool, and evidence that is emerging, such as the SHINE Trial and the Save the Children study on sanitation for infants in emergencies, that should be incorporated into BabyWASH programme guidance. Nothing we suggest should have the potential to be a negative in other areas of health, so risk assessments are important.
Advocacy – Great ideas shared on how to link to current campaigns, reformulate tools we already have for advocacy, and disseminate information more wildly. Might be best to map the current policy and global frameworks to see where the overlap between the 4 sectors is.
Next steps:
Share the recording with other interested organizations

Fill out the survey to indicate which workstream your organization would like to contribute to

Start planning for Coalition launch at UNGA in September and side event at World Bank in October

Will start a regular knowledge management call as well as regular meetings of the smaller workstreams to begin in June.
Links shared during the meeting: