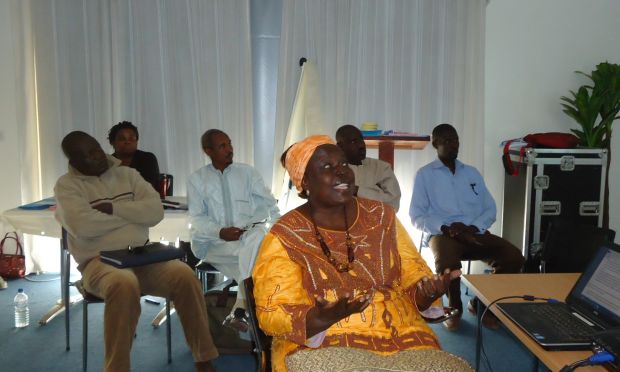 "World Vision is among the 5 largest organisation among the 365 NGOs operating in Chad and can be considered 3rd largest in the country. You do everything with honesty and according to the technical reports of World Vision's services in the field, beneficiaries are always satisfied because of the impact of your work," reads Dr Marie Babouguel, the Chair Person of the WV Chad Advisory Council. This was delivered at the end of a focus group discussion during the WV Chad's FY16-18 strategy formulation workshop where external participants were asked to give an external perspective on World Vision's work in Chad during the past three years.
The director in charge of NGOs at the Government Ministry of Planning and International Cooperation (DONG), Mr. Ahmat Djamaladine led a group of key partners invited to participate in the first three days, specifically focused on assessing the landscape in Chad and the level of collaboration between WV Chad and partners, including the Chadian government.
Partners made three key recommendations to WV at the end of the three days.
(1) World Vision needs to do more in ensuring visibility at national level
(2) World Vision should work hard to involve partners in key strategic processes
(3) World Vision should consider expanding the geographic coverage in Chad beyond the traditional areas of operation in the south of the country.
"Our partners were very diplomatic when they did not openly highlight the weaknesses WV Chad but only made recommendations which are in themselves an indication of the weaknesses we need to deal with. Let's us consider their recommendations as a diplomatic way of highlighting our weaknesses and we need to work towards improving those areas in our strategy formulation which is now in process. I am committed to ensure that their recommendations are considered because we have the dedicated staff to make this happen," said James Chifwelu, WV Chad National Director, at the closing ceremony on the 16th of January 2015.
The five day NO strategy Development workshop was led by the Regional ROSCI leader Marion Asamoah in collaboration with the WV Chad National Strategy Focal person Sabe Salam. Beside participants from WV Canada and WAR, WV Chad had invited representatives of the Ministry of Education, Ministry of Agriculture and Environment. Ministry of Husbandry and Hydraulic, Ministry of Plan and International Cooperation and two WVC Advisory members to join WV staff in the process.