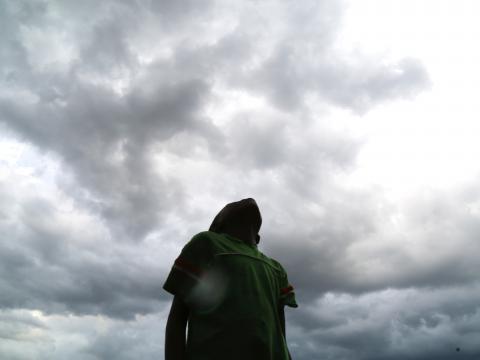 Drought worsens the plight of Malawi children
Friday, January 15, 2016
Precious Lameck, 13, takes a stroll in his family's maize field which has, once again, been completely ravaged by a dry spell. The crop will wither and die if the rains are delayed. Temperatures are reaching new records since the onset of a powerful El Niño and Precious' mum, Lucy, says she can only compare what is happening to the drought disaster of 2002.
Sadly, her community is enduring another year worth forgetting. In January 2015, they experienced a flood, but it was the ensuing drought that delivered the worst damage, since it dried up all the crops that remained in their gardens. Lucy, a single mother of five, lost her husband in 2006.
"Now here we are again, our maize is drying up. The vegetables and shrubs we are relying on will also dry up in the process because rains are not coming"
In 2015, Lucy was able to harvest only 100 kilogrammes of maize. In a good year, she harvests 2000 kilogrammes of cereal. "We harvested too little maize in the last growing season," started Lucy. "Now here we are again, our maize is drying up. The vegetables and shrubs we are relying on will also dry up in the process because rains are not coming," she added.
To imagine that in recent years Lucy was able to produce bumper yields, enough to feed her family, as well as having some to sell, is somehow unbelievable now. She was able to buy more food, clothes for her children and do much more with the income she got from the crops.
"I built this house, my home, with money realized from maize farming," she says.
But life is getting harder by the hour. Lucy and Precious foresee trouble stretching into the future as the rains don't appear in their community, even though neighbouring communities have received some scant rain.
Precious, who aspires to be a driver, devotes his time to working in the garden when he comes from school. Lucy says that together with her son, they have been toiling for a gain that seems to be far away or near impossible.
"We have been having clouds this week but it hasn't rained," says Precious. His mother adds that the wind seems to blow away clouds, pregnant with rain, leaving the sun to scorch the maize to the point where it almost dries up and with it their hope of a bumper crop.
The appearance of their garden says it all. Lucy says that even if rains come, the maize will not come back to life. They will have to replant. Where the seeds will come from, she is not sure.
"The subsidized fertilizer that I bought is in the house. We used all the seed that I bought and I don't have any more money to purchase any more," said Lucy.
Toiling for no return
Like many other people in this village, the mother and her children have completely run out of food. She is depending on casual labour in people's gardens to find food. Every two days, Lucy goes from house to house looking for work. People in her village buy from a market called Phimbi in Balaka, on the other side of a crocodile-infested river. A bucket that carries five kilograms is now selling for 1,200 kwacha (2USD) instead of the 800 Kwacha that it cost before the crisis. Earning that amount of money in a country where millions live on less than a dollar a day is a nightmare that Lucy and her children live every day. She says that the more the rains are delayed, the more difficult money is to come by, as people are not willing to spend the little they have in case a worse disaster awaits them over coming months.
The dry spell is not only in Malawi. Across Southern Africa the earth is parched. Zimbabwe, Lesotho, Swaziland and Mozambique are also going through heart breaking times. Officials say more than 30 million people in the region need food aid to survive the present hunger period that has been worsened by floods and drought.
While 2.8 million Malawians are currently depending on food aid, the current dry spell is fuelling uncertainty amongst people who are already depending on the government and other aid agencies including World Vision.
"Our worry is that if we do not harvest this March or April, which is very likely, how will life be as the year unfolds, how are we going to feed these children and our old people?" Village Headman Mbukwite said. He says that when hunger strikes like this, more often than not, men go out of the village to try and find food in a nearby district - others venturing as far as Mozambique. Some of them never come back.
"There are outcries from people for relief support"
"If it doesn't rain, you just know that this hunger will continue. And I know that our young men will leave the community in search for greener pastures," adds Mbukwite.
World Vision is responding to the food disaster in Malawi by, among other things, providing food and cash but the lengthy dry spell and its' ongoing effects increase the numbers vulnerable people, stretching the organisation's resources.
The one blessing for Lucy's family is that Precious is registered by World Vision and will be a recipient of food aid during this period. "I am praying that they give us food quick enough, otherwise, finding food is now difficult and feeding five children is a huge task," said Lucy.
Millions of poor Malawians face hunger and increasing poverty largely as a result of cyclical droughts and erratic rains in this southern African country. "In October, the number was at 2.8 million country-wide, but it now feels like more. There are outcries from people for relief support," said Elisha Kapalamula, World Vision's Humanitarian and Emergency Affairs Manager.