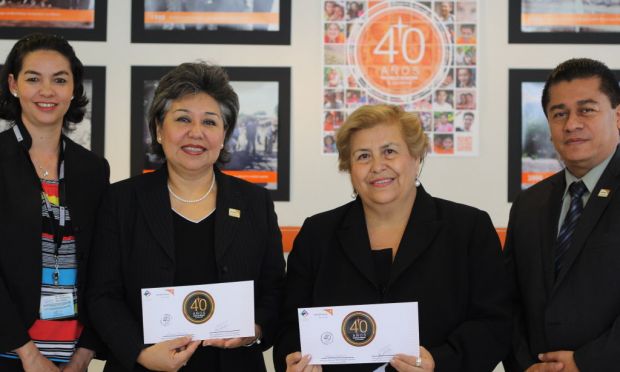 By Katia Maldonado
During May and June the El Salvador national postal service will affix a World Vision seal to both national and international mail.
The commemorative seal celebrates 40 years of World Vision's work in El Salvador to benefit children and adolescents.
It's anticipated the World Vision seal will be seen by 1 million people in 192 countries. It's the first time a non-governmental organisation has received such an honour in El Salvador.
Representatives from Correos de El Salvador (the El Salvador postal service) and World Vision gathered at a celebratory event to launch the new seal.
Elsa Margarita Quintanar de Ortéz, general director of Correos de El Salvador, said the seal recognised World Vision's work in El Salvador and around the world on behalf of children and young people living in conditions of poverty.
She said the seal would serve as a reminder of the importance of investing in children and youth. It was a call to the Salvadoran and international community to join World Vision's cause in promoting a more just and secure society.
Laura del Valle, national director – World Vision El Salvador, said she hoped the seal would be a reminder of the potential of Salvadoran boys and girls to transform their lives and society as a whole when adults support them.
Correos de El Salvador is a strategic partner for World Vision, offering the organisation discounted prices for its mail services. It made no charge for affixing the seal.