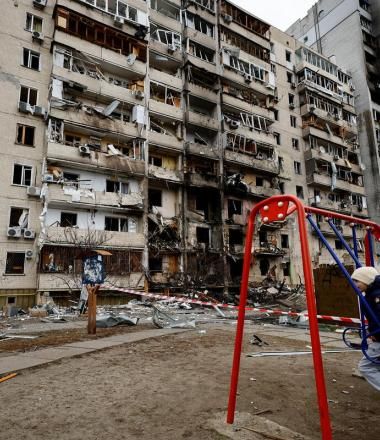 Add your voice to call for peace in Ukraine and protection for affected children and their families.
Together, for children in Ukraine!
Ukraine is home to 7.5 million children, 2.1 million of them are under the age of five. We know that conflict causes immediate and long-lasting physical, emotional and mental harm to children, families and communities. This conflict has already impacted countless lives, but it is not too late to pursue peace. 

World Vision supports the UN's calls for an end to the fighting and a return to the path of dialogue. We call for the protection of children and the prevention of further death, suffering, displacement and the long-lasting impacts of conflict on children and their families.
Add your voice and help us call for:
- Peace
- Protection of children
Together, for children in Ukraine!
8%
399 actions taken so far
Mailchimp Subscription Form: Together, for children in Ukraine!
Privacy Statement
World Vision International ("WVI", 800 W Chestnut Ave, Monrovia, CA 91016, U.S.A.) handles your contact details in accordance with its Privacy Policy, which can be found here [link], as well as applicable privacy and data protection laws in the U.S.A., where the level of data protection may be different from that in your country.
The personal data you provide, such as your contact information (e.g., first and last name, country of residence, and e-mail address), will be consolidated and stored by WVI using a third party online platform MailChimp, whose official name is The Rocket Science Group, LLC in accordance with its Terms of Service. Please consult the website of MailChimp directly to learn more about its privacy and data protection practices.
If you have requested to receive more information about the petition, we will share your contact details with a World Vision office in your country of residence so that they can follow up with you directly. That office will be solely responsible for any further processing of your information, in accordance with the privacy and data protection laws in your country. If you would like to learn more about how the local World Vision office protects your information, or how to exercise any data protection rights against the office, please review the office's online privacy policy.