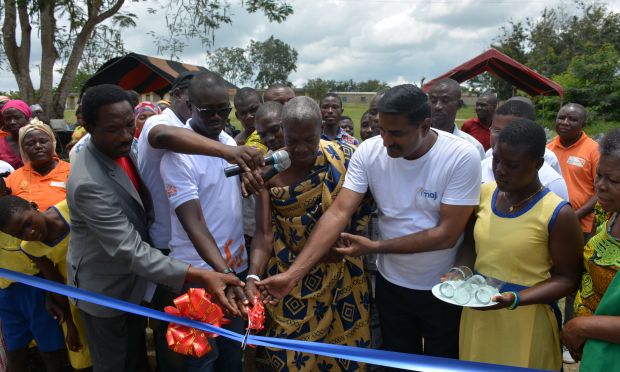 CLEAN WATER MADE ACCESSIBLE TO PUPILS OF KOJO ASHONG METHODIST BASIC SCHOOL
Pupils and teachers of the Kojo Ashong Methodist Basic School in the Ga West Municipality will now go to school knowing that there will be clean water for them to drink when they are thirsty. The unavailability of clean water was a major concern to the Kojo Ashong community, as their major source of water (The Densu River) was not suitable for drinking.
World Vision International in Ghana collaborated with Project Maji to provide a $10,000.00 Solar-powered mechanized borehole that will serve both the school and the community.
The community named after the first settler Kojo Ashong, has a population of about 2000 people. Their main occupation is farming which involves rearing of animals and producing food crops such as maize, cassava and yam. The Kojo Ashong Methodist School is the only government school in the community with a student population of 297.
The community's first solar mechanized borehole was built to serve a health post in the community. However, due to the nature of the community's landscape, majority of the people live uphill, hence it was a challenge getting access to this first borehole. As a result, majority of the people fetched water from the Densu River which is locally known as Okuja River. The people washed their clothes, motor bikes and among others in the river, they swam and bathe in the river, fetched the same river for household chores, to irrigate their crops, nourished their livestock and drank from it. These activities contaminated the river and hence the increase in malaria, diarrhea and other water borne diseases. The health facility recorded 274 cases of malaria, 12 cases of diarrhea and 3 cases of bilharzia among the community members who were mostly children, between the period of January 2016 to September 2016.
This situation prompted World Vision Ghana to partner with Project Maji in building a solar mechanized borehole. The borehole came with a 3000-litre overhead tank and nine dispensing taps which will benefit 297 pupils and the rest of the community members who live uphill.
Mary Odeesa, a resident of the Kojo Ashong community said she used to give her daughter 40 pesewas (Gh¢ 0.40 = $ 0.10) every day to buy sachet water in school. Now she can save the 40 pesewas (Gh¢ 0.40 = $ 0.10) for something else. Mary continued, "I recall when my daughter was nearly hit by a motor bike three years ago because she was crossing the road in search of water. However, now that we have a solar mechanized borehole right in the school, I am at peace. Thank you so much for this water facility, it is a big relief for us knowing that, our children are now enjoying safe drinking water in school."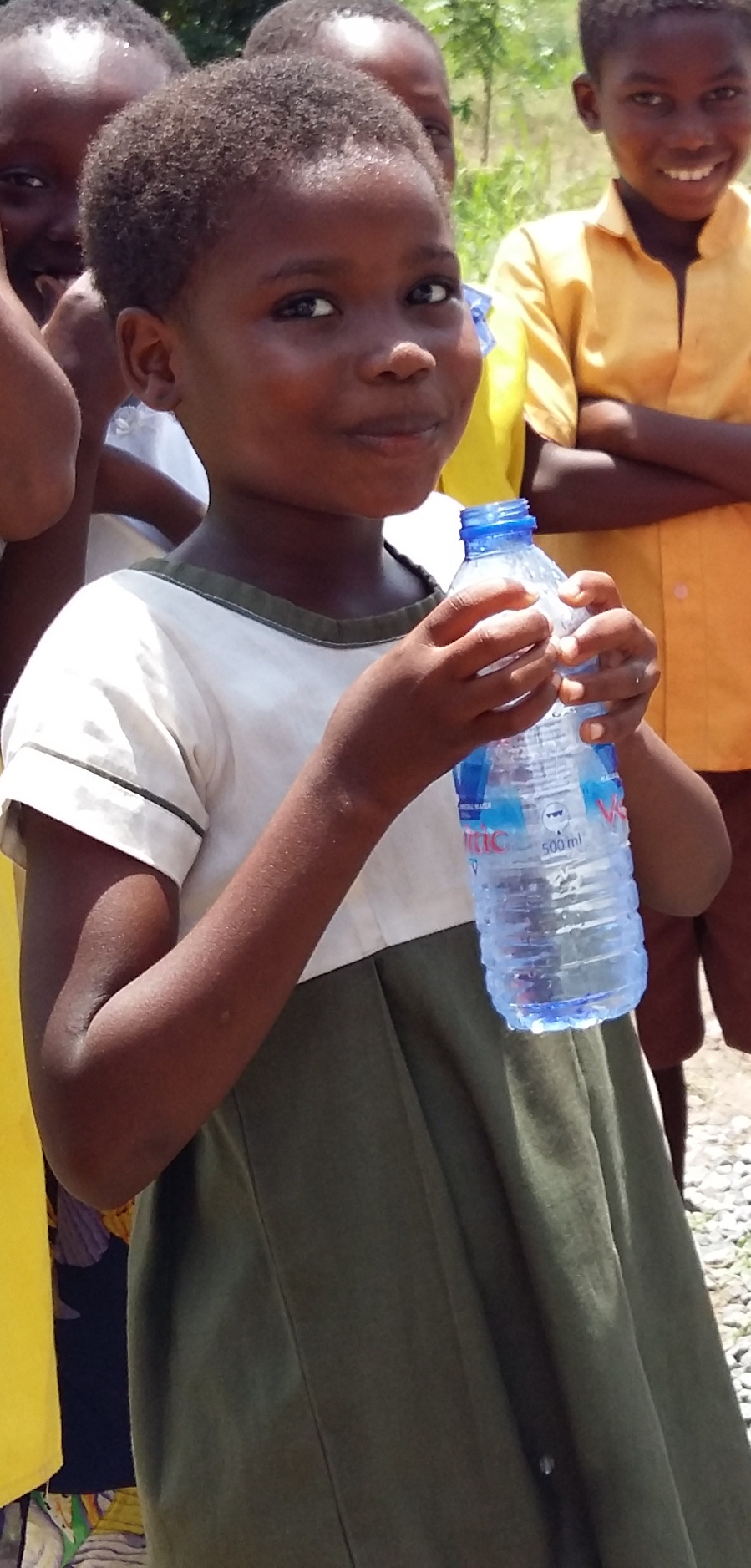 "I am happy to have water on my school compound. I don't have to go home to drink water when the Teacher is teaching." Asana (In the picture above), Primary One pupil, Kojo Ashong Methodist Basic School.
Asana, a Primary one pupil of Kojo Ashong Methodist Basic School expressed her joy by saying "the borehole has come to save us from carrying buckets of water to school daily which became more of a punishment to us. Now we can wash our hands as often as possible with constant supply of water. World Vision & Project Maji we say 'Ayekoo' (Well done) and God richly bless you."
World Vision International and Project Maji were delighted to commission the $10, 000.00 Solar-Powered mechanized borehole which had been built and supported by the two organizations. Mr. Venu Babu, Chief Executive Officer of Project Maji said Project Maji's aim is to provide one million people with access to potable water by 2015. According to him, the Kojo Ashong Methodist Basic School Solar-powered borehole installation was their fifth in Ghana and first in partnership with World Vision. Mr. Babu stated "Project Maji is proud to have partnered with World Vision on this project as this will be of immense benefit to the pupils of Kojo Ashong Methodist Basic School. It is our hope that it will be the first of many life-changing projects that will be implemented by both organisations for the good of the people of Ghana."
The Regional Operations Manager of World Vision, Mr. Joshua Baidoo stated that, Water, Sanitation & Hygiene is one of World Vision's strategic objectives. He expressed his excitement about the partnership with Project Maji, which has brought potable clean water to the pupils of the Kojo Ashong Methodist Basic School. Mr. Baidoo made an appeal to the chief and people of the community to join hands and promote good sanitation and hygienic practices. He said "It is my hope that you will check one another to ensure your surroundings are clean so as to prevent outbreak of diseases and future occurrences"
Mr. Anthony Darko, Asistant Headmaster, Kojo Ashong Methodist Basic School, said, the lack of water affected the attendance of students and their hygiene which had a negative effect on the teaching and learning. He also recounted the pathetic nature of the water the pupils and community members drank before the facility was built. He expressed gratitude to both World Vision and Project Maji for reducing the hardship of the pupils and helping in the fight to eradicate bilharzia from the community.
Together, World Vision and Project Maji hope to make portable water for consumption, production and processing accessible to all.