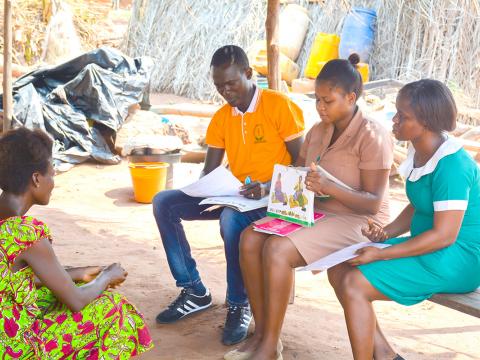 Health and Nutrition
What is the problem?
Although there has been some improvement in child and maternal health in Ghana in the last two decades, mothers and children are still dying from preventable causes. The 2017 Maternal and health Survey reported under-five mortality ratio to be 52 deaths per 1,000 live births (GMHS, 2017). Maternal mortality ratio in 2017 stood at 319 deaths per 1,000 births, as revealed by the Health Minister during a ceremony to unveil combined Maternal and Child Health (MCH) Record Book for Ghana (Myjoyonline, 29-10-2017).
Nevertheless, more efforts need to be put in place by Government and its partners, like World Vision, in order to attain the Sustainable Development Goal target of reducing the global maternal mortality ratio to less than 70 per 100,000 live births and reducing under-five mortality to less than 12 deaths per 1,000 live births by 2030. Furthermore, reducing 19% under five stunting; 11.0% underweight and 5% wasting (GDHS, 2014) will require attempts made to improve upon maternal and child nutritional status through appropriate feeding practices, immunization and adherence to good health practices.
What we want to do:
We want all children, especially the most vulnerable children within families and communities in World Vision's operational areas, to have improved health and nutritional status in Ghana. We work towards this by ensuring that:
All children under-five, especially the most vulnerable, have reduced malnutrition.

All children, especially the most vulnerable and mothers, have reduced the impact of preventable diseases and maternal deaths.

All children, especially the most vulnerable and adolescents, have improved Sexual and Reproductive and Health (SRH) status. 

All children, especially the most vulnerable, benefit from policies influenced towards strengthened local health system and structures.
How is World Vision addressing the issues?
The Health Programme realigned its activities to the current partnership Core Project Models and approaches including Channels of Hope, Maternal, Newborn & Child Health (CoH- MNCH) and Community Health Committees (COMM) models are being implemented to help contribute towards improved maternal and childhood nutrition and health status.
Achievements
344 lead facilitators trained on nutrition and health approaches to provide support for the various mother-to-mother support groups in their respective communities.

113 mother-to-mother support groups (MtMSG) formed to promote maternal and child nutritional practices.

90 MtMSGs gave capacity on savings for transformation to help improve upon their economic status for improved maternal and child nutrition.

3,866 women were reached in 67 different communities with food demonstration sessions using locally-available food.

5,609 pregnant women and mothers of children 0-24 months old received counselling on optimum nutritional practices, Antenatal and Post-natal care.

299 Health staff and volunteers received various capacities in lactation management, IMNCI and Improved service delivery in malaria. 

30 facilitators were trained in

 the functionality of community Health Committee System, a Programme which is been implemented by Ghana Health service under its Community-Based Health Planning and Services (CHPS) Programme aimed at giving the capacity to community members to mobilize locally-available resources and also advocate for improved health services within their respective communities.

14,472 children were reached with age-appropriate immunization in the expanded immunization coverage

20 daddies' clubs were formed, aimed at creating a platform for men groups to champion the discussions on maternal newborn and child health-related issues in their respective communities.

77 Congregations Hope Action Teams (CHATs) formed to

help integrate messages during their religious gatherings on Maternal, New-born and Child Health as well as the significance of spacing pregnancy for at least 2 years

.

390 peer educators were trained to serve as ambassadors to promote ending violence against children, teenage pregnancies and sexual and reproductive health and rights (SRHR) related issues affecting the youth.

24 active CVA groups formed to monitor improved health standards
Is what World Vision doing working?
Yes!
The results of these activities have therefore contributed to 87.86% of children being exclusively breastfed until six months of age, 56.32% of children receiving dietary diversity; 18.94% stunting prevalence,13.72% underweight prevalence and 8.92% of wasting prevalence recorded respectively; 86.05% of households reported yes to all children under 5 years sleeping under a long-lasting insecticide-treated net (LLIN) the previous night; the survey also recorded; 84.47% coverage of essential vaccines among children; 25% of women practicing birth spacing; 82.37% of women reporting having had four antenatal visits while they were pregnant with their youngest child. And 74.47 having their deliveries supervised by a skilled birth attendant. (AMIC, 2018).
The contribution of World Vision together with the faith leaders, district health management team and the community groups towards achieving these results cannot be overemphasized, the results, on the other hand, calls for more efforts and community engagements sessions to attain SDG target of reducing maternal mortality ratio to less than 70 per 1,000 live births and under-five mortality ratio of less than 12 per 1,000 live births.