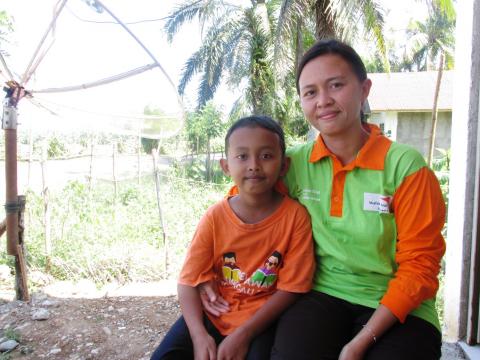 The Benefits of Nutrition Garden to The Community in Napal Melintang Village
Tuesday, July 24, 2018
Mrs. Rahayu (29 yo), is very enthusiastic about the changes that occur to her children who like eating vegetables. It had been very difficult for her to give vegetables to her children, Kevin (10 yo) and Micael (5 yo). This caused of generally children do not like consuming vegetables.  
Spinach is the most frequent vegetables that Mrs. Rahayu usually proceed for her two children, it can be processed as vegetables soup or boiled vegetables. Mrs. Rahayu admitted that her children become a vegetables lovers only by looking at the vegetable display. However, the children love the vegetables, especially spinach, the spinach are very hard to find in the village or in the traditional market. 
Wahana Visi Indonesia South Bengkulu Area Program came into Mrs. Rahayu's village and brought the nutrition garden program and she becomes one of the participants of the program. 
After joined the program, Mrs. Rahayu told that the community got the benefit of the nutrition program, especially for the children who do not like eating vegetables. After getting cooking training the mothers are equipped with knowledge about how to proceed vegetables that can be fed by children. For instance; Spinach can be vary processed like spinach roulade, spinach nugget, spinach chips. 
This processed spinach is very popular with children. By processing the spinach, the children do not know that they eat the vegetable. The nutrition gardens in Napal Melintang Village are currently looked after, fertile, and can be perceived by the community.  
Mrs. Rahayu is one of the mothers who are grateful for the success of the nutrition garden in her village. This story becomes the other side of the nutritional garden benefits for the community in addition to supporting IYCF (Infant and Young Child Feeding). 
Written by Staff of Wahana Visi Indonesia South Bengkulu Area Program