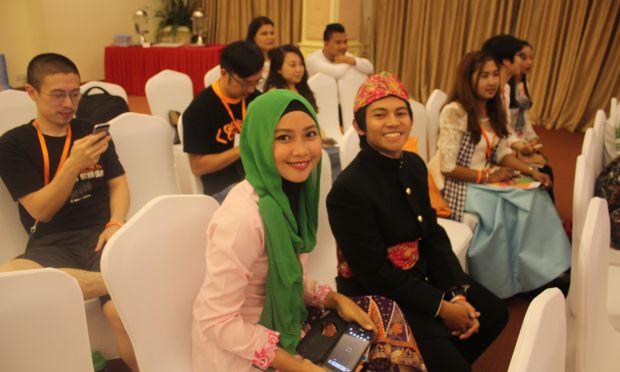 Siti Maysarah (19) is a university student in Jakarta. Sarah, her nickname, initially wants to take Communications as her major. However, she is still glad and thankful to receive scholarship from government. Due to economic reason, Sarah lives with the family of her second sister while her father lives with her eldest sister's family. Her father is a TV technician freelancer. Sarah also had working as customer service for additional income. "My expenses are not for myself but also for my father who sometimes need money to help my first sister family pay electricity," she said.
When Sarah was invited to join the Young Project, a project held by Wahana Visi Indonesia (WVI), she was really excited because previously she used to sell tumbler and glass. However, due to minimal knowledge, the turnover was not really good. After attending motivational seminar, she followed/received entrepreneurship training. She chose the online class. "I think online business in Indonesia is more flexible and moreover keeps increasing," she added.
Sarah gains lots of knowledge from the training such as; mixing product to increase profit; e-commerce, pricing strategy, how to choose name for her online store, photo and caption and making repeat order. "It turns out that price does matter, people would be interested with IDR 49,000 rather than IDR 50,000," she told laughingly.
Sarah admits that the tips and tricks taught in the training were really helpful for her to do the online business. She is introduced to e-commerce which is suitable for her products and market. She chooses e-commerce platform that most suitable for her product and market target. At present Sarah can not only afford to feed herself, but also give a little financial help for her sister. Even now, Sarah helps his father to pay rent Rp.500,000 ($38,5) monthly.
Now, Sarah is able to her provide herself, she also helped in small amount for domestic use in her sister household. Even now, Sarah could help his father to pay the rent amounted IDR 500,000. If her online business keeps expanding, she would like to live with his father again. Until now, Sarah could get roughly IDR 7,000,000 from his online business for 2-3 months.
"I am really grateful for WVI through Young Project. Thank to Young Project, now I can continue my study and run an online business to cover my needs."
Young Project is a youth economic development program in Jakarta which is organized by Wahana Visi Indonesia. The project is conducted to achieve economic opportunity and build youth capacity through 3 programs: (1) Youth Entrepreneur, (2) Diploma Scholarship and (3) Vocational Training. Youth Entrepreneur trains the adolescent to become entrepreneur and gives them initial capital. Diploma Scholarship gives opportunity to young people to attend Diploma College for one year period as a preparation before entering working world. Vocational Training helps youth to increase their specific skill in development training course.