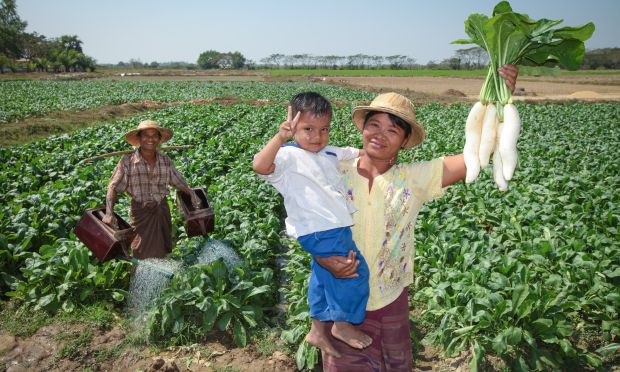 In the past, before Ma Thin Khine sewed her garden plot of radishes and other vegetables, she needed to visit the money lenders. She needed cash for seeds and to pay for the rental fees for the plot of land.
"I had to pay to the land owner 30,000 Ks (around 30 US dollars) to rent the field and it also cost 15,000 Ks (around 15 US dollars) for a plot for water sources for the plants," explains Ma Tin Khine.
"We earned only about 3,000 Ks (around 3 US dollars) daily and also had to borrow money from lenders with a high interest rate to invest in seasonal crop cultivation," says Ma Thin Khine, a mother of 5 years-old child. When she wasn't working in the vegetable garden, she was working in the rice fields in the rainy season. During this time, her son attended a World Vision supported Early Childhood Care and Development centre.
Despite all the work she did, it was not sufficient for her family to survive.
World Vision noticed that Ma Tin Khine wasn't the only one struggling in her village. To help families improve their income, the organisation introduced a group based seasonal crops cultivation program in Ma Tin Khine's village.
This program enhances many job opportunities for the villagers, especially for those who don't have their own land to grow.
The program groups together small farmers who have the same interests. They make agreements with landowners, community based organisation members and other interested persons on how to utilize the land and how to prepare it for planting.
A World Vision agricultural specialist provides various trainings to the group related to agricultural techniques such as basic knowledge of pests and diseases on vegetables, how to make and use simple natural compost. The organisation also helped provide insecticide, fertilizer, and good quality seeds for better production.
The group cultivation starts after rice harvest in October. For group based seasonal crops, the growing season is from November to May. For Ma Tin Khine, radishes can grow three times within a season.
It's a win-win situation.
Group members do not need to pay land charges while growing vegetables from the land owners and World Vision helps pay for a water pump and pipes, and shares the costs of digging water sources in the central part of the field. In exchange for the land rental, landowners get the chance to use water pumps and well during the rice planting season.
World Vision staff member Naw Gracy explain that, "During the livelihood assessment, we found out that land is not utilized after the rainy season and land owners allow people to grow vegetables in their fields. As the fields are not far from Yangon, there is a potential market."
Now Ma Thin Khine boasts a thriving radish business and constructed a livestock building for 3 piglets she bought with proceeds from her harvest. The piglets allowed her to double her initial costs after feeding them and selling them at the market. With proceeds from the pigs, she bought 160 ducks and is now benefiting by selling duck eggs daily. She is even able to participate in a community saving group.
"Now we earn about 6,000Ks (around 6 US dollars) daily. Also, I save 20,000Ks (around 20 US dollars) monthly with our village saving group.
"Now with World Vision support I can grow three plots, I earn 200,000 Ks (around 200 US dollars) per plot," smiles Ma Thin Khine.
Now, 16 groups from 11 villages and 93 families have been benefited from this program.
Ma Thin Khine's son is also benefiting.
"When my son got back home from ECCD, (early child care development) he recite me poems. He also has practice washing his hands before having meals and after going toilet" share her joys.