Lack of access to water and toilets can seriously interfere with children's education.
Where toilet facilities are poor, adolescent girls often find it particularly difficult to attend school during menstruation, preferring to manage their periods privately at home. Even if they go to school, girls constantly fear that their makeshift sanitary towels may leak and disrupt their concentration and participation. Furthermore, due to lack of education of good hygiene practices many children miss school regularly due to bouts of diarrhoea.
Ramkrishna Khanal, the principal of Shree Saraswoti School in Tadabisauni, Nuwakot, has seen some of the problems first-hand. He was concerned that his students had to use an old unhygienic toilet which had been partly damaged in the earthquake.
Fortunately, World Vision partnered with the school to build water and toilet facilities for the students to use. The project is nearing completion and two toilets with clean water facilities have been built in the school premises.
As I take out my camera to click some pictures the students willingly come forward to pose in front of the newly-built toilets.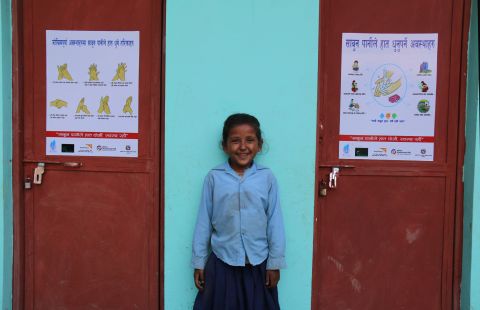 Alina, a fifth grade student, says, "The new toilet is so clean and there is a good supply of water. Now, we don't need to worry about running out of water in the toilet. I cannot wait to use it."
As she tries to say something further, little Rojina, a second grader interrupts, "Me too, me too. The new toilets are so nice. I want to use it soon."
The school staff are also equally excited about the new toilets. They know that having access to clean water and toilets will mean their students can spend more time in class.
The community has also learnt about basic hygiene practices through World Vision's awareness programmes on Water, Sanitation and Hygiene (WASH). At school, the students now wash their hands after using the bathroom and before eating – and they're sharing these habits with their families.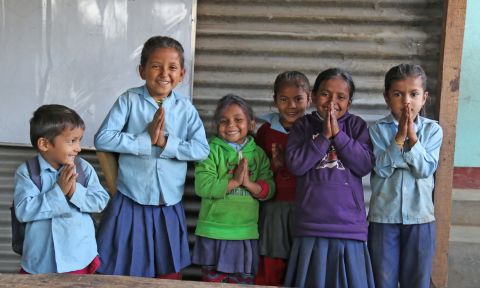 "Now the children are following proper handwashing techniques and there is less sickness," says Ramkrishna.
Sujan Lamichhane, World Vision's WASH engineer in Nuwakot says, "At World Vision we believe that every child deserves clean water and toilet. It's the essential building block of life that allows children and their communities to survive and flourish."
The community also seems content that World Vision is working to increase access to sustainable and safe water supplies and improved sanitation for poor and vulnerable communities and schoolchildren.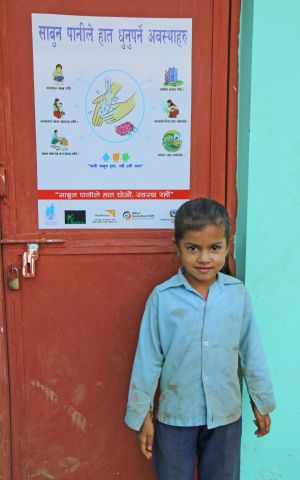 As I close my camera and leave the school little Rojina waves me goodbye and her words echo in my head: "Me too, me too. The new toilets are so nice. I want to use it soon."
And I say to myself, "You will use it soon, my dear."
By providing access to clean water and toilets World Vision is committed to contribute in the attainment of Sustainable Development Goal 6: Ensure availability and sustainable management of water and sanitation for all.

---
Featured image: