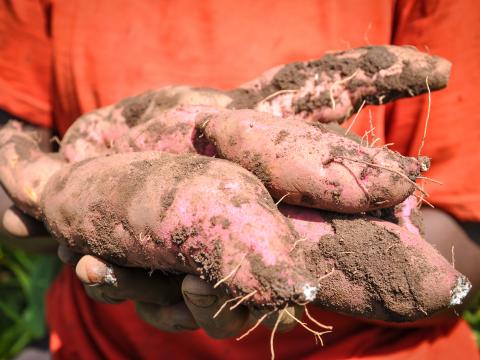 World Vision and HarvestPlus: Partnering to improve nutrition for most vulnerable
Tuesday, October 25, 2016
World Vision and HarvestPlus signed an MOU extension at the Micronutrient Forum in Mexico on 25 October 2016, extending the partnership that formally began on 23 January 2014 when World Vision and HarvestPlus signed an MoU at the World Economic Forum in Davos - click to read joint statement. Together World Vision and HarvestPlus have focused on improving access to nutritious staple food crops - for home consumption and to sell in local markets - for vulnerable farming communities across Africa, Asia and some Latin American countries. 
Howarth Bouis, founder of HarvestPlus, and Dr. Carolyn MacDonald, World Vision International Nutrition Director, shake hands after signing an MOU extension in October 2016
In 2012, World Vision had integrated biofortified crops into our development programmes in just four countries with high burdens of hunger and malnutrition. In 2016, we now have seventeen countries that have integrated biofortified crops into their programmes! Click here for more info!
We've seen real success that has made a massive difference to hungry children, like Emmanuel, and their communities--in fact our combined results supported by other partners including USAID have been featured in Roger Thurow's new book The First 1,000 Days (see Uganda Case Study) and recently on the BBC.
With this renewing of our partnership, World Vision looks forward to seeing how much more  impact biofortification can have for the most vulnerable children and engaging with research partners in documenting the process of scaling-up biofortified crops and evaluating the impact on public health nutrition; recognizing that biofortification alone is not a magic bullet.  But it is one important intervention in a variety of approaches required for addressing malnutrition to achieve the well-being of women, children and their families.