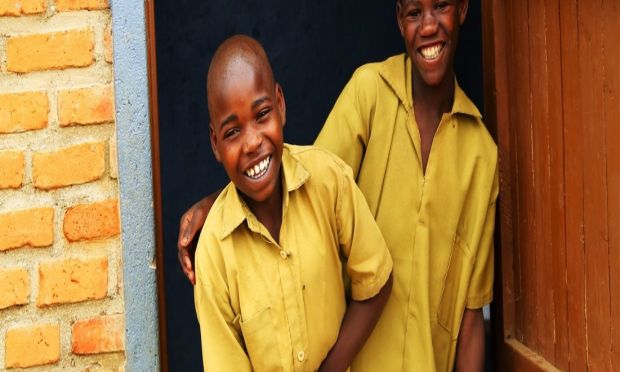 It is 10 o'clock in the morning; time for break at Mujebeshi Primary school located in Rutsiro District, western Rwanda. Hundreds of children in khaki-coloured uniforms are running and playing outside. Sitting under a big mango tree, two students, Salomon, 12 and Innocent, 13, are talking and laughing at their classmates arguing during a football match. Both boys have disabilities in their legs and this significantly limits their mobility.
Last year, Salomon and Innocent were pleasantly surprised to find that their school, supported by World Vision, had acquired an additional toilet specifically designed to accommodate their disabilities.
"I enjoy every day at school now," Innocent says with a smile.
In Rwanda, the 2014 school census found that a total of 24,862 children with some form of disability enrolled in pre-school, primary and lower secondary schools across the country. These children face not only social discrimination but also barriers to accessing services such as health, education, and transportation as the environment and infrastructure often lack design to accommodate their needs.
For Salomon and Innocent, the most difficult part was using the previous school latrines. These were common squat-style latrines that made it very difficult for the two boys to relieve themselves when they wanted to.
"I had to sit on the floor in the toilet. Sometimes there was urine everywhere. It would get on my hands and clothes," Salomon sadly recalls. "My classmates would always laugh at me because of the smell," he adds.
For Innocent, he resented the school headmaster and teachers who could not help in his misery. "I thought that they were bad people for constructing these latrines that I hated," he says.
The situation had gotten so much worse that both Salomon and Innocent did not want to go to school at all. They would spend weeks at home before their parents would decide to make them return at school.
"My dad forced me to go back, otherwise I would have stopped going to school. It was all too embarrassing for me," Innocent recalls.
In August 2017, World Vision Rwanda, through the Health and WASH (Water, Sanitation and Hygiene) programme, built a special toilet facility to cater for Salomon, Innocent and other future students with special needs. The toiled has grab bars on each side to ease movement to and from the toilet seat. In addition, enough space has been left in the room for a caregiver if necessary.
"When I used it for the first time, it took me only five minutes to finish and get back in class. It was comfortable and fun to use," Innocent says.
"The toilet keeps me clean. My friends don't make jokes about me anymore," Salomon happily adds.
The new toilet room is equipped with grab bars to ease movement to and from the toilet seat.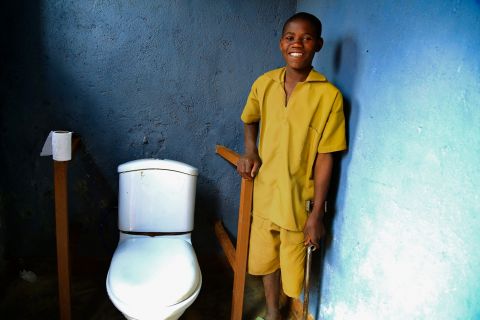 Sustainable Development Goal 6 (SDG 6) aims at "ensuring availability and sustainable management of water and sanitation for all". Interventions within World Vision Rwanda's Health and WASH programme address this particular goal by working to increase access to dignified WASH infrastructures that can be used by people with disabilities.
"As a child-focused organisations, we focus on assuring disability inclusion in all water, sanitation, and hygiene (WASH) projects. Our Disability Inclusive WASH interventions in schools reduce social discrimination and help children with disabilities attend and stay in schools," says Nicaise Ugabinema, World Vision Rwanda's Health & WASH Technical Programme Manager.