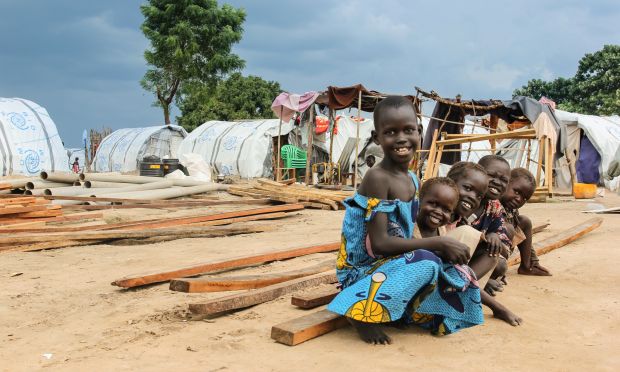 South Sudan's President Salva Kiir signed a peace deal with the political opposition last year, in an attempt to end the 20-month-long civil war and to reinstate first Vice President Riek Machar. One year on however, with heavy fighting in the capital in July and with worsening food security, the humanitarian situation in the country continues to deteriorate. Reaching out to the most vulnerable, World Vision has found that despite people's despair, the South Sudanese remain resilient and adamant to build up their country again. "What they need is lasting peace," says World Vision's National Director for South Sudan Perry Mansfield.
Over the last month, more than 36,000 people were displaced after clashes broke out in Juba, adding to the already 1.6 million who had previously relocated internally because of the country's unrest. Many found shelter at South Sudan's PoC (Protection of Civilian) sites.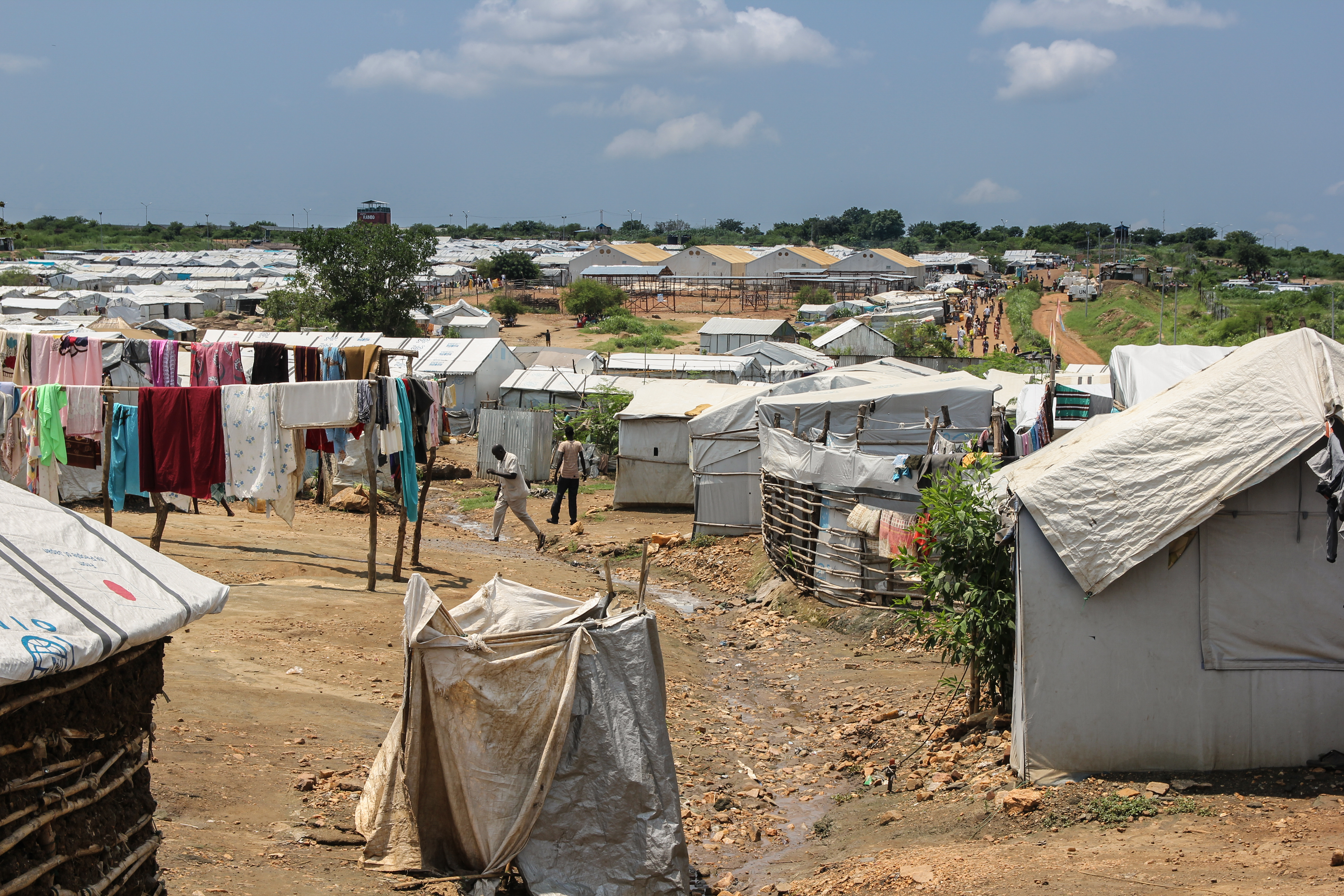 With the launch of an immediate emergency response, World Vision has been able to reach thousands of IDPs. As the response continues in and around Juba, we have focused on emergency nutrition, food assistance and child protection; while we continue to additionally keep up operations in other parts of the country.
Measuring the influx of arrivals at PoC sites and seeing people's need, it is evident that the country's humanitarian situation is deteriorating and peace is the only long-term solution for South Sudan.
"I know it is safer here, but I miss my family."
Living far away from her parents, even ten-year-old Negima knows that this is true. She has been running for years already and is tired of living in constant fear and uncertainty. Back in her native village, the young girl used to live in a well-built hut with plenty of space for the whole family. Today she is crammed in a tent with her aunt and cousins. There isn't much space left in the settlement as new people keep arriving still.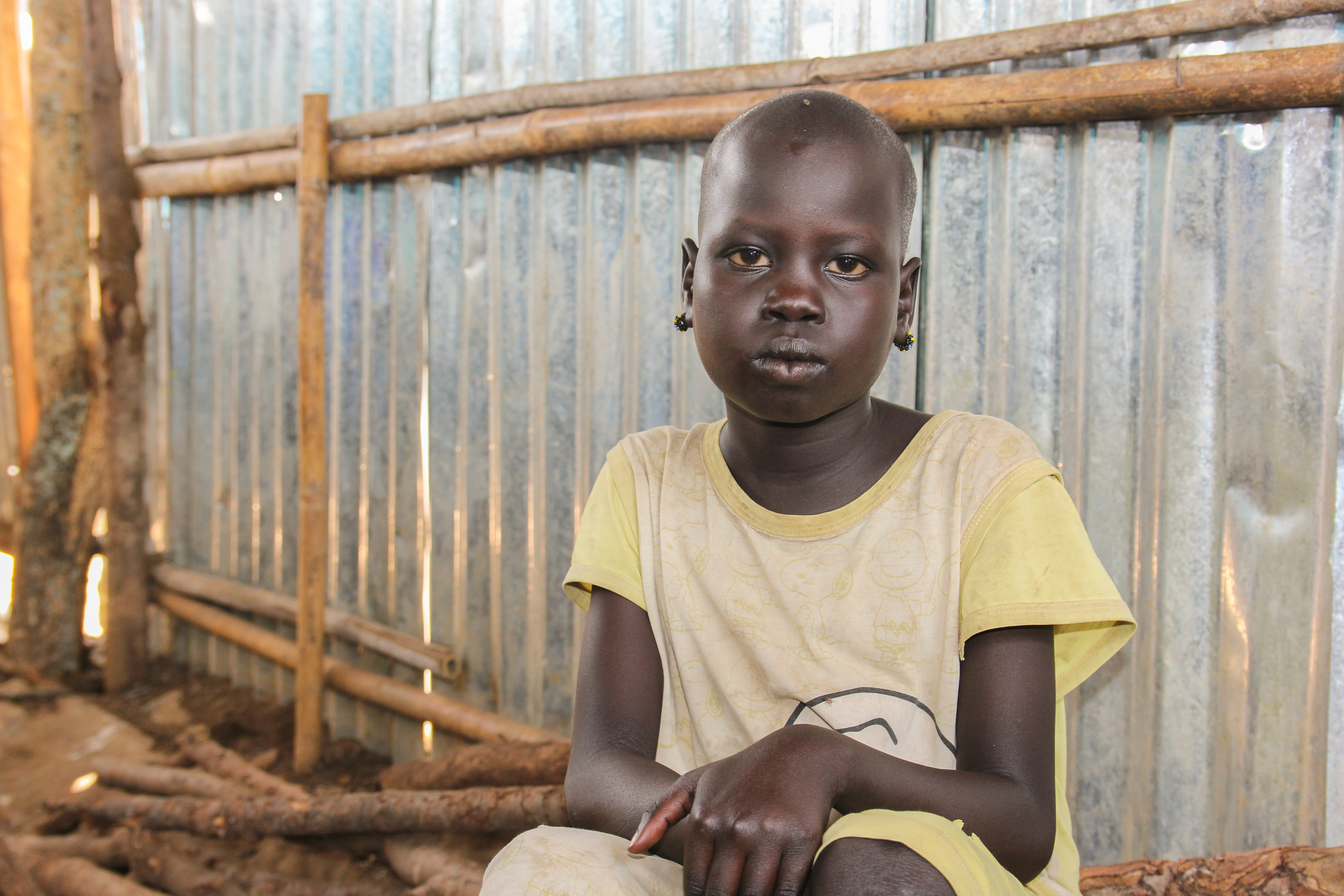 10-year-old Negima misses her family. Photo by Stefanie Glinski, World Vision UK
"I'm not happy," she tells us. "I don't understand life and I don't know what to do here. All of my friends are back home, but my parents sent me away to Juba. I know it is safer here, but I miss my family."
Just a few days prior to meeting Negima, she was chased by dogs and badly bitten. Sitting on several logs of firewood, she pulls up her nightgown to show the not fully healed wounds on her knee. "My whole body hurts and I'm very scared," she says, lowering her head. Her family suspects it to be rabies, but chances of seeing a doctor at the PoC immediately are slim: Lines are long and hundreds of people – many of them children – are waiting for treatment.
Rabies is just one of the many diseases that IDPs are struggling with. According to OCHA, 40,000 additional malaria cases were reported this year and cholera is spreading fast across the camps. Food security and education also continue to affect children throughout the country. 4.8 million people suffer from acute malnutrition and over 70% of schools in the Northern part of the country remain closed.
"I'm glad that I have a school here and I'm also receiving food every day. I just wish my parents were here, because I feel so alone."
As World Vision continues to provide essential lifesaving measures in South Sudan, it is clear that an end to the conflict has to be the first priority – and is crucial in order to implement ongoing child protection, nutritional support, food security, livelihoods, clean water initiatives, healthcare and education.
Negima is one of the children who is now, for the first time, able to go to school. "I'm ten years old and I'm in first grade. I have never been to school before," she tells us. "I'm glad that I have a school here and I'm also receiving food every day. I just wish my parents were here, because I feel so alone," she adds. Like many other children, she had to flee rebel fighting several times throughout her life, but remains strong.
"When I look at children like her, I'm amazed," says Mansfield. "The South Sudanese have shown incredible resilience and what they now need is peace. If they are given the opportunity, they are ready and willing to shape the future of their country – and that of their children."