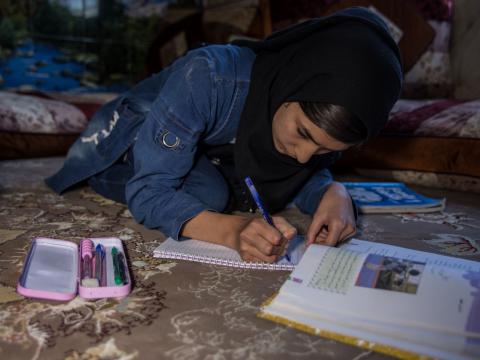 Afghanistan's young leaders speak up
Sunday, August 11, 2019
"I have a lot of ambitions," says Eidnaz (pictured above), who sits on a thick cushion on her living room's floor in Qala-e-Naw, the provincial capital of Badghis in Afghanistan.
"First, I want to study law to become an attorney and then I want to work in government. There's a lot to improve in my city - we don't even have many paved roads - and I want to change that," she says.
Eidnaz is only 12 years old.
She sits confidently, wearing jeans and a blue denim shirt, her shiny black hair tucked away under a headscarf. Her pasture is straight and she gestures with her hands while speaking. The living room she sits in is decorated with thick carpets. A television stands on a glass table in the corner, while the whole room is lined with cushions.
Last year, Eidnaz was selected to be part of World Vision's 'Improving Adolescent Lives in Afghanistan' programme, funded by Unicef, a group of 20 members who spent a few weeks on intense training on expression- and life-skills.
A total of 32 groups have been established throughout Badghis, with 640 teenagers participating.
Eidnaz says the group has grown her into the confident girl she now is. She speaks loudly and clearly, even using the occasional English translations she's learned in school.
Growing up as the youngest of seven wasn't always easy. "My older siblings used to tease me a lot and now most of them have finished school and left the house, so it's just me," Eidnaz explains. These days, she mostly hangs out with her classmates. "We play and study together and when I have time, I share all of the lessons I was taught during my training. I want all of my friends to become leaders."
Eidnaz admits that life is easier for boys than it is for girls in Afghanistan, because boys are given the priority and increased opportunities. "There should be equal rights and that's what I want to focus my energy on. I'm already starting now, and I want to do more when I finish university."
For her home Badghis, she says she'd like to see improved security and more development. While lack of healthcare, clean water and education are on the daily agenda, Eidnaz believes that improvement can only come with guaranteed security.
"Most of the children my age think about the conflict and on how difficult the situation is. I want to change that perception. We need to focus on development and on the personal dreams that we have," the eighth-grader explains.
Being part of World Vision's course has helped her develop her writing skills and putting words on paper is her main way of coping now.
"I write down everything. It's a mixture of what I observe when I walk down the road and of the conversations I have with my friends."
Some of her stories are due to be published with a local magazine, alongside those of other teenagers who attended the 20-day-long course.
"I write about the good things, but also about my challenges and fears," Eidnaz admits. Both of her parents work with the local government and have been able to send all of their children to school, but some of her friends in town didn't have the same opportunity. They are illiterate and, while Eidnaz spends her time helping them, she's realised that girls are often put in the backseat.
"It's frustrating and it's part of what I want to change. Men still have the power to make decisions over us," she says. All of her stories are written by hand and kept in a notebook in her room and writing has provided an outlet for her to process.
Leaving her hometown of Qala-e-Naw is not an option for Eidnaz and she's determined to even enrol in university here. "I'm from here, so that's where I want to make a change. It's exactly what my other friends in the programme want to do as well.
While a job with the local government is her dream, she also has another ambition. "I want to serve people here and there are many ways to do that," she says with a smile. "If it's possible, I'd like to work for World Vision one day."