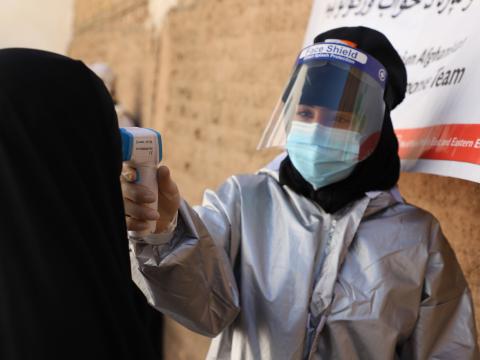 Overcoming Fear to Overcome the Virus
Monday, September 14, 2020
Zainab, 28, hasn't let the fear of COVID-19, or traditional beliefs about the woman's place in society discourage her from doing her job. She works as a doctor with one of three World Vision Afghanistan (WVA) community screening teams in Herat. Her major concern is using her knowledge to keep people from becoming ill. "When I graduated from medical faculty I made a commitment with myself to help my people in any situation," she says.
Zainab and other medical personnel wear Personal Protective Equipment (PPE) while screening patients. She admits that it's not pleasant interacting with people in this way, but it's important to stay safe. Also, "[PPE] has meant that my family members don't try to escape from me when I return home!" She lives with three brothers and a sister.
Team doctors screen and register between 300 – 500 people a day, identify the suspected cases and ensure the proper sample is taken from the main high risk categories, in addition she do follow up with patients regularly for two weeks and beyond. One young woman pushed back when she received her results. According to Zainab, "Despite testing positive, she could not accept it. Her condition was bad psychologically so I set aside an hour every day, even after work, to talk with her because she was very stressed due to this disease."
All of her persistence paid off. The interaction and conversations inspired Zainab to connect personally with more patients and she reports that the woman in question is once again in good health. In spite of the challenges she has faced as a doctor during a health crisis she has found her overall experience to be empowering.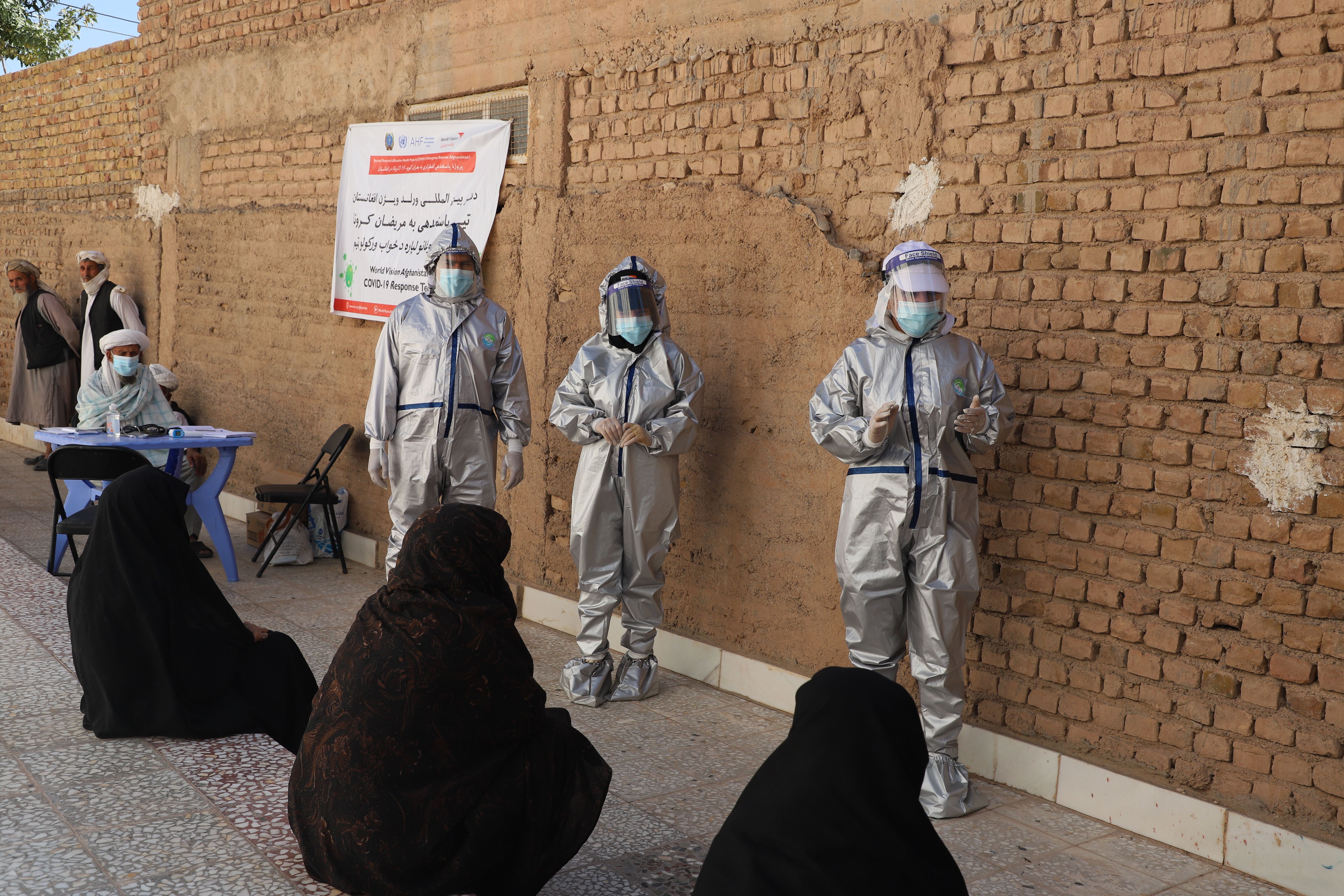 World Vision Afghanistan activated community screening teams to identify cases and refer suspected cases to the provincial isolation centre for confirmation and treatment. The effort aims to prevent the spread of COVID-19 in Afghanistan by scaling up preventative measures and strengthening health systems and health workers among Internally Displaced Populations in Herat. Additionally, WVA has trained 201 faith leaders to assist with risk communication and social mobilisation through community engagement, and to raise awareness on COVID-19 among the general population.
The project is supported by Afghanistan Humanitarian Fund and operates in coordination with the Department of Public Health and Health Cluster. Each team comprises a doctor, lab technician, and nurse. Thus far, 58,761 people have been screened. Out of 2,800 suspected cases, 185 were tested with 82 positive diagnoses.
Maryam, 67, survived COVID-19. Because neither she nor her family recognised the symptoms, she was late to quarantine, which resulted in her daughter-in-law being infected as well. Maryam reports that "I was very sick and had pain in my hands and legs. I also had a sore throat. I went to a local hospital for treatment, and they gave me some medicine, but they did not work. When I heard about the community screening teams I visited right away. The doctor screened me and I was registered as a suspected case. They instructed me to follow proper hygiene practices and quarantine myself at home." Within days she received her results, which came back positive. This allowed the family particularly Maryam's grandsons and daughters to develop a routine to minimise risk of exposure to the larger community.
Molawi Abdul Momin, 37, is a faith leader who lives in Khair Abad, Herat. He was trained by WVA to help support the community screening team. "During the first stages people were not interested in screening themselves for the virus," he says, "but [after our efforts] they realised the services were useful and important and now they reach out to doctors" without hesitation. Molawi Abdul Momin shares COVID-19 information with his congregation. "During the Friday prayer I tell people that the threat of coronavirus still exists." He instructs worshippers that because Life is a gift from Almighty Allah, we humans have a responsibility to respect and preserve our own lives and those of others.