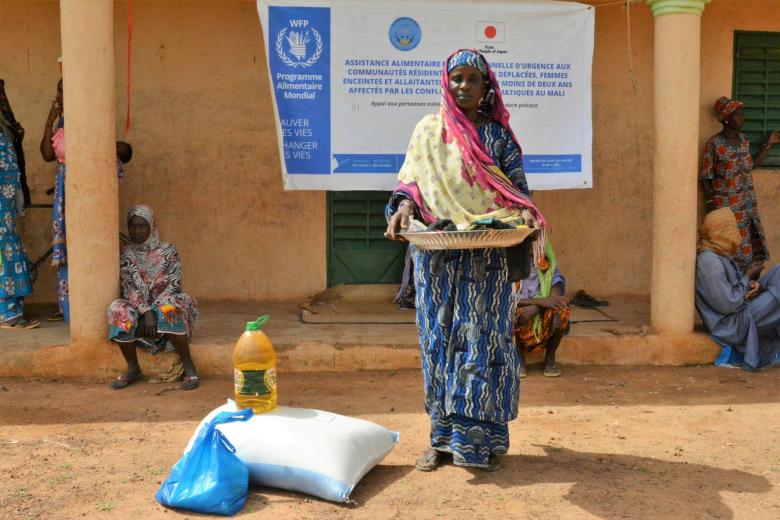 Habi is still mourning her husband's murder
Monday, July 25, 2022
In conflict-affected areas, Civilians have not been spared the violence, with attacks sometimes targeting their villages or communities. Hundreds of people have been kidnapped, physically abused, or even killed since the conflict began in the central and northern regions of the country.
These forms of violence diminish or ruin the dreams of thousands of victimised families, like the case of this mother of five children.
Habi, a 50-year-old woman living in central Mali, lost her husband two years ago in the worst way. As we learned from her, she was left alone with her five children after her husband was murdered in their own home by unidentified men.
"My husband was murdered in our house. That day, after having dinner, he was resting in the courtyard watching television with our youngest child. Suddenly, armed men burst into our house and told him they had been sent to kill him. I was in the kitchen putting away the cooking utensils. When I heard their conversation, I screamed for help, and my children were crying with fear. Then, my husband was able to get away from the child he was holding before the murderers shot him seconds later before fleeing." She shared with us
Shooting a head of a family in his own home and in front of all his children is one of the worst atrocities. Nothing can justify this kind of act. Habi and her children regrettably felt unable to protect their beloved family head.
"We didn't know what to do; we went to tell the village chief that my husband had been murdered. It was already too late. We had lost him on the spot even before the attackers fled.
Living with 5 children and without their father is how this courageous mother's life is now summed up. According to her, the husband was the strength of their family.
"It (husband's murder) turned my life into a nightmare because, after his death, I started to feel a huge burden on my shoulders, especially when it comes to providing food for the children. Today, I feed them mainly through the help that neighbours give me after the seasonal harvests."
Does this solidarity from neighbours allow her children to be properly fed for a long period of time?
We don't think so because their mother tells us here "Unfortunately, their help is very insufficient to feed us for a long time. So, I manage to sell the women's small jewellery to earn some money. But, this (small business) does not work because the insecurity has affected the economic life of the village inhabitants. This generating activity can allow me to buy condiments, but it cannot allow me to buy even 20 kilos of rice per month. I suffer a lot for the children".
World Vision's emergency food and nutrition assistance project in response to the Agro-pastoral crisis in Mali, in partnership with WFP, is now helping to ease the heavy food burden on the shoulders of this courageous widow and mother.
Over the past few months, Habi has received enormous food aid from World Vision, which she says has been a lifeline for her family.
"When World Vision came to our village to aid vulnerable and conflict-affected families, I was happy to be a beneficiary. I received food from WV for six months. Every month, I receive a 50-kilogram bag of rice, 5 litres of oil, 10 packages of spaghetti, 14 pieces of Cube Magic, and 1 kilogram of salt." She was glad to share.
As she continues "without this (food assistance), I don't even know what I would become. Sometimes, to vary the children's meals, I exchange 25 kilos of rice for 40 kilos of millet with a neighbour. It's also a way for me to earn enough food to cover the whole month."
The good news is that two of her children are in school. She revealed that their schooling was the greatest wish of their late father. "I have two children who are in school, the oldest is in 7th grade and the second is in 5th grade. " She shared with us before adding "this is a difficult time for me. My only wish is that the insecurity ends, so we return to a peaceful normal life in the village."