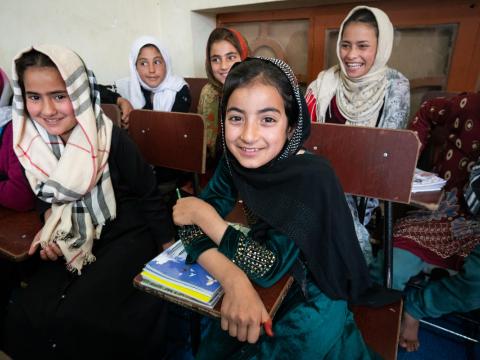 Finding hope in fragile contexts: Afghanistan 17 years on
Thursday, July 18, 2019
By Julian Srodecki, Humanitarian Director, World Vision Middle East and Eastern Europe 
Cover Photo: Girls in school in rural Afghanistan. Brett Tarver/World Vision 
I returned to Afghanistan with many questions. As part of the team that set up World Vision's work there in 2002, I wanted to see how our work is adapting to the needs of children and their families. 
What does fragility look like here? Is there hope in fragile contexts?  

Many things are better now than 17 years ago. There are many challenges and still a lot to do, but it is very encouraging and inspiring to see how western Afghanistan is changing. 
Herat is the largest city in the western region of the country, and is in the province where we do the majority of our work. In 2002, every women wore a light blue burka. This is the most conservative form of Islamic dress with their faces fully covered. Today, most women opt for head coverings that leave their faces uncovered. Before, many women were unable to work. Now, it is a delight to visit health clinics and schools where women are providing frontline services. Girls are in school, they're graduating university and working outside the home.  
Afghanistan remains a very conservative place, but in 17 years there has been progress -according to the girls and women World Vision works with. Quality of life is improving as well. These days a small but growing number people are able to afford motorbikes. In 2002 there was no national network for landlines and to call out of the city you had to use a satellite phone, internet was prohibitively expensive. Today, 32 million of 35 million Afghans have a mobile phone, according to the Ministry of Communications. You can't overstate the importance mobile connectivity makes to reducing isolation, of women in particular, but families living in remote parts of the country as well. 
I was inspired by my colleagues in the World Vision office. The majority are national staff, supported by a handful of expats. Over several years, our team has built a strong track record of implementation, and a reputation for having skilled knowledgeable staff able to negotiate access to some of the most difficult areas of the north-western provinces. They adapt quickly as needed. Last summer in response to drought, we were able to distribute food to more than half a million people across the whole of Badghis and Herat provinces. The growth of capacity and capability among our national staff has been a joy to behold, and this has enabled several hundred staff to thrive and deliver good programmes. 
In 17 years, the nature of World Vision's work has inevitably changed. But in some ways not. Rather heartbreakingly, we have been in emergency mode to deal with the severe drought and high levels of malnutrition in children that has wreaked havoc on families, and flash floods like those that hit earlier this year. But our work is also focused on longer-term development. I saw solar tube wells supplying drip-fed irrigation systems that are greening valleys with food and cash crops. I visited a girl's school that was thriving in a rural area where this would not have been possible before. Our work in early childhood education, alongside other organisations, has been picked up by the Ministry of Education who wants to spread the approach nationwide. Is this relief or development? In practice, a mix of both. In a fragile context the labels matter less than the impact which is clear to see. I left Afghanistan feeling encouraged that longer-term development is possible in fragile contexts. In 17 years a lot has changed, and it is wonderful to be able to say that many of these changes have been for the better.