(Haree versaun Tetun iha okos)
Boosting livelihoods through market links
Every week, small supermarket trucks from Dili travel to Aileu villages to collect fresh produce from farmers in World Vision project areas. Getting produce to market is difficult with Timor's poor roads and difficult terrain.

But with links to Dili now established, the farmers can plant and grow knowing they have steady and profitable outlets to secure their livelihoods. It's a big change from the days they had to walk 3-4 hours to and from towns in Aileu or Ermera to sell their vegetables locally.
In Bobonaro municipality, diversifying crops and vegetables has led to a big lift in farmer group incomes. With seeds and training from World Vision, the farmers can sell surplus crops, provide more nutritious food for their families, and retain seed for later plantings.
World Vision runs five economic development projects in Baucau, Aileu and Bobonaro municipalities. Fifty-nine producer groups with 943 members have been set up. Their combined monthly sales rose from $8645 to $18,675 in the year to October 2014.
Savings and loan groups
Another aim is to set up village savings and loans groups. Members are trained on how to set up a proper structure and keep money circulating within the group. Group rules mean that, for instance, members can only borrow for purposes of health, education and economic needs such as paying school fees, repairing houses or setting up small retail kiosks
In a typical group, an elected chairman will call a monthly members' meeting to update the income and expenditure, who has borrowed or returned money, and how much the group has in cash. Members contribute every month and can borrow up to a certain limit any one time and repay their loans at low interest rates. Sixty-four village saving and loans groups were active in January 2015.
An exciting new project in Bobonaro in 2014 injected an estimated $18,000 into the local economy after an inaugural harvest of 20 tonnes of soybeans was sold to Dili producers. The project is set significantly expand in 2015.
READ MORE

Vegetable sales deliver steady income for Aisirimau village >>>
From farm to market: new business helping farmers to feed their families >>>

Diversifying crops boosts farmers' incomes >>>
versaun Tetun
Hasa'e vida moris liu husi asesu ba merkadu
Semana-semana, truck supermerkadu nian viagen husi Dili ba Suku sira iha Aileu atu kolekta produtu fresku husi agrikultor iha area projetu sira World Vision nian. Lori produtu ba merkadu susar tebes ho kondisaun Estrada nebe at los no area/medan nebe defisil. Maibe ligasaun ba Dili agora establese ona, agrikultor sira bele planta barak liu tan agora, no bele hasae liu tan sira nia vida moris liu husi rendimentu nebe diak no bele asegura sira nia moris.
Ne'e mudansa boot ida husi loron ida la'o ain horas 3-4 hodi to'o kapital Aileu no Ermera no agora bele ona faan sira nia modo lokalmente iha sira nia hela fatin kedas.
Iha municipiu Bobonaro, ho diversifikasaun aihan no modo sira lori ona mudansa boot ba rendimentu grupu agrikultor sira nian. Ho fini sira no treinamentu husi World Vision, agrikultor sira komesa faan ho resultadu produsaun barak liu tan, bele fo hahan nutriente barak liu tan, no bele rai no asegura fini ba planta sira tuir mai.
World Vision hala'o projetu dezenvolvimentu ekonomiku nian 5 iha municipiu Baucau, Aileu no Bobonaro. Estabalhese ona Grupu nebe halo produsaun hamutuk lima nulu resin sia ho membro sira hamutuk 943. Total rendimentu husi buat nebe sira faan hamutuk husi $8,645 ba $18,675 iha tinan ida laran to'o Outubro 2014.
Grupu rai no impresta
Mehi ida seluk mak atu establese grupu rai no impresta (kooperativa). Membro sira trainadu konaba oinsa mak atu kontinua mantein estrutura ida no mantein sirkulasaun osan iha grupu laran. Regras grupu nian nia objetivo mak, izemplu; mebru sir abele impresta deit ba objetivu Saude, edukasaun no nesesidade ekonomiku hanesan selu eskola, hadia uma no loke kios kiik sira.
Grupu hirak ne'e lidera husi ema hirak nebe eleitu liu husi sira nia reuniaun mensal atu update nafatin progresu rendimentu no gastu sira, se mak impresta ona no se mak fo fila ona, no osan hira mak grupu iha. Membru sira kontribui semana-semana no bele impresta to'o iha limites balun nebe deside hamutuk ona no bele selu nia funan ho valor nebe kiik. Grupu rai no impresta osan hamutuk neen nulu resin haat forma no ativu ona iha Janeiru 2015.
Projetu foun ida nebe emosionante tebes iha Bobonaro, iha tinan kotuk konsege injeta ona kuaze $18,000 iha ekonomia lokal nian no konsege kolheta fore-keli hamutuk tonelada 20 iha tinan kotuk no faan ba sosa nain sira iha Dili. Projetu refere sei expande signifikativamente iha tinan 2015.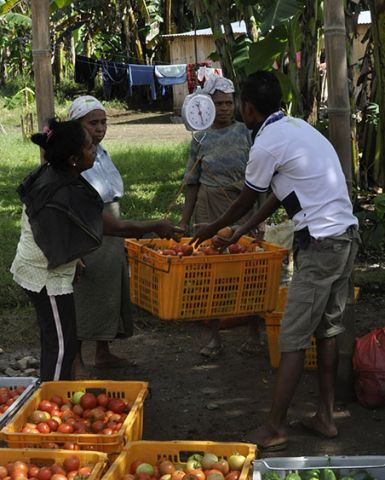 Weighing tomatoes in Aileu before they are loaded on a truck for dispatch to a Dili supermarket.