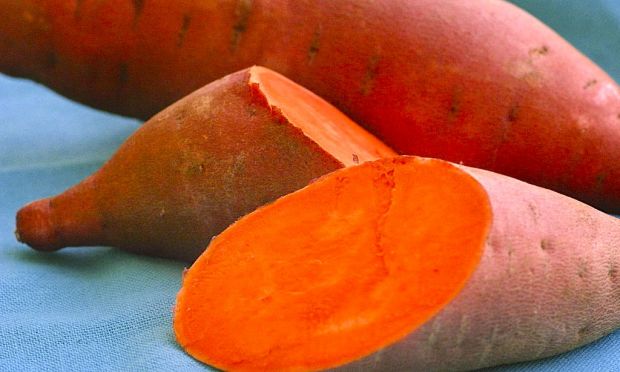 0 0 1 664 3786 WVU 31 8 4442 14.0 Normal 0 false false false EN-US JA X-NONE
Orange flesh sweet potatoes improves micronutrient deficiency among children in Northern Uganda
By FLAVIA LANYERO
Despite the fact that micronutrients are needed in the body in small quantities, the lack of them causes adverse effects many of which can be irreversible if not diagnosed in time.
Margaret Acaye is a 50 year old mother of 10 who had for a long time been grappling with her children's poor health. Having this large number of children and no proper means of survival the children literally lived by God's grace.
"We fed on posho and beans every day because we could not afford to change our diet. My husband abandoned us for another woman and I had to fend for all these children alone," says Ms Acaye. While at it, Ms Acaye's youngest children - five and six years old were diagnosed with Vitamin A deficiency a year ago.
"The children used to fall sick all the time and appeared weak. I had to walk seven kilometers twice every week to get vitamin A supplements," says Ms Acaye.
The most prevalent form of micro nutrient deficiency among children in northern Uganda according to the Uganda Demographic and Health Survey is vitamin A deficiency.
It is for this reason that World Vision started a project of supplying families with orange flesh sweet potato vines; parents are now able to grow these orange sweet potatoes which are rich in Vitamin A. In partnership with Harvest Plus, World Vision started this five-year intervention to reduce micronutrient deficiency in Northern Uganda. The project is called Developing and Delivering Bio-fortified Crops (DDBC – project).
The project also promotes production and consumption o High Iron Beans (HIB). This project is being implemented in Koro and Bobi Sub Counties in Gulu District, Lira and other districts in Northern Uganda.
According to Simpson Biryabaho the HarvestPlus project manager, rural people cannot always afford to buy Vitamin A tablets or food supplements and in many cases are not even aware of where to get the supplements.
"Most packed foods are fortified but people in the villages may not afford to buy packed food. Harvest plus looks at cheaper ways of getting the micro nutrients. The orange flesh sweet potatoes and beans are already staple foods in the region and easily adapt to local conditions," Mr Biryabaho said.
He further explains that Vitamin A deficiency results in growth retardation, damage to mucous membrane tracts, reproductive disorders, eye damage—and ultimately blindness. Children with vitamin A deficiency are likely to have impaired growth, and are at increased risk of severe morbidity from common childhood infections such as diarrheal diseases and measles. Pregnant women with vitamin A deficiency may be at increased risk of mortality
World Vision trains the farmers and parents on how to grow and prepare these foods. The programme targets children under five years who are still developing and need the micronutrients the most. This method of planting is called bio fortification as is more reliable. The project is to reach 35,000 households targeting boys and girls under five years.
Parents are asked to include orange flesh sweet potatoes in the children's diets at least three times in a week. The beans are rich in iron which increases blood content in their bodies. After palnting, families share the materials with their neighbours.
It has been a year since Ms Acaye introduced her children to these potatoes. She says her children are now healthier than before and she also makes money out of her sales since the vines produce as many as five tubers each.
"Now my children eat Vitamin A on a daily basis, I do not have to walk for long distances to get the tablets and business is booming too," says Ms Acaye. In the last season, she reaped 200 bags of orange flesh sweet potatoes the surplus of which she sold at Shs 20,000 each.
"I am happy with my life now. From the money I get, I am able to pay my children's school fees and buy requirements in fact I have supported my husband with vines and he is expecting a lot of money from this season's produce," she says.