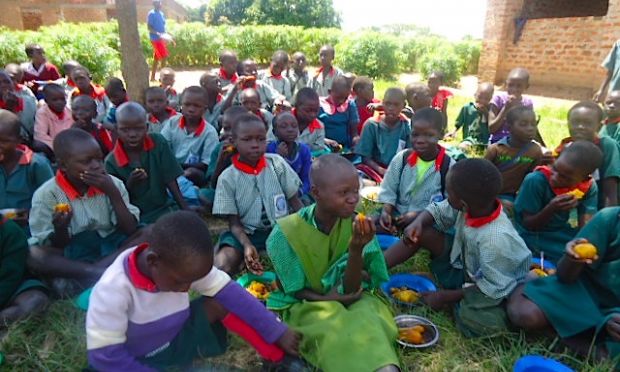 0 0 1 570 3253 WVU 27 7 3816 14.0 96 800x600 Normal 0 false false false EN-GB JA X-NONE
Orange Sweet potatoes change the life of Odongo Lameck
By Simpson Biryabaho –Project Manager World Vision Uganda
In the past, Lameck Odongo, a teacher by profession used to grow sunflower to supplement his income. But for a long time, the price was too low to generate any profits that he needed which prompted him to abandon the project. Odongo also claims that the sunflower exhausted the land, which resulted into poor yields for other crops.
But thanks to the World Vision Developing and Delivering Biofortified crops project (DDBC), Odongo and his colleagues in Barr Sub County in Lira district are happy farmers with a multitude of profits.
In this project, World Vision with support from Harvest Plus supports farmers with clean orange sweet potato vines and high iron bean seeds, train on crop production, nutrition and marketing, and monitor implementation.
The varieties commonly distributed include Kakamega, Ejumula, Vitaa, Kabode, Naspot12 and 13 and Roba1 beans. Odongo joined the project in May 2012 gathering handful quantities of vines from neighbors that eventually enabled him plant 1.5 acres of Orange sweet potatoes.
Today, Odongo is a proud owner of a nursery and primary school expanded through saving he got from sweet potato growing. "I cultivated sunflower for over 20 years but orange sweet potatoes are giving me a lot more profits," Mr Odongo says, adding: "The benefits of growing sweet potato have elevated me in developing my school to help children in my village and support my family and the community as a whole. I introduced the orange sweet potato feeding at Bishop's school and children love it a lot. This has also added market,"
In 2013, Odongo sold over 300 bags of vines and 200 bags of sweet potato roots in Lango from 9 acres. In fact he says the potato growing has become his mainstay than teaching. 'I earned Shs. 12,500,000 (Twelve million and five hundred thousand shillings) which I had never touched in one year. I have made friendships with sweet potato sellers and usually, I sort and separate small from medium and big roots that are sold differently. Most of the roots are sold within Barr community, markets in Lira town and Acholi sub-region", explains Odongo.
The farmer is also proud to have supported the community in improving their well-being. "I was taught by the World Vision Extension worker on most of the practices. I work with the Community Resource Person (CRP)-Geoffrey and in season B 2013, the CRP also expanded to 3 acres and sold a lot of roots. I have given vines freely to over 50 households within Barr and taught farmers on production practices of orange sweet potatoes and marketing aspects with a view of reducing household poverty.
''Of course as I supply the roots to Bishop's nursery and primary school, children are well nourished and I am sure they are able to talk about Vitamin A in their respective homes. During the vine and roots harvesting period, I employ over 20 women and they earn income." Odongo explains. Simpson Biryabaho, the DDBC Project Manager says that the project aims at reducing vitamin A and iron malnutrition among boys and girls from 105,000 households by 2016 in four districts of Northern Uganda.
The project promotes production and consumption of Vitamin A-rich orange sweet potatoes and high iron beans, to contribute to healthy development among children below five and women of reproductive age.
Dorcas Alum, Senior District Agricultural Officer Lira says that such progressive farmers should however be supported with irrigation equipment to enable them plant throughout the year even in the dry seasons. "The production of sweet potato is low during dry season making its market price too high. That is the right time to grow potato for profit in odd seasons" Alum said.