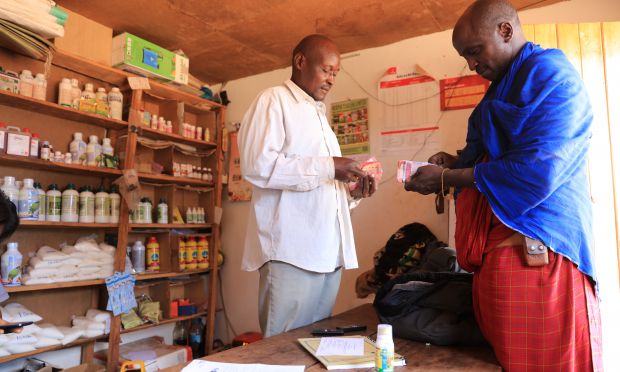 On an arid and dusty morning, our presence in Waziri's shop was almost an encumbrance to the constant flow of customers arriving to purchase money credit and agricultural supplies. We watched as Waziri calmly shifted his towering frame from behind the counter to check his fee schedule, to leaning his long arm outside his shop to get a better 3G signal for his phone to process money transfers. His latest excitement is his new fish farming venture. Waziri's life today is as different as he could possibly have imagined. Food Aid is a thing of the past.
Just two years prior, with ten mouths to feed, Waziri and his wife Zahirina produced a mere 15 bags of rice a year. Modest farmers victims of erratic rainfall, they could not cover the costs of school fees and food for their children. That year, Waziri's family was one of many recipients of World Vision's Food Aid – 10kg of maize, 5kg of beans and 1L of cooking oil.
Witnessing the results of his wife's participation in her first savings group, a transformation began. As their family struggled to avoid depending on charitable hand outs, Zahirina brought home enough money from her share out to pay for their daughter's schooling. Convinced that this was not just another passing NGO experiment, Waziri also joined his first World Vision savings group, while simultaneously receiving training in entrepreneurship and agricultural pest management and taking out his first loan of TSH500,000 (approx. US$230) to begin an acre of onion farming. In one growing season alone, Waziri reaped 70 bags (700kg) of onions bringing in TSH5.6 million (approx. US$2500) - the most he had ever earned in his life. "I was thrilled," he beamed with a twinkle in his eye.
In just 3 years, the support Waziri has absorbed from World Vision through projects and training has propelled him to becoming a model farmer entrusted by Tanzanian government for three consecutive years as an input supply agent. In the last 18 months, Waziri's group of entrepreneurs had already received TSH1.5 million (approx. US$680) in loans from VisionFund. Waziri used his share to boost his Mpesa village banking business.
The simultaneous accessing of loans through his savings group and through VisionFund has enabled Waziri to not only support his own family, ensuring food security would be a worry of the past and sending all his children to school, but also to cover the recent medical emergency of one of his children through his savings group's social fund.
"Heka Heka Vijijini," which translates as "Busy busy in the village" is the name of the radio show program that was funded and facilitated by World Vision, is a slogan that perfectly encapsulates their current life. Through radio programs, villagers like Waziri learned better techniques for farming, they learned about growing new crops never tried in their area before, like tomatoes, and received daily weather forecasts to help them time their crops cycles. A few months ago he was even invited to the radio station in town as a guest speaker to explain about his agriculture supply business. He admits, "It's fun being famous!" Weighing the excitement of starting a new venture in fish farming and the challenges facing his agricultural supply business, Waziri remains grounded that he has been blessed and feels responsible for helping others now.
Currently earning over US$4000 per year, Waziri dreams of owning his own transportation to get his crop to market, building more homes to rent out and even purchasing land in town to begin a venture in hospitality and hotel management. He wants his children to be fully educated even at university level and to exceed him in their future ventures. One already has dreams of being a doctor and another a mechanic. "I am confident," he replied. "I feel that all my business activities are sustainable and will continue to support my family because they are diversified and likely to grow. In addition, I'm a fast learner," says Waziri, "I can say I've already graduated out of poverty and can sustain my own livelihood from now on."