Afghanistan
Afghanistan's children face a fast-moving humanitarian crisis that is putting millions of lives at risk.
On top of a conflict that has resulted in a sudden change of rule, the displacement of hundreds of thousands of people and huge uncertainty about the protection of women and children, the country is also facing a massive hunger crisis. Climate change, the devasting impacts of COVID-19 and conflict have combined to make Afghanistan one of the most dangerous and difficult places to be a child. But World Vision staff are on the ground.
More than 24 million people need humanitarian assistance. World Vision is on the ground and committed to improving the lives of girls and boys, to ensure individual children have a better future.
Children in Afghanistan are fighting for survival. 
After years of conflict in Afghanistan, the impact on children is devastating. 
Together, we can protect children living in the world's most dangerous places, like Afghanistan. 
The needs in Afghanistan
World Vision's work in Afghanistan 
World Vision has been working in Afghanistan since 2001, when our operations began in response to an emergency. Within a few years, the organisation moved toward rehabilitation and then on to long-term development programming. 
As World Vision, we strive to ensure all children: experience good health; are educated for life; are cared for, protected and participating, and experience the love of God and their neighbours. We are proud to say that we have an excellent reputation among Afghan communities and feel privileged to be widely accepted in the provinces in which we work. We see everything we do as a partnership between us, communities and our donors.
Last year our programmes
642,721
People directly benefited
2,425
children recovered from malnutrition
67,918
People gained access to clean water
World Vision's work in Afghanistan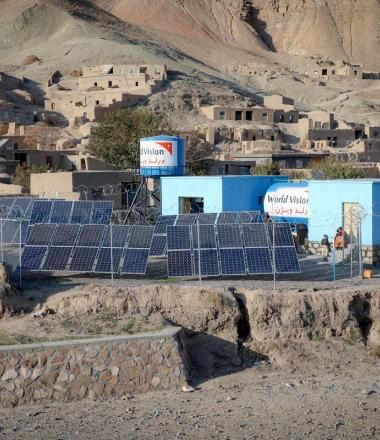 Help Children in Afghanistan
Note: Please choose an office from the list above that can receive and process your donations.