Ukraine
Conflict threatens the lives of millions of children
The escalation of conflict in Ukraine has forced more than 8 million border crossings, as mostly women and children flee to neighbouring countries, sometimes returning home during moments of relative peace, only to have to flee once again. At the end of June, 5 million people had fled Ukraine and are registered in European countries. With the escalating crisis, the casualties, the number of displaced and the needs are growing by the hour. More than two-thirds of Ukraine's children have either fled for safety within the country or are living as refugees.
Since the conflict started, our teams have been on the ground assessing and responding to the urgent needs of those searching for safety. We are working to support internally displaced people in Ukraine as well as refugees in Romania, Georgia and Moldova.
Our response to date has focused on working with local partners in Ukraine and Moldova to provide food, hygiene and protection for children and their families. In Romania, we are providing safe spaces for children to play and receive care, and supporting the shelters in urban centres that are providing temporary homes for refugee children and their families.  In Georgia, we are supporting families who were travelling when the conflict started by getting children enrolled in school and psychosocial activities to process their experiences, and providing cash assistance. And in Moldova, we are supporting hospitals, food banks, and refugee and host communities with food, hygiene supplies, and cash assistance.
Please give now to support children and families affected by the crisis in Ukraine.
Responding to the urgent needs of those fleeing Ukraine
The impact of the crisis will be far-reaching. Both Russia and Ukraine are global suppliers of gas and commodities such as wheat. Conflict will create economic shockwaves around the world which could result in significant shortages, in turn causing prices to spike and hurting those already struggling to survive.
At World Vision, we continue to call on all sides to promote peace. 
Add your voice to petition for peace below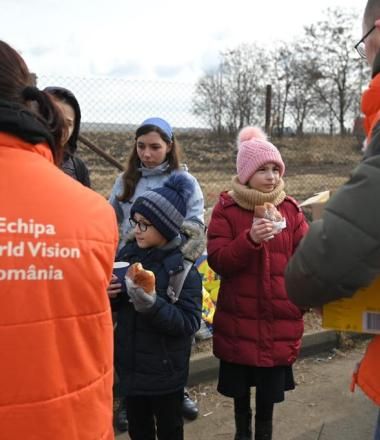 Together for children in Ukraine!
Add your voice to call for peace in Ukraine and protection for affected children and their families. 
World Vision's work in Eastern Europe
Our teams have been present in Eastern Europe for decades responding to natural disasters, conflict, refugee movements, economic hardships and the educational, physical and emotional needs of extremely vulnerable children.  
Our response to the crisis in Ukraine began by assisting families fleeing to Romania, where have worked since 1990 following the fall of communism. In the past 30 years, World Vision Romania has supported more than 560,000 children from 500 rural communities. In the first month of the crisis, we have rapidly expanded to reach some of the most vulnerable families in Ukraine itself, as well as in Moldova.
Last year, we supported 3.2 million people across the Middle East and Eastern Europe with emergency response programmes and we have already reached almost 50,000 children and families for this crisis as well, with a focus on protecting the most vulnerable. 
How does World Vision respond to emergencies?
World Vision teams have been responding to humanitarian needs for more than 70 years and we are present in 100 countries. When emergencies strike, local World Vision staff partner with global humanitarian specialists and churches in the disaster zone to respond at scale.
What's World Vision doing to help families impacted by this crisis?
World Vision is supporting refugees in Romania and Moldova and helping displaced families Ukraine.
We are engaging closely with the U.N. and other partners to closely monitor the unfolding crisis and its potential humanitarian demands.
We're also supporting our offices across the region, including Georgia, where we're partnering with UNHCR to run shelters, and are helping Ukrainian children process their experiences and enrol in local schools. We know that the impacts of this crisis, from both a humanitarian and economic perspective, may have a significant ripple effect.
How can I help children and families made vulnerable by this crisis?
Donate to help children and families forcibly displaced by the crisis in Ukraine.
Pray for peace to be restored quickly and that children and families will be protected from harm.
Advocate and add your voice to call for peace in Ukraine and protection for affected children and their families.
Frequently Asked Questions
What is the situation facing children?
We are deeply concerned about the impact of this crisis on vulnerable children and their families. We are witnessing significant forced displacement within Ukraine and to neighbouring countries. Additionally the economic impact of the crisis threatens to have a severe impact on oil and commodity prices, potentially deepening child poverty far beyond Eastern Europe. As always, children are the most affected by the conflicts.
What is World Vision's ability to reach the affected people?
World Vision is building a multi-country, multi-year response to meet the needs of people fleeing the conflict in Ukraine and those trapped or displaced within the country. We have been responding in Romania and Georgia from the very start of the crisis and have quickly expanded to reach the most affected families. In Ukraine, we have been supporting hospitals across the border from Romania who are trying to meet the needs of families displaced by the conflict, and are working with a range of faith and local organisations to put in place aid pipelines and logistics to support vulnerable and displaced populations further within Ukraine. In Moldova, the poorest country in Europe, and who has taken the largest number of refugees per capita, we're supporting vulnerable families in both the host and refugee communities. We will continue to respond based on careful assessments of the fast-moving situation on the ground.
Is there a role for churches in Ukraine?
As a Christian organisation, we have decades of experience mobilising communities of faith to play their part in restoring peace and wellness, and we will seek to engage churches and faith groups to serve. We are partnering with faith groups and churches in Ukraine and Moldova to reach children and their families with essential aid. Our Romanian office has been working with faith leaders there for decades, and we will continue to work with all people of goodwill to save lives and livelihoods, help those who have lost homes and communities, and to protect the vulnerable.
Tragically, we live in a world of broken relationships where injustice, inequality, corruption, and disasters rob millions of their lives, their health and their futures. In World Vision, together with children and communities, we seek to uncover the deeper, often hidden, social, cultural and spiritual issues that prevent children from enjoying life in all its fullness. 
What is World Vision doing to help families impacted by the crisis?
World Vision has been responding from the start of this conflict, providing hot drinks and liaison services at the border, equipping safe, warm spaces for children to play in processing centres and supporting shelters in Romania, Ukraine and Moldova to help children and families fleeing the conflict.
We are currently responding in Ukraine, Romania, Georgia and Moldova, and are partnering with local organisations to quickly scale up and reach the most vulnerable families fleeing the conflict. Our programmes are and will target the most vulnerable children and women with: non-food items and cash assistance; child protection and anti-trafficking programmes; mental and psychosocial support; and education.