Yemen
Million's of lives are placed at risk as Yemeni children face one of the world's worst humanitarian crisis.
Yemen has been recognised as the world's worst humanitarian crisis for the past four years, and is projected to the highest level of hunger that the world has seen in decades. Lives and livelihoods have been destroyed, resulting in reduced income opportunities and a limited ability to purchase food. Access to healthcare is severely limited, which leaves almost 20 million people without adequate healthcare services. Cases of acute malnutrition among children under five are the greatest ever recorded, and more than half of the population is facing acute levels of food insecurity. Yemenis are also facing displacement, risk of famine and disease outbreaks.
Yemen crisis facts
What is World Vision doing to help in Yemen?
In November 2019, World Vision began working in Yemen through partner agencies on the ground to provide aid for children living in poverty and crisis in remote communities in Southern Yemen. The World Vision Yemen Response aims to alleviate suffering of local communities, whose lives have been severely affected by the largest humanitarian crisis of the modern world, including ongoing conflict, alarming levels of food insecurity and health threats.  
World Vision partnered with the Adventist Development and Relief Agency (ADRA) in 2019 and 2020, and the work focused on the rehabilitation of community water systems including 29 water points and 15 manholes. At least 25,942 individuals, out of those 11,674 children, were able to get access to improved water, sanitation, and hygiene promotion services.
Since spring 2021 World Vision partners with Medair for the implementation of essential health and nutrition services. Among other activities, the project is supporting five health facilities and mobile teams in the provision of lifesaving health and nutrition services to remote communities in Lahj governorate in Southern Yemen. Through this partnership, we're providing improved access and quality of emergency health and nutrition assistance to 12,880 people – more than 50% of them children.
Through a cooperation with the Response Innovation Lab from 2020 until early 2022 high-quality Yemeni-contextualized public health videos were developed to inform and educate more than 200,000 people with public health messaging.
World Vision believes the children of Yemen need to be protected as the conflict continues around them. Aiming to support the best way we can, we continuously explore ways to extend our response to reach the most vulnerable children and their families through new partnerships and program opportunities.
The priorities for World Vision in Yemen are Health and Nutrition, Water, Sanitation and Hygiene and Child Protection.
Gallery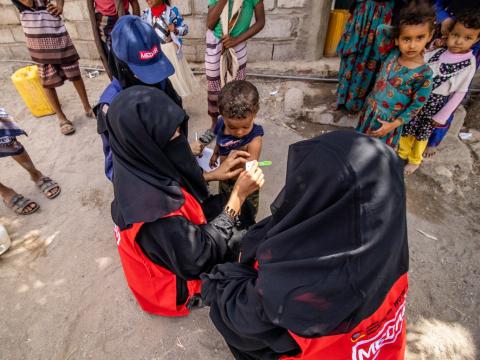 Medair partners with World Vision to provide health services to remote communities of Al Madaribah, Lahj Governorate. Hamza, a two-years-old boy, is screened for malnutrition by Community Health Volunteers.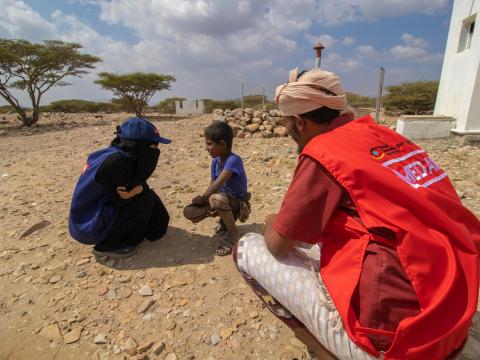 Community Health Officer during a field visit with one of the children benefiting from health cervices.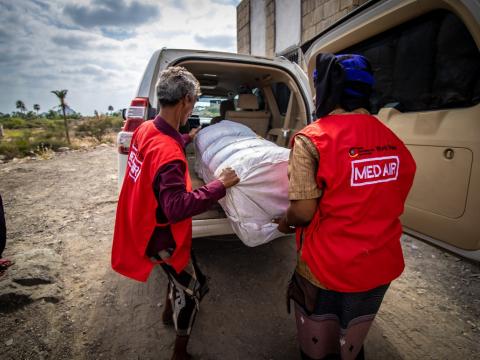 Community Health Volunteers provide essential health and nutrition services. They distribute mosquito nets in remote areas in Al Madaribah, Lahj Governorate.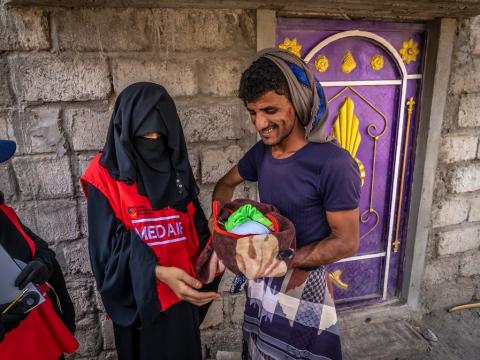 Community Health Volunteers meet beneficiaries and examine a newborn baby. They explain how to feed and take care of the child.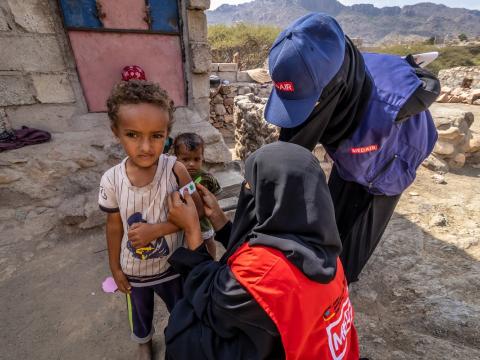 Jamal, a two-years-old boy getting screened for malnutrition by a Community Health Volunteer.