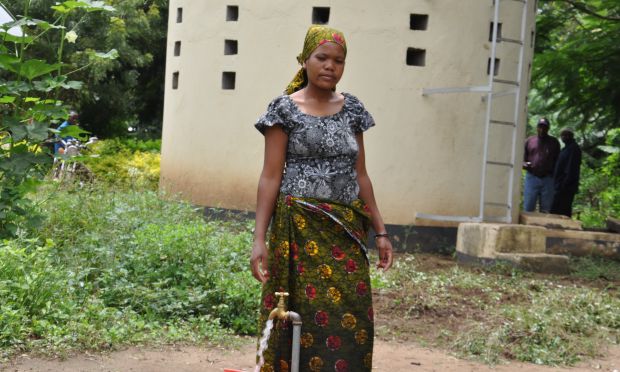 Water borne diseases are common in parts of Magugu ward in northern Tanzania. Lack of clean water forced most families to cook with, and drink unsafe water, endangering the health and lives of the community, especially children under five.
While visiting Magugu Area Development Program (ADP), I happened to meet Janet Michael, one of World Vision water project beneficiaries. Janet is married and blessed with one child. She narrated how their village was challenged with water scarcity before World Vision built a water tank in Gichameda Village.
Janet told me in the past she walked one kilometer to fetch water, and despite the long walk, the water was not safe for home use. "I used to walk one kilometer to get water from the terrace, and the water was not clean"
Janet explains that, "My child sued to get stomachache every three months because of drinking unsafe water from the terrace and rivers."
Walking around the huge water tank constructed by World Vision, I saw two little charming boys washing their hands from the water tap few meters away from the tank. The two boys are Stanlake and Amos. Amos said, "I use this water to wash my hands after playing with friends, and my mother uses it to wash our dirty clothes". Stanlake added that, "I believe this water is clean because I drink it and rarely fall sick".
The Magugu Ward Councilor Mr. Lukas Makori said, "I grew up in Gichameda village and I experienced how my mother was troubled with lack of water", Lukas continues saying, "since World Vision constructed a water tank, I don't hear complains anymore".
World Vision handed the tank to the Magugu local government after completing construction. The water service is well managed and some measures have been put in place to ensure its sustainable use. William Baynit a Manager from Water and Sanitation Authority stresses that, "We have 8 water collection points in Magugu and we charge less than 30$cents per bucket of water". "The money we collect is used for maintenance and running costs", added William.
"Having water within close proximity has enabled women to have extra time for other economic development activities, also to follow up on our children's education" Stated Zuhura Abdallah, one of the beneficiaries of the water project.
The tank has a capacity of 50,000 liters and benefits more than 14,000 people in 7 villages of Magugu ward and some parts of Muada Ward.