Landscape:
Child labor is a critical phenomenon of child protection issues in Bangladesh and around the world. According to the International Labor Organization (ILO) World Report on Child Labor 2015- at least 168 million children remain trapped in child labor. In another report of Child Labor Survey- 2013, Bangladesh Bureau of Statistics (BBS), total population aged 5-17 years in Bangladesh is 39.65 million where 3.45 million children are engaged in work and of them 1.7 million are engaged in child labor. Among the child labor 1.28 million children are engaged with hazardous or worst forms of child labor. However, the effect of child labor is baneful for child protection. It destroys children's development, deprives them from childhood, deceives them from education and rights; creates hazardous health problems and makes them victim of extreme physical and mental violence. To eliminate child labor World Vision Bangladesh has initiated a special effort named "Jiboner Jannya Project" in the southwestern part of Bangladesh.
Project Goal: All children are cared for and protected from worst forms of child labor, abuse, neglect, exploitation, and all other forms of violence, within supportive families and communities.
Project Outcomes:
Outcome 1: Children, especially the most vulnerable, are active participants in efforts to reduce child labor and all forms of violence in their families, communities.
Outcome 2: Families have strong, healthy relationships and access to adequate and appropriate services in order to care for and protect their children.
Outcome 3: Communities, including faith communities, are working together to establish and sustain a safe and protective environment for all children, especially those engaged in or vulnerable to the worst forms of child labor.
Outcome 4: Ensure Start-Up, Monitoring, Evaluation and Small Studies; and Close-Out.
Major Interventions:
Provide Early Childhood Care (3-5 children) & Catch-up education (above 6 years children) and transition to primary/secondary education.
Facilitate community managed Child Friendly Learning and Recreation Centers (CFLRC).
Life Skill Based Education for children
Conditional cash grant for the children withdrawn from child labor
Provide vocational training for child labors (above 14 years children) and replace them in decent job
Parental skill training for parents/caregivers
IGA input support for the child labor families
Public awareness events among children, parents, communities including faith communities, civil society and duty bearers.
Empower community people and children through Citizen Voice and Action (CVA) to raise their voice to protect children rights
Empower duty bearer & employers to act accordingly to protect the rights of children.
Activation of government bodies (Divisional, District and Upazilla level child labor monitoring committees)
Strengthen Community Based Child Protection Mechanism.
Facilitate advocacy initiative with Government Bodies, Employers' Associations, Labor Associations and Civil Society Members
Working Areas: Khulna City Corporation, Jessore Sadar Upazila, Rupsha, Rampal and Mongla Upazila.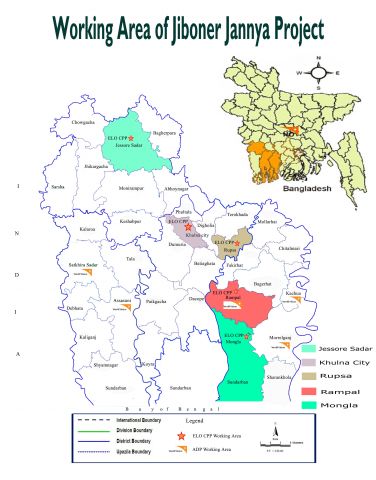 Project Life Time: Four Years (October 01, 2016 to September 30, 2020).
Beneficiaries: Total Beneficiaries 51,045.
Target Population: Vulnerable working children, out of school children, drop out children and street children aged below 18 and their families.
Funded by: WVUS.