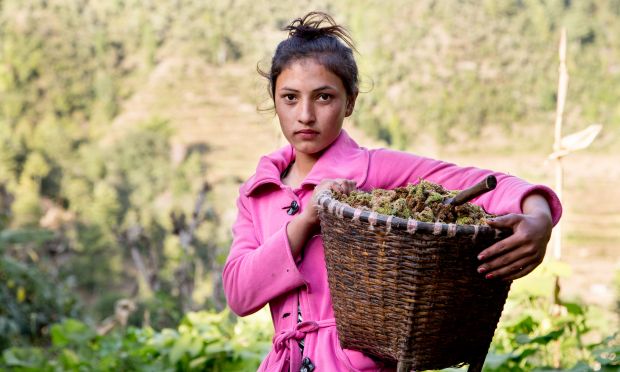 This is Tika's story. A young girl in Jiri, who is only 17 but takes care of her younger brother and is the breadwinner for the family. This is her story, of struggle, of despair, and of hope.
Tika's ordeal began five years back when, in a rage following an argument, a neighbour brutally killed her father and shortly afterwards her mother eloped with another man, leaving her to look after her younger brother at home.
"I still remember that unfortunate evening. My father was with his friends when a dispute started with a neighbour. The outraged neighbour hit my dad's head with an axe. Immediately, he fell unconscious," Tika said.
Not knowing what had happened, Tika was waiting, as she always did, for her father to come home for dinner,. When a worried neighbour told her what had happened, her world turned upside down.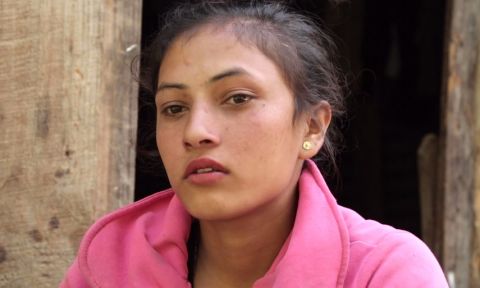 Anxious and confused, Tika and her mother rushed to the spot, only to see a lifeless body covered in blood. "His head was bleeding and he was already motionless. However, we rushed him to the hospital where he was pronounced dead," she said, tears rolling down her cheeks.
With the help of district police, the culprit was arrested and jailed. Tika is consoled that her father got justice. However, her loss could not be compensated. Her beloved father was never to come back.
But Tika stood strong. With each passing day, she gradually learnt to cope with her grief.
This however, was short-lived.
Her mother eloped with a man in the village, leaving Tika with the responsibility of looking after a ten year old.
"We were left alone. Our family was once the most happy and loving family in the village. After my father died, life has turned to hell," she said, tearfully.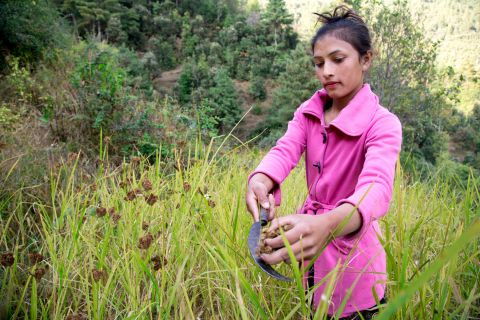 Having to look after her younger sibling, Tika had no choice other than to take the role of a caregiver, mother, and head of the family.
"I worked in our field and worked for others to collect money for food and tuition fees for my brother and myself. I could hardly afford the additional expenses," she says.
The responsibility and fear of a grim future sometimes made her think of suicide. She says, "I felt hopeless. I could not see any prospect of living. I wasn't able to fulfill my brother's needs and demands. I couldn't even give him lunch money for school and he would go off with a sad face. So, I thought of committing suicide with rat poison. But, I couldn't betray my brother. I had to live for him."
Looking at her peers, with parents to rely on and no responsibilities to bear makes Tika upset at times. She wishes that her father was alive.
Her problems were further aggravated after the 2015 earthquake damaged her house and she and her brother had to live in a temporary shelter. With support from the neighbours, they constructed a small makeshift shelter. But living in it wasn't easy for the two siblings.
"We have one room to accommodate everything. Sometimes the iron sheets are carried away by the wind, sometimes the water comes inside from heavy rain," she says. But when her brother stays in Jiri, where he's studying, staying alone at night is most scary for her.
"My brother's school is far from our house. Sometimes, he stays in his friend's place near the school if he has to leave early or stay late. I just cry when he isn't home," she says.
Tika herself walks more than an hour every morning to reach her college. Her day starts very early, even before the sun rises.
However deep her pain was, with the passing of time things were changing, albeit slowly.
Amidst the sadness, Tika's life began to look up when she received assistance from World Vision under Vulnerable Families Assistance programme. Targeted at vulnerable earthquake affected families like hers, the cash assistance enabled her to pay for households expenses and tuition fees.
"I was able to purchase four goats, pay for my and my brother's education and pay for other urgent needs with the cash. I also saved some for future emergencies. It has made me more optimistic about my future now," Tika smiles.
Over six months, Tika received 7,500 rupees each month, giving her the freedom to pay for her needs. Along with Tika, more than 12,000 other households have benefitted from this programme, helping earthquake-affected communities in their recovery.
Having some cash in hand was of immense help for Tika, who had no shoulder to rely on. This has given her hope and the confidence to do something for her brother.
"These goats will multiply in future. I will work hard in the field to earn my living. I should also make time for my studies. I think I can do something with my life," she says.
In a few months' time, Tika's brother will move and live near to the school, as he is soon to sit School Leaving Certificate (SLC) exams. Tika is fearful of living alone when her brother is not around, but this brave young woman is ready to bear anything for the sake of her brother's future.
Lear more about her story through this video.