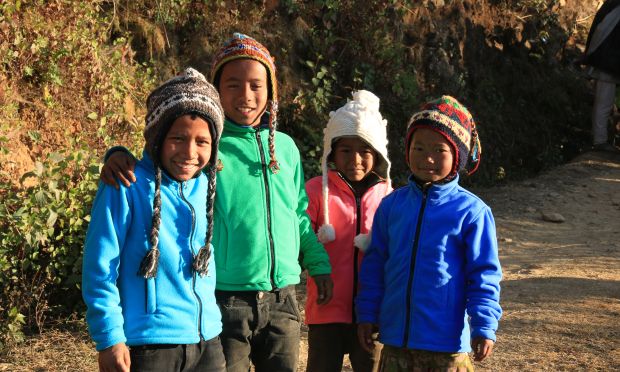 Travelling on the narrow, unpaved, and dusty road, up in the high hills was not easy. From Jalbire it took us more than three hours of a tedious, bumpy ride to reach Gumba where the distribution of winter kits was set to happen.
I joined the distribution team, on their journey to a very remote village in Sindhupalchowk. For me, it was a new and thrilling experience.
We had come to distribute warm clothes to the families who were affected by the 2015 earthquakes.
"We're distributing winter kits to more than 800 households here in Gumba Village Development Committee in coordination with local partner NGO Janahit Gramin Sewa Samittee. The kits consist of blankets, mattresses, jackets for children and adults, caps, socks, and shawls sufficient for a family. It will help families who are living in temporary shelters stay warm in the winter," says Khudam, the Distribution Manager of World Vision International Nepal.
On reaching our destination after the long drive, all we could see were houses damaged by the earthquake. Most of them remain totally destroyed, only a few have been repaired, but only partially, just enough to provide shelter.
This hinterland is removed from the development in the rest of the world. Access to basic facilities such as health, education, and transportation was minimal. Electricity had not yet reached the village and communication was feeble.
Yet, the faces here were vibrant and smiling.
The exhaustion I felt on reaching this place seemed nothing compared to the struggle of people living here, who, since ages, have called it 'home'.
Getting a bed in a local's house to sleep that freezing night was more than I could have expected. I felt quite fortunate, and thankful. After a quick supper, we soon bedded down as a long and hectic day was ahead of us.
At 7 the next morning, we started for the distribution point where the beneficiaries were already gathered, youths, adults, children, women and senior citizens, all with a 'red card' in their hands, a card provided by the government to identify families whose houses were totally destroyed by the earthquake.
A mother of three sons, Junmai (27), is one of the beneficiaries who was very grateful to receive a winter kit. "We needed blankets and jackets for the family and warm caps for my children. It will protect my family from the cold," she says with a smile on her face.
23-year-old Ashmita is carrying her little daughter on her back and waiting in line for her turn to get a kit. The dusty ground makes waiting difficult but she is willing to put up with it to get warm clothes for her family.
"After the earthquake we've been living in a temporary shelter which is very cold on winter nights. My two-year-old daughter is often sick due to the cold and it worries me a lot. These winter clothes distributed by World Vision will help me to keep my child warm," she says.
While the distribution is still ongoing at midday, some of the children are already wearing the jackets and caps that have been given to their families. The colourful jackets complement their smiles and in new clothes the children play with their friends.
Dawa is 48 years old and says that the warm clothes will help his family and children to stave off from the cold.
By the end of three days' distribution in this Village Development Committee, more than 800 households have claimed their allocated winter kits. In response to winter needs, 1,300 other households in Phulpingkot Village Development Committee in Sindhupalchowk also received winter kits.