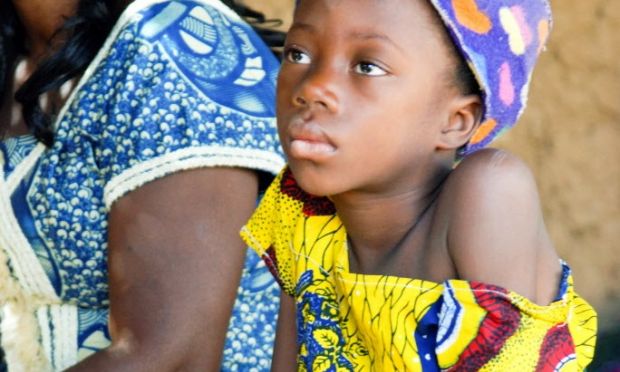 Abel Ouedraogo, his wife Tilar and their daughter Hadiza arrived in Tera one afternoon in July 2007. They are a family of servants of God and believe in demonstrating the love of God in a predominantly Muslim community where few Christians are met.

Indeed, Tera is the place where World Vision opened its first project when it settled in Niger in 1995.

"Love of God and neighbour"
Abel and Tilar knew that before coming to Tera that they needed to demonstrate the love God to their neighbour. "We came to Tera and we wanted to share the good news of the Kingdom and testify of God's love but how? This was our biggest concern at the time," says Abel with a smile.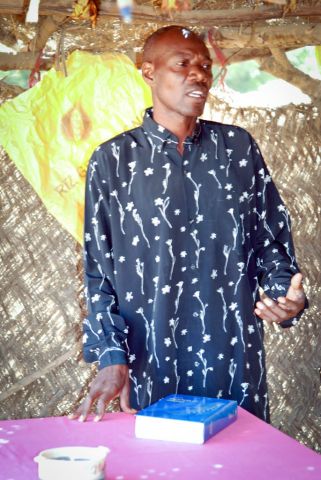 Abel, as he leads a bible study. Photo by Amadou Baraze
Tilar, who is a fine singer, sits every evening in the courtyard of their home playing a drum and singing hymns with her husband Abel accompanying with his guitar. "Who are these singers?" wondered some of the curious neighbours who often stayed behind the wall watching and listening to Tilar's melodious voice synchronised with the sound of drum and guitar.

As they listened to the sounds, many people surrounded their house as Tilar began to sing praises to God. Abel and Tilar believed that it would be a way to attract people and share God's word with them.

But, to their great surprise, their landlord was manipulated by some of the community members who were hostile to the presence of Gospel preachers within their community. The landlord came and asked them to leave his house.

"When our neighbours learnt why we are here, they began to distrust us and asked our landlord to drive us out of his house because we came to "divert them from their belief" and make them follow the religion of Issa [Jesus' name in Arabic]," Tilar remembers.

How to demonstrate God's love? It was then necessary for them to find a new house and they still faced the same opposition in many of the houses they had intended to dwell in. The only house they could occupy belonged to a retired teacher who has served in several areas and believed that Christians were trustworthy.

Tilar and Abel continued to sing the praises of God with their drum and guitar in their new home. And this time their audience was only composed of children who very often escaped the vigilance of their parents and came and listened to the songs. This time, the children did not hide behind a wall, but came and sat with them.

"Apart from the songs, we also taught the children about Bible characters with all the moral lessons attached to them. Many children like Barakatou Oumarou, 13, and Mariama Mounkaila, 9, are able to talk about the Scriptures and sing hymns," Tilar says.

Since love was translated into action throughout the food crisis that rocked Niger last year, Tilar and Abel were able to provide lunch for about 60 children from families that fled their villages to settle in Tera in search for food with the support of missionaries in Brazil.

Abel and Tilar organised the children into a kids club to enable them to operate in a frame that would allow them to develop the potential that God placed in them and to learn a lot of things that would be useful throughout their lives.

"World Vision supported us a lot with the club, handing out pairs of shoes to children and equipping the club with sports equipment," Abel says.

Today, as many children have developed exemplary behaviour thanks to the Godly teaching they receive and with the good results at school, many parents, once even the most hostile, thank the pastoral couple because of the positive change God allowed in their children's lives.

"We came for adults, but we got the children. That opened our mind in understanding that God's love is also for children and our neighbour can also be a child as well as an adult," Abel concludes.