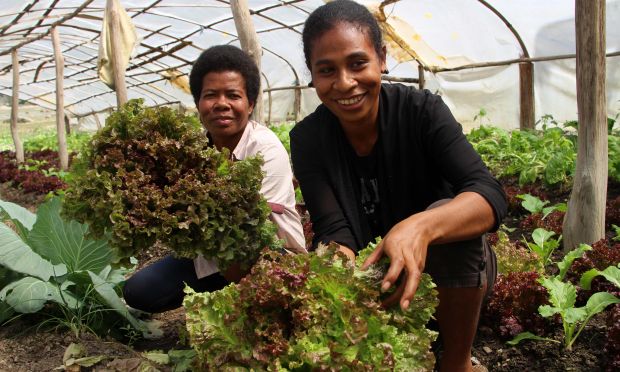 Domingas Castro is a farmer who lives with her family in Fahiria village, Aileu municipality. She has experienced difficult times in recent years; having no choice but to sell her vegetables at very low prices to buyers in the local market meant she struggled to meet the needs of her family, including paying for her children's schooling.
In 2011, Domingas' village was selected by World Vision to be part of the target area for Livelihood Improvement through Farmers Enterprises (LIFE) project activities. A number of interventions were carried out by the project team, included providing vegetable seeds, conducting training on food processing, establishing farmers groups, and linking farmers to markets/buyers in Dili.
Domingas herself become a member of a farmers group in 2012, learning how to germinate seeds and care for her vegetables until harvest time. Since then, Domingas has become the leader of her group; helping the other mothers in the group to increase their incomes and improve their families' nutrition.
Domingas uses the money she earns through selling produce to pay for her children's school fees and buy daily necessities, while other group members have used their increased incomes to open kiosks (small shops), build houses, and save money in the savings and loans group.
Thanks to World Vision's work linking farmers groups like hers to a supermarket in Dili, Domingas no longer needs to carry her produce to the local market to sell; the buyer comes to her. "Just waiting in a place I can earn money every week," she says.
Domingas is proud to be a beneficiary of the LIFE project. She has witnessed firsthand how World Vision's interventions have improved farmers' management of their gardens, increasing their incomes and improving the health of their families.
"Thanks to World Vision for helping me to improve my family's income and nutrition. Although World Vision will not always be with us, our garden will continue to produce an assortment of vegetables because we've been getting guidance from World Vision and have improved our knowledge."
The LIFE project is funded by the Private Non-Sector through World Vision Australia. At completion, the 5-year project (2011-2016) is estimated to have benefitted 1,450 households (10,150 people) in Aileu Municipality.