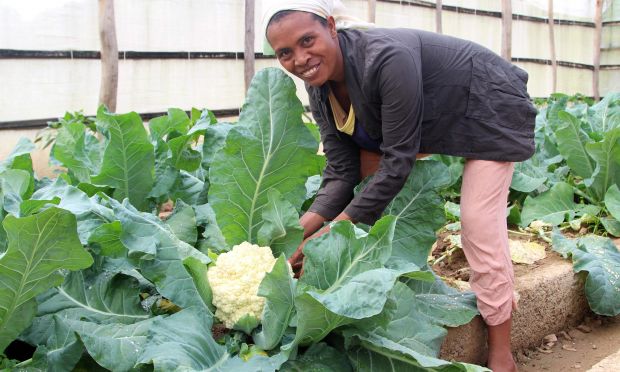 "I don't have to wake up at dawn anymore to take the vegetables to the market in Aileu. I just wait at home, and am able to earn money each week," said Lucia Xavier do Rego.
Lucia is a 32-year-old farmer and mother of 6 children, living together with her family in Liurai village, Aileu municipality.
In the past, Lucia and her husband practiced the traditional system of growing cabbage, carrots, potatoes, tomatoes, and mustard greens. She felt a constant sense of fatigue, as everyday she had to carry the vegetables they produced to market to sell; a walk that took around 2 hours each way. If the vegetables didn't sell, she would carry them home again and feed them to the pigs.
Things began to change for Lucia once she joined the Buka Rasik (Find on Your Own) farmers group in 2014.
This group was established by World Vision staff as part of their Livelihood Improvement through Farmers Enterprises (LIFE) project interventions. Other activities conducted in Lucia's village included horticultural training and linking the group with buyers (i.e. supermarkets) in Dili.
Lucia says, "I feel very happy to have been able to join this group; I have gained a lot of knowledge to improve my vegetable production. World Vision's LIFE project team provides training on subjects including plant spacing, creating nurseries, crop rotation and transplanting, in order to meet the needs of supermarkets of Dili."
Lucia now grows vegetables both with the group and individually. She now grows "a variety of vegetables with seeds provided by World Vision; including broccoli, red cabbage, lettuce, peppers, tomatoes, cauliflower and bok choy."
Due to World Vision's work linking farmers groups in Aileu with supermarket buyers in Dili, Lucia no longer needs to make the long walk to the local market to sell her produce; the buyer comes to her village now. She is using the income from the vegetables to pay her children's school fees, meet the daily needs of her family, and expand her vegetable production.
"Thanks to World Vision for linking farmers in this village with Leader supermarket in Dili. With the money I earn from selling vegetables, I plan to purchase a tunnel greenhouse to use in my own garden."
Additionally, Lucia also received training from World Vision's nutrition project staff on food processing of local foods in order to improve family nutrition. "My kids… love eating vegetables," she says. Lucia's 5-year-old son Rafael Xavier says, "I am happy to eat broccoli and other vegetables because there are vitamins that can make me healthy."
The LIFE project is funded by Private Non-Sector through World Vision Australia. Over the project's 5-year life (2011-2016) the project benefit around 1,450 households (10,150 people) in Aileu Municipality.