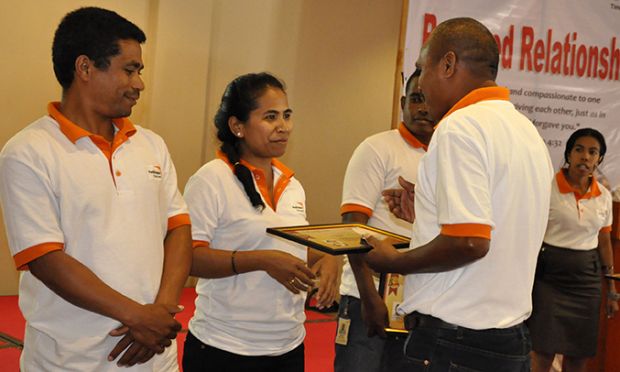 Job vacancies in World Vision Timor-Leste are advertised on this site. Currently, there are two positions vacant in Dili.
Monitoring and Evaluation Information officer - Dili, (1 position)
Purpose of position
The Information Officer is responsible for supporting overall information management processes within the country program office as well as collating data and responding to requests for information from WV staff. This includes document management and ensuring that projects comply with donors, both government and private, and World Vision requirements and data analysis.
Specifically, the role will be largely responsible for the day-to-day management of the Horizon 3 used to store project information and reports. The role will report directly to the Grants Acquisition Officer.

Major responsibilities
Maintain and regularly update Horizon 3 used to store project data and reports. Ensure that project data on Horizon 3 is accurate through monthly audit reviews and correct as needed
Compile data and information to respond to time-sensitive requests about World Vision Timor-Leste projects as requested.
Responsible for development of data management and document control of Timor-Leste projects.
As requested, support Program Quality staff with data collection and analysis using appropriate software.
Establish, and regularly update, a resources library on WV policies and standards and other development issues relevant to World Vision's work in Timor-Leste.
Support Operations and Program Quality departments to file project documentation, including but not limited to project design documents, including appendices, monthly monitoring, semi-annual/annual progress, up-to-date monitoring data, DME reports (assessments, evaluations, etc). Upload documents and/or data as required onto Horizon.
Manage country level Key Performance Indicators, and support the collation of indicators for World Vision International requirements, including Child Well Being Report and GNOD
Respond to time-sensitive requests for key information about World Vision Timor-Leste projects from blended office staff based in Brisbane.
Provide key information to stakeholders and partners resources about World Vision's work in the field.
Ensure that area managers and staff understand data management processes and requirements
Bring creativeness and innovativeness into the projects/program, especially with supporting the PQ Manager with project and program designs.
Encourage the full and appropriate expression of World Vision's Christian identity. Participate in and lead devotional meetings, weekly chapel, annual staff retreat, annual Day of Prayer and other events.
Coordinate with PQ department and facilitate training and learning events related to on data management and document control procedures and Horizon 3.
Required knowledge, skills and abilities
Sound knowledge in databases, statistics or mathematics
Communication, Linguistic and Presentation skills
Computer skills, preferably including databases
Organising, planning and training skills.
For more information, or to send a CV and job application:
World Vision Timor Leste,
Av. Dos Direitos Humanos Estrada de Bidau,
Bidau Mota Klaran, Dili or
branch office in Bobonaro, Baucau & Aileu
P.O. Box 43, Dili - Timor-Leste.

Deadline for applications: 25 March 2015.
Only short listed candidates will be contacted

FMNR (Farmer Managed Natural Regeneration) ADViser - Dili, (1 position)
Purpose of position
To support the Directorate of Forestry (DF) of MAF and WVTL in coordinating the promotion, piloting and knowledge management of FMNR methodology throughout the country.

Major responsibilities
The FMNR Adviser will report to Director of National Directorate of Industrial Plants & Coffee in NDF and to the Agriculture & Climate Change Technical Specialist in WVTL. He/she would have a close working relationship with municipal level DF & WVTL officers and the FMNR Working Group, and undertake the responsibilities listed below with continuing development of required self capacity and gaining of experience in the area of advocacy.

Technical assistance
Provide technical assistance in strengthening existing FMNR model sites and establishing new model sites
Lead and monitor the technical quality of FMNR activities
Follow-up the progress of FMNR and related activities
Co-lead the coordination of the national FMNR working group (FWG) meetings and activities
Initiate the formation and strengthen municipal level FWG formation and function
Collect & compile FMNR & related field data
Organize & lead national & municipal level FMNR workshops & trainings
Execute other related duties assigned by DF & WVTL
Follow-up the establishment and function of nurseries
Involve in advocacy of FMNR as a mainstream conservation & livelihoods strategy in TL
Involve in FMNR research
Assist in developing training modules and manuals for staff and community •
Deliverables
Monthly activity report
Two 6 months and one annual report
Establishing 3 new FMNR project sites
Draft FMNR knowledge management strategy
Conduct 1 Annual FMNR Learning Event
Formation of FMNR working groups in 6 districts
Quarterly report on FMNR working groups
Coordinate a quarterly FMNR bulletin
Other duties
Partnerships and Collaborations
Identify key strategic partners in the field of FMNR at the national level and support the development of collaborative partnerships
Support partnership development at the municipal level
Network with local, national & international partners interested in FMNR
Pursue and develop meaningful and formal partnerships with relevant partners including Govt, UN agencies.
Participate in advocacy forums and networks focusing on advocacy and contributing to the advancement of FMNR.
Capacity Development
Undertake assessment, identify gaps in the knowledge & practices of FMNR and plan and execute capacity building activities for field staff & community
Proactively work with NDF district offices, WVTL Area Managers, Project Managers and Project Coordinators to build the capacity of NDF & WVTL staff
Train NDF & WVTL staff in FMNR techniques & methodology
Support or lead training weeks for staff at WVTL.
Required knowledge, skills and abilities
University Degree in Forestry, Land management, Agriculture or related studies
Knowledge in basic forestry principles & techniques
Competence in verbal & written English communication
Literacy in computer Microsoft Word and Excel
Minimum 3 years of professional experience in forestry / soil conservation / land management
Work environment
Be willing to work in a team environment and travel to project sites.

For more information, or to send a CV and job application:
World Vision Timor Leste
Av. Dos Direitos Humanos Estrada de Bidau
Bidau Mota Klaran, Dili, or
branch office in Bobonaro, Baucau & Aileu
P.O. Box 43, Dili - Timor Leste.

Deadline for applications: 26 March 2015.
Only short listed candidates will be contacted

For general job-related queries, please contact:
Fabiola de Jesus Santos
P&C Senior Business Partner
People & Culture Department
World Vision PTL - Timor Leste
Email: fabiola_de_jesus_dos_santos@wvi.org
Skype: fabiola.jesus.santos
Mobile: +670 7708 8646.