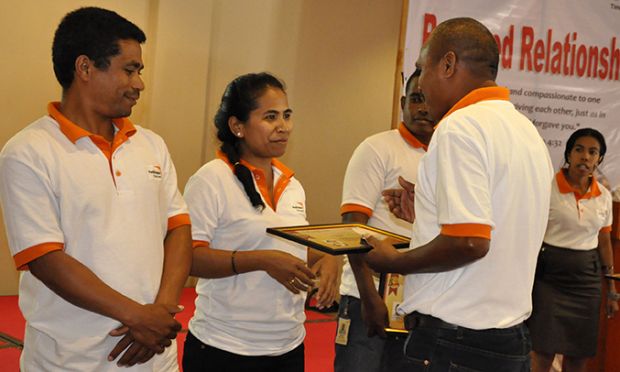 Job vacancies in World Vision Timor-Leste are advertised on this site. Currently, there are three (3) positions vacant in Dili and Bobonaro.
Monitoring and Evaluation Coordinator, Bobonaro (1 Position)
Purpose of position
To ensure that the projects in an Area Program are monitored, evaluated, and reported according to World Vision standards.
Major Responsibilities
Develop and revise indicators for all projects in your Area Program in consultation with the Project Coordinators and DM&E Manager at National Office.

Develop monitoring and evaluation plans, systems, procedures and tools for project staff to monitor and record project progress.

Lead the utilization of monitoring and evaluation information, secondary data from government and other development agencies for reflection and re-design for the target community and project staff.

Manage baseline survey processes and project evaluations in consultation with Project Coordinators and Facilitators.

Ensure regular data collection for monitoring purpose is in place according to M&E plan and each project is supported with appropriate data collection forms.

Support the reporting process to ensure it is on time and meets World Vision standards.

Take and store photographs of project activities and achievements. Liaise with the Communication Officer about making these resources available.

Based on project reports, prepare project information and articles as required by the media and donors in consultation with the Communication Officer.

Work collaboratively with Project Coordinators and Facilitators to share M&E knowledge and to continuously improve M&E processes and outcomes.

Collaborate with DM&E and Communications staff in other WVTL offices.

Undertake other tasks requested by the Area Manager.
Required knowledge, skills and abilities
University degree in mathematics, statistics or development areas.

Research and administrative experiences.

Demonstrated ability to work in and contribute toa team.

English language skills (can read and understand English).

Good presentation and communications skills for a number of different audiences.

Computer literacy, including statistical and database computer programs such as SPSS, EPI Info and MS Access.

Possesses the values and attitudes that conform to World Vision core values.
Saving and Loan Facilitator, Bobonaro (1 Position)
Purpose of position:
To bring desirable changes in the community, we serve by building the capacity of its people and thereby developing their economic freedoms.
The basic purpose of this position is to build the financial capacity and the savings and loans options of communities to strengthen local agribusiness. This will be done by establishing savings and loans groups, linking communities to financial capital and loan opportunities and providing or organizing financial training to community businesses.
Mobilize interested individuals or identified groups within target communities
Establish good rapport with individuals or groups within target communities
Mobilizing individuals/groups in target communities to engage in project activities, particularly savings and loans activities in order to achieve the targets of the project
Build a strong sense of community ownership of project activities in order to increase project impact and improve sustainability
Networking and relationship
Build good partnerships and improve cooperation between the project and local CBOs, NGOs and financial institutions in order to support project activities particularly capacity building in savings and loans and better access to finance.
Ensure relevant stakeholder involvement in target communities in order to support project activities and decision making.
Implementation
Carry out project activities in target communities according to the project detailed implementation plan, achieving the target set for each month / year
Support the Project Coordinator to carry out relevant research into the communities financial needs.
Communities trained in financial planning, book keeping and savings and loans systems according to WV methodology
Savings and loans schemes established and running effectively with minimum risk according to the methodology
Community co-operatives established and linked to necessary financial capital or loan opportunitiesEnsure that activities are implemented in the given time frame and with no under-spending
Support Coordinators to prepare plans with target communities
Monitoring and Evaluation
Participate in any project activities related to design
Staff Capacity
Work with other World Vision Staff to improve understanding and ability to handle other projects with financial components
Other
Adhere to World Vision Core Values and Policies.
Follow any new procedures and guidelines designated in circulars from Country Director.
Comply with WVTL internal policies and procedures
Perform other duties as may be assigned by your supervisor.
Knowledge, Skills, Abilities:
Education
Knowledge & Skills
Computer skills
Problem Solving skills
Networking skills
Resource mobilizing skills
Data Collection Methodology
Ability to work in a diverse culture
Convincing and mobilizing skills
Experience
3 Years of experience in developmental interventions
Work Environment
Willing to work in Target Communit, monitoring and evaluation, with support from the DME officer.
Monitor the progress of the savings and loans groups in terms of quantity and quality
All reports in on time
Report achievements against the targets in the monthly format
DRIVER/SUPIR, Dili (1 Position)
Purpose of the Position
To facilitate WVTL's project activities by driving responsibly, and maintaining and repairing WVTL's fleet of vehicles according to established policies and guidelines.
Major Responsibilities
Driving
Utilize vehicles for World Vision projects or general office related matters.
Drive responsibly; following traffic directions and respecting established speed limits and any other internal regulations for the use of vehicles.
Maintain daily logbooks which include: kilometers driven each day, party driven or task assignment, any irregularities or damage to vehicle, any maintenance carried out on the vehicle.
Maintenance
Report vehicle for maintenance according to the established mileage or any major breakdowns.
Carry out general maintenance of the vehicle which includes cleaning, tire pressure, brake fluid, radiator, oil check , fuel supply, and spare tire.
Ensure adequate fuel at the end of each day.
Assist set-up vehicle maintenance card for each vehicle.
Request vehicle parts when needed.
Provide service report for each service and highlight any potential problem that has not been dealt with in the current service.
Perform preventative and predictive maintenance.
Complete daily maintenance and repair logs.
Other
To perform other specific tasks assigned by the project Driver/Mechanic Coordinator.Commitment to World Vision International's core values.
Knowledge, Skills, Abilities:
Education
Senior High School
Training in vehicle maintenance
Knowledge & Skills
Valid driver's license. (Depending on location, position may require a class D or higher driver's license.)
Be able to lift up to 40 kg.
Excellence in both oral and written communication in Tetum and Indonesian.
Oral English skill

Demonstrates basic math skills of adding and subtracting numbers, metric conversions, weights and measures.
Good knowledge of Timor Leste's roads and directions.
Experience
Have a minimum of 2 years experience as a driver, including demonstrated experience in
Applying safety and environmental best practices;
Minimizing hazards to oneself, others and the environment;
A good safety record;
Mechanically maintaining vehicles;
Driving on rural roads; and driving 4WD vehicles
Work Environment
This role requires extensive travel, including overnight stays in districts.
For more information, or to send a CV and job application:
World Vision Timor Leste
Av. Dos Direitos Humanos Estrada de Bidau
Bidau Mota Klaran, Dili, or
branch office in Bobonaro.
P.O. Box 43, Dili - Timor Leste.

Deadline for applications: 03 June 2015 on 17.00 afternoon.
Only short listed candidates will be contacted

For general job-related queries, please contact:
Fabiola de Jesus Santos
P&C Senior Business Partner
People & Culture Department
World Vision PTL - Timor Leste
Email: fabiola_de_jesus_dos_santos@wvi.org
Skype: fabiola.jesus.santos
Mobile: +670 7708 8646.