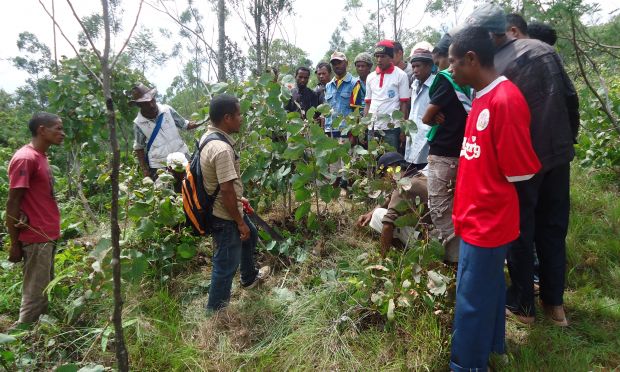 Positions available in World Vision Timor-Leste are advertised on this site. Currently there are three job vacancies in Bobonaro district.
Area Associate Manager – Bobonaro (1 Position)
Purpose of position
To provide overall leadership and management for the respective area/team in accordance with the relevant Program Design, Country Strategy and Policies and standard applies in WV PTL Timor-Leste.
Role description

Team Leadership
Ensure good individual and team performance in support of quality ministry and good stewardship, through coaching, mentoring and regular meetings.
Building Relationships
Develop and implement a plan together with development facilitators and technical specialists to form, facilitate and manage effective relationships and networks with various development partners. Be responsible for basis.
Project Management and Stewardship
Program Design, Monitoring and Evaluation (DME)
Essential Knowledge, Skills and Abilities
Education
Bachelor's degree in any discipline is essential. Extensive working experience could be considered in lieu of the formal education.
Knowledge and skills
Leadership skill
Good knowledge and skills in staff and finance management
Knowledge and understanding of key aspects of development work
Good critical and analytical thinking skills
Strong interpersonal skills (with humility, respect, and care for others)
Good communication in local language and English
Solid computer skills in Microsoft Word, Excel, and email.
Good understanding of design, monitoring, and evaluation
Strong communication skills, including across culture
Experience
At least three years' previous relevant experience in staff supervision and project management
At least one year of development facilitation in and with communities.
Work Environment
This position is required to live within the close proximity to ensure maximum encounter with the partner community.
This position is required to travel to the project sites minimum 50% of the work time.
send through email address: Jose_daCosta@wvi.org
Closing date for the Bobonaro positions is 9 September 2014 - 5.00 PM
Tanggal penutupan adalah 9 September 2014 jam 5.00 PM
ECCD Project Coordinator – Bobonaro (1 position)
Purpose of position
To ensure that the projects in an Area Program are monitored, evaluated, and reported according to World Vision standards.
Role description
Planning: Prepare workplans, participate in Design, Monitoring and Evaluation activities, liaise with government leaders.
Implementation: Deal with local government officials, mobilize community, ensure quality of project activities
Reporting and communications
Staff capacity development and collaboration: Develop Performance Agreement with ECCD project staff, conduct coaching and mentoring regularly and identify the gap of staff's capacity in achieving project goal.
Essential Knowledge, Skills, Abilities
Education
University or College-level education with education, social science or human rights background.
Knowledge & Skills

Fluent in written and spoken English.
Strong analytical, data interpretation and communication skills.
Computer literacy MS Office
Possesses the values and attitudes that conform to World Vision core values.
Good driving skills (motorbike) with valid driving license
Demonstrated ability to work in and contribute to a team.
Work Environment
The position requires office-based (60%) and field work, including frequent travel to villages in the district of Bobonaro (40%).
ECCD Technical Facilitator – Bobonaro (1 position)
Purpose of position
To ensure that the ECCD project is implemented, monitored and evaluated effectively and technically sound, based on the project design and budget.
Role description
Project Implementation: Actively support Project Coordinator and Associate Area Manager and in project planning, implementation, monitoring and reporting processes relevant to assigned areas
Facilitate technical training
Building Relationships: Be responsible for maintaining and strengthening relationships with key partners, especially relevant government institutions.
Technical Quality Assurance: Ensure that the project in its respective sector is technically sound both in design and implementation.
Program Design, Monitoring and Evaluation (DME): Assist the M&E Coordinator and Project Coordinator in data collection for project assessments, proposals, budgets, monitoring and evaluation
General Responsibilities.
Required Knowledge, Skills, Abilities:
Education
University degree in a relevant technical field (eg. engineering, health, development)
Knowledge & Skills
Good presentation and communication skills for a number of different audiences
Proven time management and organisational skills
Literacy in Microsoft Word and Excel
Fluent in Indonesian and Tetun, and preferably in the local dialect in area where you are serving
Ability to ride a motorbike and have the license or willingness to learn
Experience: A minimum of two years of appropriate professional experience
Work Environment
Be willing to work in a team environment, collaborate with staff in other district offices, and travel and stay overnight at project sites (about 75% of the time).
To get more information about these 2 positions, or to send in an application ( along with a copy of Curriculum Vitae and full contact address), please contact:
World Vision Timor Leste
People and Culture Department
Estrada de Bidau Mota Klaran, Dili or
Branch Office in Maliana-Bobonaro
P.O. Box 43, Dili. Timor Leste.
The deadline for applications for the Bobonaro positions is 03 September 2014.
Only short listed candidates will be notified and applications will not be returned.
World Vision Timor Leste is committed to the principles of workplace diversity. Women are encouraged to apply.
For general job-related queries, please contact:

Jose da Costa
Recruitment/Employment Relations Officer
People & Culture Department
World Vision PTL - Timor Leste
Email:Jose_daCosta@wvi.org
Skype: jose.da.costa9
Mobile: +670 7364453