What is ENSURE?
The five-year Enhancing Nutrition, Stepping Up Resilience and Enterprise (ENSURE) program is designed to improve the nutrition of women of reproductive age and children under the age of five, increase and improve agricultural production and marketing, and increase communities' resilience and response to disasters and shocks. Over 215,000 vulnerable Zimbabweans will be positively impacted by 2018!
Strategic Objective 1: Nutrition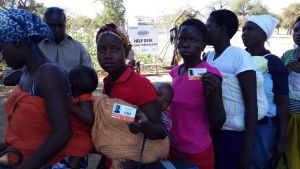 In the area of nutrition, the program will impact over 150,000 women of reproductive age and children under the age of five through targeted supplementary food rations and a robust health and nutrition training package delivered via the internationally-acclaimed Care Group method which supports good nutrition behaviors (Read a story of impact on Care Groups HERE).
Strategic Objective 2: Increased income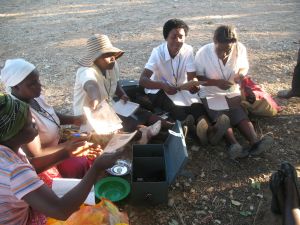 ENSURE is building the capacity of farmer field schools, producer associations, agro-dealers and many others engaged in key agricultural value chains such as groundnuts, small livestock and horticultural crops. In addition, over 17,000 people will be trained to save money in village savings and loan associations leading to asset accumulation that is leveraged to produce more household income. The result of these activities is that over 20,000 farmers will be producing more and better crops and livestock and will be increasing their economic profit from the sale of these commodities.
Strategic Objective 3: Community Resilience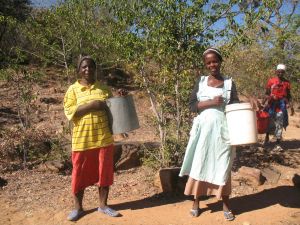 The program is training and coaching hundreds of communities to increase their absorptive and adaptive capacities in the face of natural and other disasters that cause setbacks in a community's food security. ENSURE helps communities to practically improve their resilience capacity through a food for assets component that assists communities in constructing dams, irrigation schemes, wells and nutrition gardens. By the end of the program, more than 7,000 workers and their families will directly increase their household resilience as a result of these activities. Asset management committees are also formed to train communities to manage their public assets and foster sustainability of the developmental gains.
Gender and Environmental Management
The program utilizes two important cross-cutting objectives to increase impact and improve sustainability: 1) working to build gender equity and 2) acting to improve environmental management. All of the activities in nutrition, agriculture and community resilience will be informed and influenced by these two important areas.
Selected FY15 results
51,009 Pregnant & Lactating Women and Children 6-23 months receiving food rations (24% above target)
9,505 Care Group Clients meeting monthly with their Care Group Leaders
61% of beneficiary children under 6 months being exclusively breast-fed (compared to baseline of 36%)
49% of beneficiary children 6 – 23 months with minimum meal frequency (9% above target)
55% of beneficiary households using an improved sanitation facility (compared to baseline of 30%)
49% of beneficiary women received support in doing household activities (29% above target)
6,816 Farmers trained in improved production and marketing
3,426 Community members trained in disaster preparedness
$660,406 Saved and Lent by VSL Group Members
$670,335 in sales of five key agricultural value chains
To learn more, please read the brochure HERE or contact Dave Evans (david_evans [at] wvi [dot] org), the Chief of Party for ENSURE.