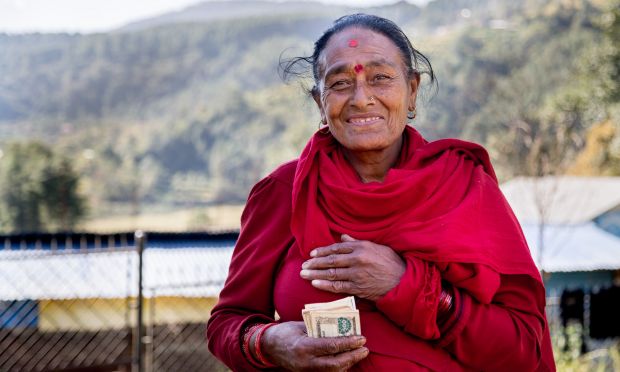 In the early dawn, Bhawani left her house and started her journey to Jiri Municipality which is more than two hours of walk from her village. She has to reach there by 8 a.m. where the final installment of cash distribution is set to happen.
67-year-old Bhawani is an earthquake survivor.
She very nearly died when she was trapped for hours in the rubble of her own house. Hours later only, she was rescued with multiple injuries and fractures.
Recovering from the illness took months and months. But the pain never left her.
"It's been more than a year now. But my fractured bones still trouble me. I cannot walk without taking medicine. It seems that I should depend on medicine for the rest of my life," Bhawani says.
After the earthquake, a small temporary shelter has been her house, where she lives along with her husband. Bhawani's poor health though, doesn't let her to do physical work as energetically as she did before.
"Our condition was aggravated after the earthquake. We hardly had a good source of income. In such a situation, we had to spend a lot on my medicine. Life was difficult," she says.
Given such a hard situation, Bhawani says that World Vision's cash programme was more than what she could have asked for.
"World Vision has helped us a lot," she says with gratitude.
She is one of the cash beneficiaries under the Vulnerable Families Assistance (VFA) programme in Jiri Village Development Committee of Dolakha. Under this, she is eligible to receive 7,500 rupees each month for the cycle of six consecutive months.
Bhawani sounded wise when she said that she wants to use this amount as seed money that will multiply.
"I bought three goats with the money I received earlier. One of it already gave birth to a kid. I also purchased medicine for myself. I will invest the cash I got today to buy one more goat."
For Bhawani's family, this cash is more of an investment which will grow if utilised properly.
"We will finish it immediately if we spend it recklessly. But if we're patient and far-sighted, it can yield better results. These goats will be our source of income soon," she adds.
So far, more than 12,000 households have benefitted from the VFA cash programme which gives them the freedom to buy the items they consider necessary for their future.