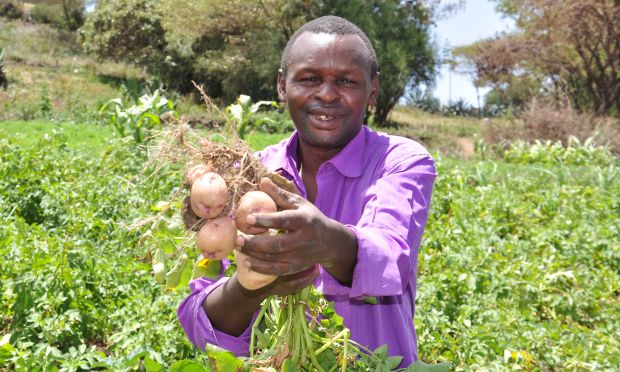 Meet Anthony Tauta, a small scale farmer and a father of three daughters from Oldonyo Sambu in Arumeru District, just a drive about 40 minutes East of Arusha. He farms carrots, potatoes and kales on his one acre land, and then sells some to local villagers and others in markets in the city of Arusha.
"Initially, we mostly grew for food to feed at home. Even then, it was hard to get enough food to sustain the family. I used to plant maize and beans which took considerably a longer time to grow but thanks to World Vision, who have educated us, we now understand better plants to grow, and how to plant and cultivate them for better yields." says Anthony
As Anthony continues to say, "Through farming, I now get enough food for my family, take my children to school and I have been able to build a new house and install electricity."
12 year old Emanuela, Anthony's youngest daughter says, "I am really happy when I see how we are leaving now. We live in a bigger house with electricity, which means I can study after school. I want to study and be just like my sisters who are in secondary school."
Vivian Mahuto who is undertaking an internship with World Vision at Muklat Area Program says, "As an Agro Economist, I was able to work with the community to ensure that farmers get high quantity and quality produce.
"I am really glad with the progress that the farmers are making after implementing livelihoods skills introduced to them. I am glad that this has also provided me an opportunity for my professional development". Adds Vivian
World Vision Tanzania (WVT) Academy internship program is part of implementing WVT Strategy 2020 which seeks to improve the livelihood of members in Area Programs. Graduates from various local Universities get an opportunity to practice what they have learnt by working for 12 months with the communities, mostly in rural settings, to improve their livelihood.
The broad goal is to support skills transfer, mindset change and technological know-how that will help household members adopt innovations, improve productivity and catalyze agricultural sector transformation, and improve education, health, Nutrition, water and sanitation of family members - including children.