AN OVERVIEW OF WORLD VISION ALBANIA
World Vision international is a Christian Relief, Development and Advocacy organization. Its organizational goals focus on the well-being of children through long term community development and humanitarian programs. World Vision started its operations in 1950 and presently is active in nearly 100 Countries. It is governed by an International Board, with members appointed by its National Boards.
World Vision employs over 45.000 staff and has a global annual budget of US$ 2.7 billion with funding contributed by individuals, the private sector and donor agencies. World Vision provides its assistance based on need and irrespective of religious affiliation. World Vision began operating in Albania in 1999 in response to the Kosovo refugee crisis. Since then, it has shifted its focus to long-term development and support to the most disadvantaged children and young people.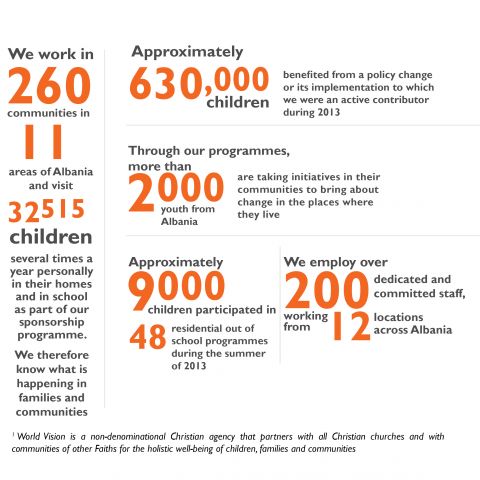 Where we work: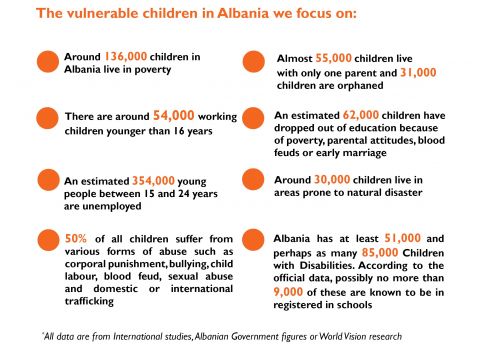 What we aim for:
Other important themes:
PARTNERING with civil society organizations is a key approach in our programmes. Civil Society Organizations in Albania are predominantly based in the capital Tirana and are advocacy focused, with few service oriented community organizations in rural areas. With its emphasis on local engagement and its network of over 100 local partners, World Vision is well positioned to provide intermediate support and enable grass roots initiatives to grow.
We work with 70 local Catholic, Protestant and Orthodox churches as well as with Muslim communities, with local Government Authorities and with other groups of interest such as local CBOs, Parent associations and economic cooperatives. In addition to a focus on local Partnering, important cross-cutting themes in our programmes are Economic Development, Gender, Disaster Risk Reduction and Emergency Assistance as well as school health.