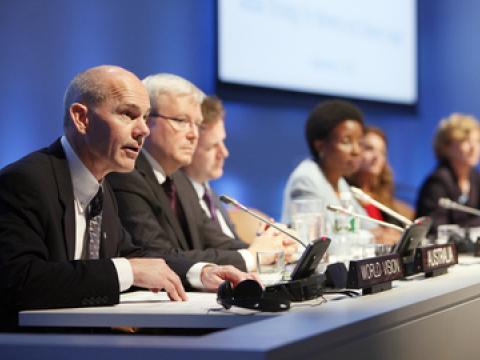 Accounting for health promises
Monday, January 31, 2011
I was recently invited to serve on a commission established by the United Nations to hold governments, donors, aid agencies and other partners accountable for their pledges to reduce preventable deaths among the world's poorest women and children.
I felt both honoured and challenged as I took my seat at the first meeting in Geneva on 26 January. This World Health Organisation commission is an unprecedented tool that could help us save millions of lives and redress a tremendous injustice. It is being co-chaired by President Kikwete of Tanzania and Prime Minister Harper of Canada. (Click here for more on the Commission.)
Targets for improving health services for mothers and children by the year 2015 are the most off-track of all the eight Millennium Development Goals. With five years to go, UN Secretary General Ban Ki-moon last year launched a global strategy to which a wide range of partners pledged $40 billion.
The five-year deadline gives us a once-in-a-generation chance to do something dramatic. Eight million children under five-years-old die each year, mostly from preventable causes like pneumonia, diarrhoea and malaria. We know that with evidence-based interventions in the right places it will be possible to reduce that toll by two thirds.
The Commission's role is to ensure that the money which has been pledged is paid, and that it is used intelligently. We need to accelerate and build on the progress made over the past twenty years. Between 1990 and 2010, preventable child deaths were reduced from 12 million each year to around 8 million. Unfortunately, the most vulnerable children are often more difficult to reach and did not fully participate in this progress. It's time for that to change.
I was impressed with the expertise of my fellow commissioners and the attention to detail of the technical teams that support our work. Time is short, so we plan to meet again in May to assess progress. I'm hopeful that the 2015 deadline will catalyse unprecedented commitment, action, and cooperation amongst all who care about the world's poorest women and children ... starting with their own governments.
World Vision has made a $1.5 billion commitment to health, water, nutrition and sanitation programmes in the next five years. A year ago we launched Child Health Now, an advocacy campaign designed to unite all those with a passion to give poor, marginalised and excluded children and mothers access to good health care.
In the commission, I'm championing the role of the community in providing health resources. Local leaders are most able to ensure that everyone gets equitable access to services. At the same time, in partnership with others, we're working with parliamentarians - sharing technical knowledge about issues affecting their electors and partnering with them to hold their governments accountable.
Please pray with us that the world will not squander this unique window of opportunity.