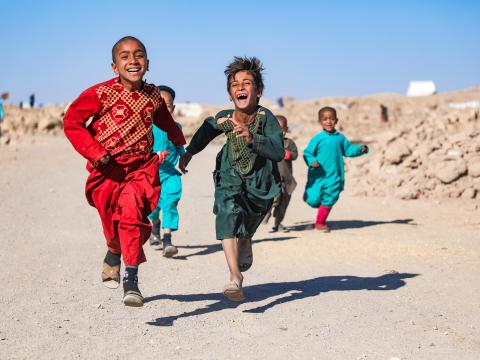 Afghanistan - Herat Earthquake Response
As of 26 October, WVA has been able to support 40,484 earthquake-affected people with different interventions.
Health, Nutrition & MHPSS: 24,433 individuals
Multi-Purpose-Cash Assistance (MCPA): 2,681 individuals
WASH & NFI: 13,095 individuals
Child Protection: 275 individuals
WATCH VIDEO
Afghanistan
World Vision has been working in Afghanistan for over two decades, when our operations began in response to an emergency. Within a few years, the organisation moved toward rehabilitation and then on to long-term development programming. Since 2011, we have focused our operations in Herat, Ghor and Badghis provinces in the western region of the country and since 2020, in north-western province of Faryab.
As World Vision, we strive to ensure all children: experience good health; are educated for life; are cared for, protected and participating, and experience the love of God and their neighbours. We are proud to say that we have an excellent reputation among Afghan communities and feel privileged to be widely accepted in the provinces in which we work. We see everything we do as a partnership between us, communities and our donors.
With the valuable support from its donors and supporters, World Vision was able to reach over 3.3 million most vulnerable children, their families and their communities in four provinces of Afghanistan between August 2021 and June 2023.
35.6 million
Population, total
18.9 billion
GDP (current US$)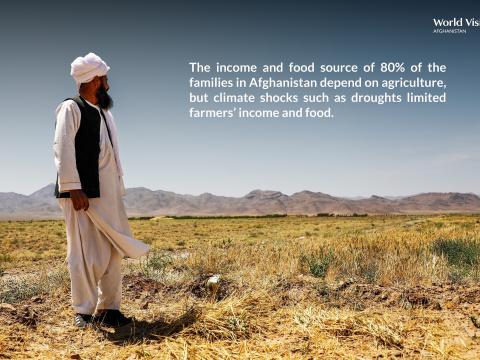 Climate Shocks Contribute to Food Insecurity
Two out of every five people face high levels of acute food insecurity in Afghanistan. The income and food source of 80% of the families depend on agriculture. Natural disasters, especially recent droughts, affected farmers and limited their income as well as food.
Under the food security and livelihoods interventions, World Vision Afghanistan is improving agriculture production and food security, enhancing farmers capacity on sustainable and climate-resilient agricultural practices, rehabilitation productive assets to cope with recurring weather-related shocks, and assisting households and communities in becoming more self-reliant.