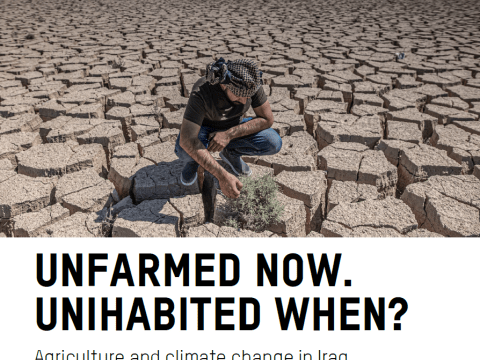 Agriculture and climate change in Iraq
Unfarmed Now. Uninhabited When?
While agriculture is at the heart of Iraq's past and present, its position in the country's future is at risk. Small-scale farmers in Iraq are among the most affected groups in Iraq by climate change and water scarcity. With the reduction of rainfall and soaring temperature, agricultural production is dropping, and farmers' ability to cope is hindered. Affected farmers are exhausted and feel that they are left alone in the face of crisis. Many farmers are leaving their lands and looking for better opportunities away from their land and the urban areas. Duty bearers need to mobilize resources and political well to support farmers and the agricultural sector through a national strategy with clear vision on the current needs and comprehensive forecast of the impacts of climate change.
See the report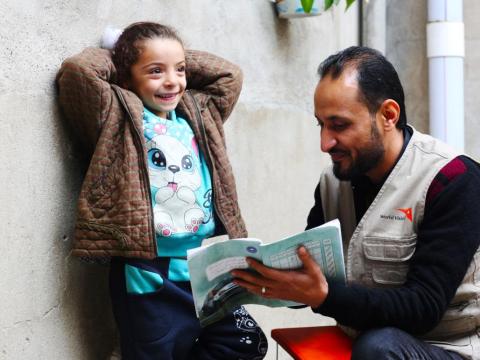 World Vision is helping children to live a life in all its fullness
Children in Mosul get back to School
Five years after the end of the fighting in Mosul, Iraq, the devastating effects of war are still visible and intensely felt. However, many public services, including schools, have been slow to resume, and children continue to face many challenges, including a lack of psychosocial support. With the support of the Japan Platform and in partnership with World Vision Japan, World Vision Iraq is helping children access the support and services they need.
Read about our work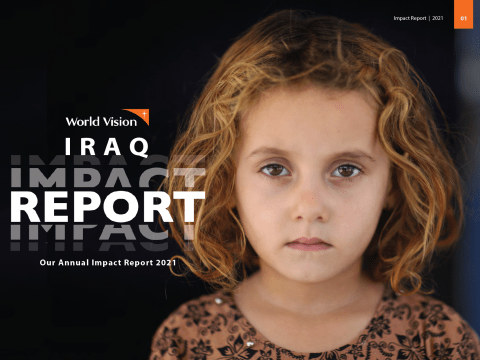 World Vision Iraq shares its 2021 Annual Report
World Vision Iraq FY21 Annual Report
World Vision Iraq (WV Iraq) has had an active year as we have deepened our investement into cocmmunities in Iraq to meet the needs of the most vulnerable children, their families and communities in Iraq. In this report, WV Iraq shares details of our work across Sulaymaniyah, Duhok, Kirkuk, Salah al-Din and Ninewa, reaching 504,086 people people in 2021.
See the report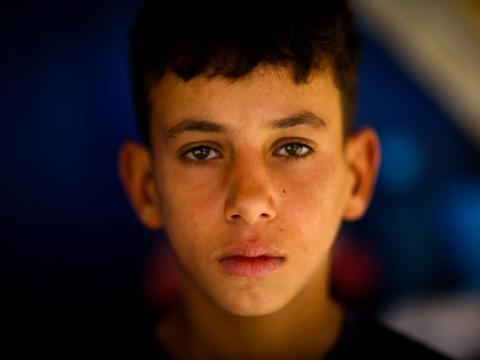 Azzam's silent will to succeed
The Gone Childhood
5 years after the end of the conflict, life for Azzam has not gone back to normal. He wishes to return back to school and he attempted times to register, but he always gets told he is too old to start schooling and his application is rejected. Children like Azzam who lived in limbo because of the conflict lost years of education and now after the return to stability, they have difficulty accessing education because of the years out of school as they are too old for the grade they need to get into. Today, he works by collecting and selling scrap metals in Mosul to support his widowed mother and siblings.
Meet Azzam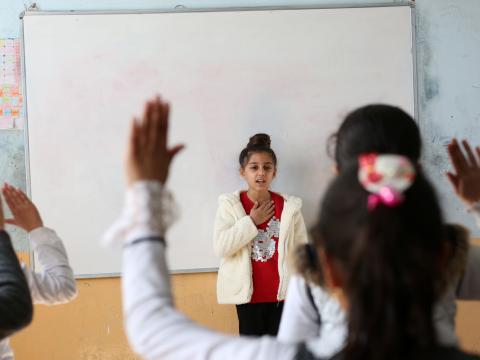 Raya and Elmo helped Zahraa to prepare for COVID-19
Meet Zahraa and learn how Raya and Elmo helped her and her family to be more prepared for COVID-19 in Iraq.
Meet Zahraa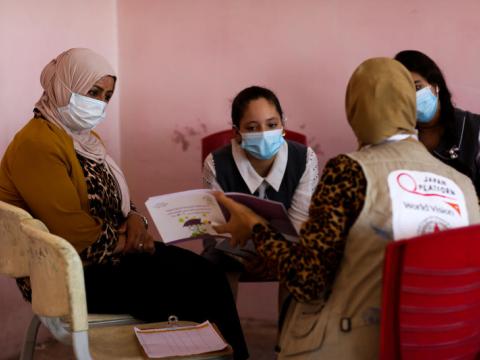 Responding to COVID-19
Around the world, the coronavirus (COVID-19) is taking lives, devastating families and disrupting life in previously unimaginable ways. 
We are responding in every country we work in to limit the spread of the virus and reduce its impact on vulnerable children and their families. 
Iraq, is one of the 17 priority countries where we are increasing our efforts to protect especially vulneralble populations.
Learn more about our response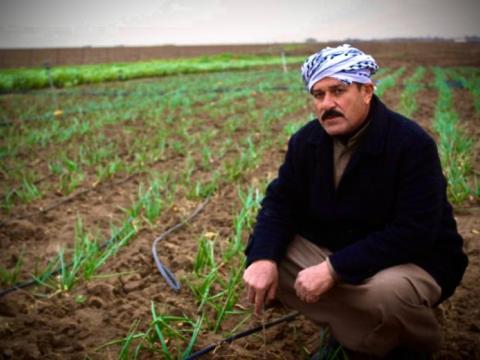 A long road to resilience
Rebuilding from scratch
Two years after the Prime Minister of Iraq declared victory over ISIL on 10 December 2017, the effects of years under ISIL rule and following conflict to retake control are still very present for many Iraqis. Girls and boys in Mosul continue to need support to help them cope through overcoming feelings of isolation, fear of leaving their homes and returning to school, inability to focus and being withdrawn from other children.
Learn what World Vision is doing to respond to these needs and meet members of the team carrying out the work.
Read More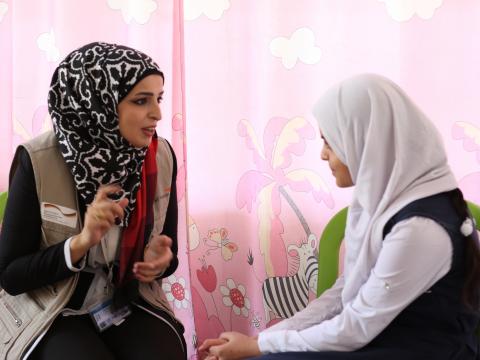 Supporting children affected by conflict
Darkness to Light
Children in Iraq have been greatly affected by years of conflict. Not only have they lost friends and family members, homes and years of education – in many cases they have also lost their sense of childhood. World Vision is working to help children regain their childhood through programs like Mental Health and Psycho-Social Support. Rebuilding lives not only requires fixing the visible damage but addressing the needs that may not be as easy to see. For Sama, this support has helped her to regain hope for the future. 
Sama's Story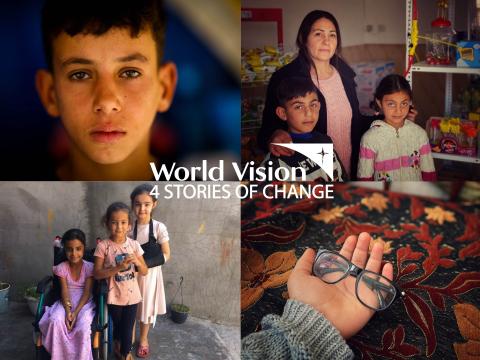 4 Stories of Change
Learn about World Vision's work in Iraq through the stories of change of children and families  from four different sectors.
Scroll down to find 4 Stories of Change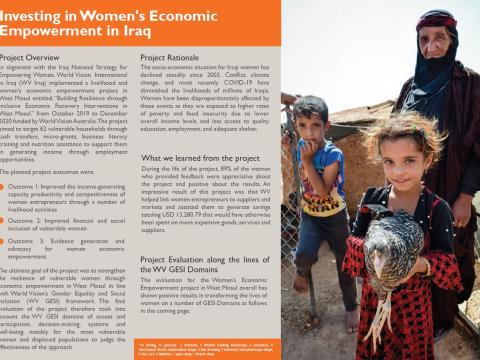 Investing in Women's Economic Empowerment in Iraq
In alignment with the Iraq National Strategy for Empowering Women, World Vision International in Iraq (WV Iraq) implemented a livelihood and women's economic empowerment project in West Mosul entitled, "Building Resilience through Inclusive Economic Recovery Interventions in West Mosul," from October 2019 to December 2020 funded by World Vision Australia. Find out the key findings of the assessment done on the pilot project.
Read more
Iraq
World Vision has been responding in Iraq since 2014 and works with Syrian refugees, IDPs, host communities and returnees. Working in Erbil, Sulaymaniyah, Duhok, Kirkuk, Salah al-Din and Ninewa, World Vision Iraq has reached 504,086  people in FY 2021 with a funding portfolio of $US 11,144,009 (in Cash) and $US 38,725,747 (in-kind).
World Vision Iraq continues to geographically expand and grow our presence to respond to the evolving needs of vulnerable boys and girls, including their families and communities. This is being done with strong intentionality to deepen our commitment to children to have positive relationships and live dignified lives. Responding to the needs and the changing context in post-conflict Iraq, World Vision Iraq provides short-term emergency relief in addition to medium and long-term recovery assistance to the most vulnerable children, women, and men to help alleviate their suffering and rebuild their lives. Our response prioritises interventions in WASH, Health, Food Assistance, Livelihoods, Education, Child Protection and Faith & Development activities.
Cross-cutting themes are integrated into each of these sectors, including Gender Equality and Social Inclusion (GESI) and Social Cohesion. World Vision Iraq builds on its local and global capacity and evidence-based approaches to maintain adoptable technical expertise that effectively impacts the lives of children, their families, and communities.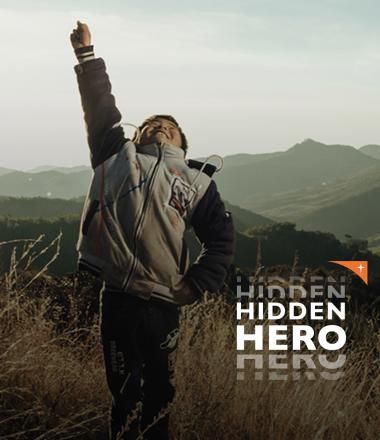 Unleash your hidden hero!
CALL ON GOVERNMENTS TO HELP CHILDREN AFFECTED BY COVID-19
Hidden heroes are striving to protect children around the world from violence by speaking out and supporting communities on the ground. COVID-19 is threatening to roll back years of progress and is putting 85 million children at risk - isolated in unsafe homes, sent to work or pushed into early marriage. It's vital governments step in to prevent this devastating legacy. Please support these hidden heroes by calling on governments and institutions to urgently increase funding for health, education and other social services that protect children from all forms of violence and abuse. Use the link below to sign up.
39.6 million
Population, total
187.2 billion
GDP (current US$)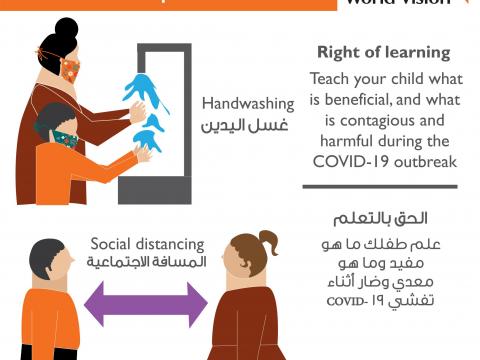 Messaging on COVID-19
Get the word out!
With COVID-19 weighing heavy on all of our minds, World Vision Iraq shares important messaging on protecting children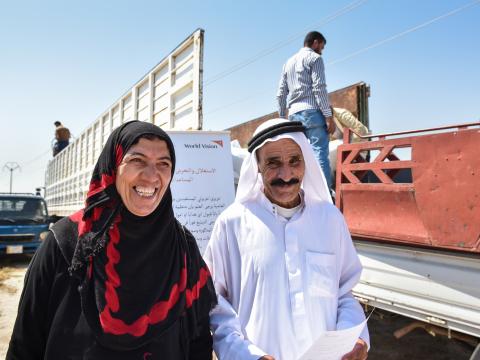 Livelihoods support for conflict affected communities
Distribution of seeds in areas affected by conflict give farmers much needed support in re-establishing their livelihoods. Through support from the IHF and UNOCHA, World Vision has provided trainings and assets to help families have sustainable livelihoods and to be food secure.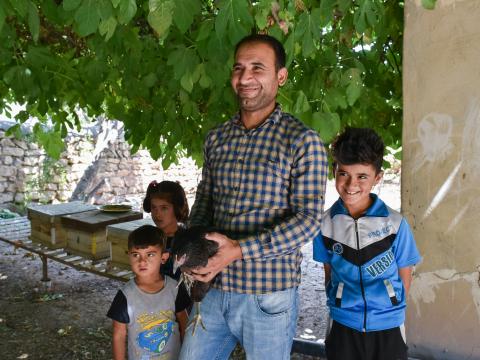 Livelihoods for conflict affected communities
Many families in Iraq have returned to their homes having to start their lives back having lost everything. Through support from IHF and UNOCHA, World Vision has provided trainings, assets like chickens and fencing, and follow up support like veterinary services to assist families in re-establishing livelihoods.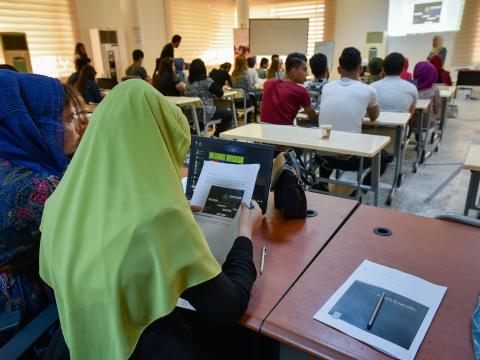 Reaching youth through the EMPACT Project
With support from World Food Programme - WFP, World Vision implements the EMPACT Project across Iraq providing IT and English skills courses and cash assistance to IDPs, refugees and host community youth in Iraq. Access to these courses gives youth an opportunity to learn together with others their age from different areas and backgrounds, of which they otherwise may not interact. EMPACT also provides youth valuable skills that enable them to have better livelihoods opportunities in the future.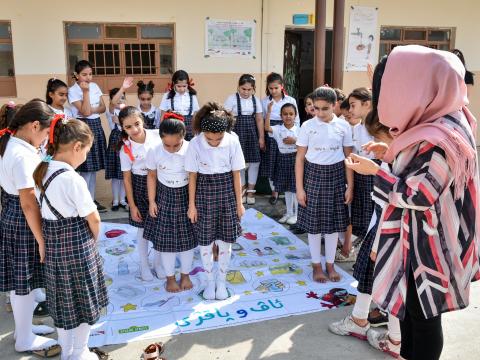 WASH Up!
The WASH Up! Program has been used in schools and Child Friendly Spaces across Iraq to teach children about Water, Sanitation, and Hygiene. World Vision teamed up with Sesame Street to develop a curriculum that combines important WASH lessons with creative teaching techniques to help kids put into practice what they learn. Elmo leads the lay, along with new character Raya, to help kids engage and have fun while learning.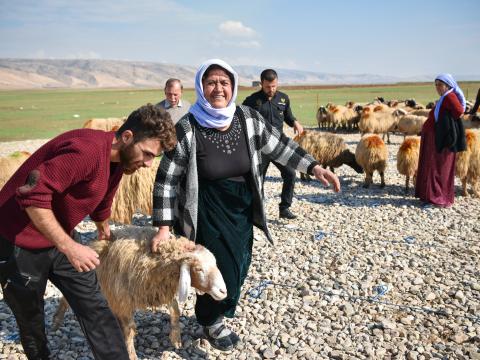 Livelihoods distribution
Beneficiaries of the WISE Project receive asset transfers of chickens, bees, wheat, or in this case sheep, after going through trainings on how to use these assets for livelihoods. Families who were left vulnerable, affected by the conflict in Iraq, receive support to develop livelihoods to provide for their families and their future.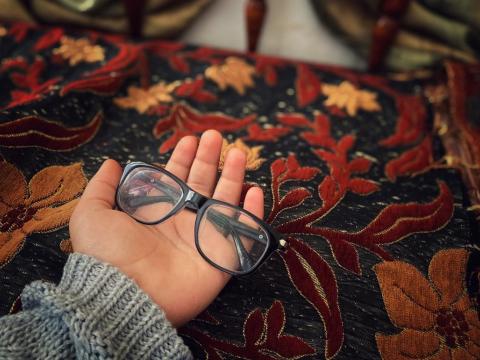 Helping Dunya see clearly
Seeing the world differently
In partnership with World Vision Japan and with funding from the Japan Platform, World Vision Iraq was able to step in an help Dunya to address her poor eye-sight through surgery and a new pair of glassess as well as psycho-social support.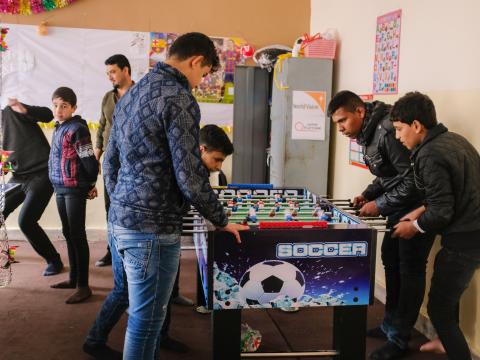 Child Friendly Spaces in Mosul
Child Friendly Spaces provide safe environments in Mosul, Iraq for children who have been exposed to fear and violence. In these safe spaces, children can regain their childhood through psychosocial support and activities that help them to engage with one another.
Watch videos that capture World Vision's work in Iraq
Our Work
Follow the stories of our work in Iraq with IDPs, Returnees, Refugees and Host Communities