The Earthquakes on 6 February had a devastating impact on both Northwest Syria and Southeastern Türkiye. World Vision's response, and that of the wider humanitarian community, is vital in restoring essential services in sectors like WASH and education and helping people to recover from the trauma and destruction it caused.  
 In Türkiye, the most affected provinces were Adıyaman, Hatay, Kahramanmaraş, Kilis, Osmaniye, Gaziantep, Malatya, Şanlıurfa, Diyarbakır, Elazığ and Adana in Southern and Southeastern Türkiye. More than 50,000 people lost their lives, including 7,000 Syrian refugees. More than 100,000 people were injured. 9.1 million people were affected by the earthquake disaster, 3 million people were displaced, and 298,000 buildings were destroyed.  Approximately half of the displaced people have returned to their homes. Those with relatives or opportunities settled in cities like Ankara, Istanbul, and Antalya, whilst tens of thousands remain in informal tented settlements or government-provided temporary housing such as the container camp in Hatay that World Vision helped to support, many needs remain. In informal settlements, key needs include access to adequate water supply and sanitation, social protection programmes, psychosocial support services to deal with trauma and information on available public services.  
In Northwest Syria, the Earthquake resulted in more than 4,500 deaths and 10,400 injured. More than 10,600 buildings have been destroyed, including at least 1,000 primary and secondary schools. More than 850,000 people – 20 per cent of the population - had their homes damaged. 265,000 people lost their homes and have been in need of dignified shelters. Seventy health facilities were damaged. Whilst 66,000 individuals live in established reception centres in the wake of the earthquake, these are due to close over the coming months, with displaced people expected to return to their original location and/or continue displacement into camps and/or setting up new informal ones.  
How is World Vision responding to the needs of those impacted by the earthquake in Türkiye and Syria?
World Vision has effectively reached 949,397 beneficiaries through its Syria and Türkiye Earthquake Response, with 278,658 girls and 252,190 boys among them. The organization operates using an area-based structure in which Area Managers oversee field operations for each geographical region. For the Earthquake response, this includes Northwest Syria and Türkiye – the two areas most affected by the 6 February Earthquake. This area-based structure enables us to develop expertise in the context and oversee project implementation with a thorough understanding of the needs and context. World Vision is currently implementing 15 projects in Northwest Syria as part of the STER response that covers these needs across Idleb, Afrin, Azaz and Aleppo. These projects are focused on the provision of health services, comprehensive WASH (water, sanitation and hygiene) services, Multi-purpose cash assistance, rehabilitation of schools, supporting running costs of schools and school personnel, conducting back-to-learn campaigns, identification of individuals in need of specialized protection services and referrals, structured and non-structured psychosocial support, shelter rehabilitation, Cash for Work and various distributions of Non-Food Items (NFI). 
Despite the bleak circumstances, the resilience of the people and the tireless work of World Vision and its partners offer a beacon of hope. However, the need for international assistance and attention remains critical. As we observe the half-year anniversary of the earthquake, we implore individuals, businesses, governments, and international bodies to rally in support of the victims of this crisis, to help them rebuild and recover.
said Johan Mooij, Response Director for World Vision's Syria Response.
World Vision has been working in the Middle East region for nearly 40 years. We're dedicated to improving the lives of children, families, and the communities where they live through long-term sustainable development as well as responding to disasters — both natural and man-made.
We have been supporting families impacted by the conflict since 2011 through aid to children and families in Syria, Jordan, and Turkey, all of which have suffered from the conflict and resulting humanitarian crisis. Since the Syrian refugee crisis began, we've helped more than 7.5 million children and their families in the region.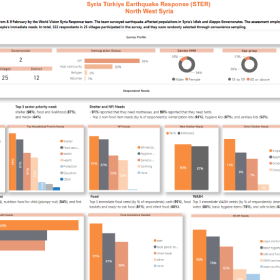 Syria & Türkiye Earthquake Rapid Assessment Report
Report
This rapid assessment was conducted between Feb. 8 and 9, 2023 by the World Vision Syria Response team. 
Frequently Asked Questions
How can I help?
You can help those impacted by this conflict by: 
Prayer: Pray for strength and endurance for those impacted by this crisis, especially those who lost loved ones. Pray for strength, provision and wisdom for all involved in responding to the tragedy. 
Give Support our response financially. You can give through the local World Vision office. If you live outside the countries listed, please select "other" your donations will be processed by our team in the UK and sent to help those in need. 
How does World Vision work in Syria and Türkiye?
World Vison has 48 staff in Syria in two offices in the Northwest and more than 200 volunteers.  In Türkiye, World Vision has 12 staff based in-country. We have also been working with 16+ local partners in Syria and Türkiye for years.   
Our immediate areas of response are focused in Hatay, kilis, Urfa, Gaziantep and Adiyaman in Türkiye, as well as Aleppo and Idleb, in Syria. 
How does this situation impact children?
Children are especially sensitive to events like these, making them more prone to traumatic experiences and heightened risks such as family separation. Such circumstances also heighten their vulnerability to exploitation and maltreatment.  
This catastrophe has caused trauma, psychosomatic symptoms, injuries, and physical impairments. With limited healthcare and disrupted schooling, their challenges grow. 
The earthquake has led to a rise in the number of children who are unaccompanied or separated from families. Moreover, there's been an uptick in child marriages and labor as families grapple with post-disaster survival. 
What work was World Vision doing before the earthquake?
In 2022, World Vision Syria Response (WVSR) reached 680,651 unique beneficiaries in Syria with humanitarian assistance. Assistance provided was in the areas of health, protection, education, nutrition, water access, sanitation, and hygiene.
In addition, WVSR supported the operation of essential disease monitoring services, which indirectly benefitted 4.7 million people in the areas covered by the monitoring.
WVSR is currently preparing to scale up its activities to reach people in need of immediate assistance following the earthquakes of February 6.
WVSR's presence in Türkiye is mainly focused on overseeing projects inside Syria; however, WVSR has an ongoing project in the Sanliurfa area (an area affected by the February 6 earthquakes), which is supporting the socioeconomic empowerment, protection, and psychological wellbeing of 800 (mostly Syrian) migrants and refugees living in this region of Türkiye.
The earthquakes of February 6 have drastically increased the number of people requiring assistance in both Syria and Türkiye, and WVSR is already working on the ground directly and with partners to scale up its response.
What are the most pressing needs?
The most pressing needs revolve around the provision of health services, vital for the overall health and survival of individuals. Equally significant is the need for comprehensive WASH (water, sanitation, and hygiene) services, which not only ensure basic hygiene but also play a crucial role in preventing potential disease outbreaks. To address the immediate necessities of affected individuals, multi-purpose cash assistance becomes indispensable. Education is a cornerstone for future development, necessitating the rehabilitation of schools, supporting their running costs, and ensuring the compensation of school personnel. Parallelly, conducting back-to-learn campaigns is pivotal to foster school attendance and combat dropout rates. Ensuring stable living conditions through shelter rehabilitation is another paramount need. To stimulate local economies and provide livelihood opportunities, Cash for Work initiatives should be increased. Lastly, the distribution of Non-Food Items (NFI) is essential to cater to the basic day-to-day necessities of the community.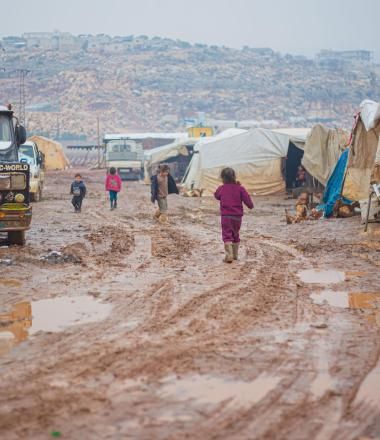 Learn more about our ongoing support for children and their families impacted by the conflict in Syria