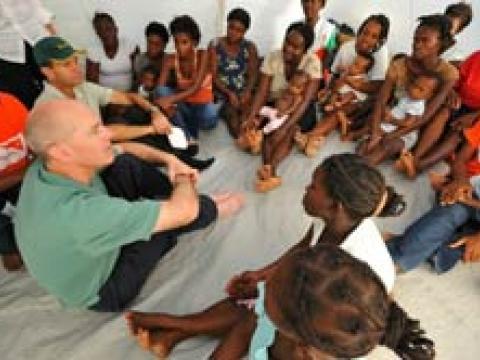 Among the mothers of Enaf
Wednesday, July 20, 2011
This week in Port au Prince, Haiti, I have been strongly reminded of a fact that often moves me when I travel.
Mothers around the world are the same. They are truly exemplary of our common humanity. Even in the poorest communities, every mother hopes and prays that God will provide a better future for her children.
We have heard from the Horn of Africa in the last weeks how mothers and grandmothers are literally starving themselves so they have a little more to give to their children. Across the world the worst-off women have to take terrible jobs to sustain their families – sometimes several jobs.
Here in Haiti I sat with women in the Enaf camp. While thousands of people made homeless by last year's earthquake have been rehoused, these women and their families are among the more than 600,000 who are still living in tents. I listened to their stories, and was gratified to hear of the many ways World Vision has contributed to their recovery – creating safe spaces for children and babies, providing health services, clean water, food and items to get life re-started again.
Over and again, though, one refrain came through. "I would like to work," Romita, a widow and mother of seven, said to me. Her peers vigorously assented as she added, "I would like to provide for my own child."
These are some of the most resourceful people in the world. Each convinced me she can look after herself if there is even a sliver of opportunity.
There is a temptation among Haiti's friends to want to give up on her reconstruction. The political and economic situation at the heart of the country's problems seems so intractable. Development work is undermined when governance and infrastructure is weak. Unemployment remains high and the opportunities to bring it down are elusive.
But the thought of those young mothers not having the opportunity to do their best for their children is too overwhelming to contemplate giving up. Our founder, Bob Pierce, famously wrote in the flyleaf of his Bible, "That my heart may be broken by the things that break the heart of God."
My heart was broken, listening to those mothers' simple, honest appeals. World Vision has been committed to Haiti, the poorest country in the Western hemisphere, for more than 30 years, and we are going to stay and work with these children, their mothers and fathers, and their communities.
No-one ever said fixing a country like Haiti would be easy. Let's work together to finish what we started.
Please consider joining World Vision - and mothers everywhere - in our efforts to bring life in all its fullness to every child, from the devastated Horn of Africa, to the recovery of Haiti, and to the injustice of poverty wherever we find it.